Dinner parties are so much fun! When Vince and I host a large party, I find that I don't get to spend much quality time with our guests. Small is often better. Last Friday night, we invited a couple of our friends over for supper. I had absolutely no menu ideas in mind. No new-found recipe seemed interesting enough to attempt, so I reached for a copy of my cookbook, Celebrate Everything, and flipped it open. Lo and behold, the chapter that features Thai food magically appeared. My dinner party menu was set. I do have a confession; I hadn't made Shrimp Pad Thai since the evening that the photography for Celebrate Everything was shot. That was over ten years ago. It was kind of a thrill to recreate the original recipe and the Vegetable Salad with Spicy Thai Vinaigrette and Indian-Spiced Cashews. Most of all, everything was delicious! I'll be making both dishes again soon and often. The Coffee Ice Cream Cake was a last-minute creation. Use your favorite flavors to create your own unique version of a very easy to prepare frozen dessert. Your guests will be so impressed and will never know just how simple it was to make.
Vegetable Salad with Spicy Thai Vinaigrette and Indian-Spiced Cashews
I often substitute edamame for the green peas in this salad. Look for shelled edamame in the frozen food section of your local grocery store. Sriracha is a spicy chile sauce and can be found in the Asian section. p.s. This salad is also good as an entree – just top it with roasted chicken or grilled shrimp.
1 egg white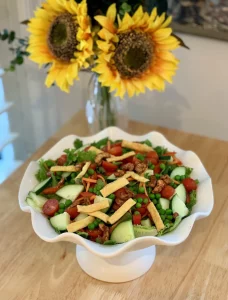 2 tablespoons packed brown sugar
1½ teaspoons curry powder
½ teaspoon cayenne pepper
2 cups lightly salted cashews
1/3 cup rice wine vinegar
1 tablespoon fresh lime juice, or to taste
3 tablespoons sriracha sauce
1 teaspoon minced fresh ginger
1 tablespoon fresh chopped basil
1 tablespoon fresh chopped mint
1 tablespoon fresh chopped cilantro
½ teaspoon ground coriander
1 bunch green-leaf lettuce, torn
1 red bell pepper, julienned
1 cup frozen shelled edamame, cooked according to package directions
½ cup fresh cilantro leaves
1 small cucumber, halved and sliced
1 (6-ounce) package wide-style chow mein noodles
Preheat oven to 350 degrees. In a bowl, combine egg white, brown sugar, curry powder, cumin and cayenne pepper. Stir in cashews. Toss to coat well. Cover a baking sheet with aluminum foil; spray lightly with non-stick cooking spray. Pour the nut mixture onto the prepared foil. Using a wooden spoon or spatula, spread the nuts evenly on the pan. Bake until nuts are almost dry, about 15 to 18 minutes, stirring every 5 minutes to ensure even baking. Remove from oven and allow to cool. Store in an airtight container. In a medium bowl, whisk together all vinaigrette ingredients except oils. Slowly drizzle oils while whisking. Taste and adjust seasonings with more salt and lime juice, if needed. Set aside. Combine lettuce and vegetables in a large bowl. Toss with vinaigrette, to taste. Sprinkle with chow mein noodles and spiced cashews before serving. Serves 6 to 8.
For a spicier version of this dish, sprinkle in crushed red pepper flakes when you add in the chili sauce.  If you can't find rice noodles in your local grocery store, substitute 8 ounces of fettuccine or linguine, cooked according to package directions and drained.  Stir in with bean sprouts.
½ cup unsalted peanuts, finely chopped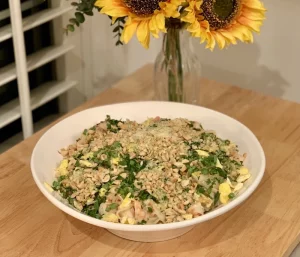 4 tablespoons fresh lime juice
4 tablespoons brown sugar
9 teaspoons rice wine vinegar
2 tablespoons mild Thai chili sauce
4 teaspoons vegetable oil, divided
2 pounds medium shrimp, peeled and deveined
3 cloves garlic, finely chopped
2 tablespoons vegetable oil
2 cups fresh bean sprouts
½ cup sliced green onions
¼ cup chopped fresh cilantro
Place rice noodles in a large bowl.  Add enough hot tap water to cover; let stand 10 to 15 minutes (or according to package directions) until pliable, but not soft.  Drain well in a colander; set aside. In a small bowl combine peanuts, sugar and lime zest; set aside.  In another small bowl combine the lime juice, brown sugar, vinegar, fish sauce and chili sauce; stir until smooth and set aside.  Heat 2 teaspoons of oil in a 12-inch nonstick skillet over medium-high heat.  Add shallot and cook for 2 minutes until softened and lightly browned.  Add shrimp and garlic; cook and stir for 3 minutes until shrimp turns pink.  Transfer to a bowl.  Add eggs to the hot skillet and cook for 30 seconds.  Turn eggs with spatula and cook 30 to 60 seconds more, just until set.  Remove and chop; set aside.  Heat the remaining 2 tablespoons oil in a skillet over high heat for 30 seconds.  Add drained noodles and sprouts; stir-fry for 2 minutes.  Add fish sauce mixture and shrimp mixture; cook 1 to 2 minutes more until heated through. Place in a serving dish.  Top with chopped eggs and peanut topping.  Garnish with green onions and cilantro.  Serves 8.
1 (15.25-ounce) dark chocolate cake mix
¼ cup coffee liqueur (Kahlua)
1 quart coffee flavored ice cream
2 cups whipped cream or frozen whipped topping
Bake cake in a 9×13-inch baking pan according to package directions and substituting cold coffee for the water. Cool completely. Take ice cream out of the freezer and allow time for it to soften; about 10 minutes. Line a large loaf pan with plastic wrap, allowing extra wrap to hang over the edges of the pan. Slice the cake horizontally into three equal pieces. Place one slice in the prepared pan and drizzle it with ½ of the coffee liqueur. Top the cake with softened ice cream. Add another piece of cake to the pan; drizzle with remaining coffee liqueur. Using the plastic wrap that is hanging outside of the loaf pan, wrap the ice cream and cake tightly to form a loaf. Freeze for at least 4 hours. Remove cake from the freezer. Remove cake from loaf pan and place on a serving dish. Frost the cake with prepared whipped cream and return to freezer for at least 2 hours. Dust with cocoa powder before serving. Serves 8.
*Note: You will only need two pieces of the cake. Use the left-over piece for another recipe or to make a mini ice cream cake.

The writer owns Catering by Debbi Covington and is the author of three cookbooks, Celebrate Beaufort, Celebrate Everything! and Dining Under the Carolina Moon. For more great recipes and to view her cooking demonstrations, visit and subscribe to Debbi's YouTube channel. Debbi's website address is www.cateringbydebbicovington.com. She may be reached at 843-525-0350 or by email at dbc@cateringbydebbicovington.com.