It is the time of year to celebrate the true meaning of Christmas, and the Presbyterian Women of First Presbyterian Church of Beaufort want to help you do just that with "€œA Nativity Celebration."
For several years, beloved church member Marion Leach, along with other ladies of First Presbyterian, visited the Creche Festival held at Mepkin Abbey in Moncks Corner, SC. Being a collector of nativities herself, Mrs. Leach became inspired to share a similar gift with her Beaufort community. This year, for the seventh time, the women of the church will be transforming the fellowship hall and sharing beautiful displayed nativities from around the world (some by local artists) collected by members and friends. In celebration and memory of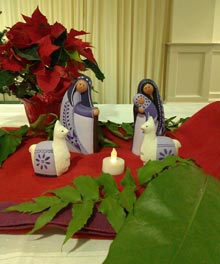 Marion Leach, this year'€™s exhibit will include her entire collection of nativities – all 59 of them!
"Marion was a long time collector,"€ says Donna Sheetz of FPC Presbyterian Women. "She joined the Creche Society and discovered that collecting nativities was a hobby of Christians throughout the world. She felt the Nativity Display was a way for us at FPC to gift the community with seeing the true meaning of Christmas through the eyes of the world. This will be the first and last time all of her nativities will be shown together."
There will be lots of new, never-before-displayed creches this year, as well as plenty of old favorites. It is amazing to see how the Christmas Story is depicted by artists from different countries as well as different regions of the United States. Each year the display has grown, with last year'€™s featuring 110 different nativities made of various materials, from the finest porcelain to banana leaves. They come in all sizes and shapes, some so small they fit in a matchbox. The Celebration is truly enjoyed by all ages, having become a Family Christmas Tradition for many. There is even a "€œPlease Touch" table for children.
Admission is FREE and the fellowship hall is handicap accessible.
The Nativity Celebration will take place Friday and Saturday, December 8 and 9 from 10am to 4pm and Sunday, December 10 from 12pm to 2pm in the Fellowship Hall of First Presbyterian Church, Corner of Church Street and North Street, Beaufort, SC