[Beaufort lost one of her treasures this week. Elizabeth Logan Waskiewicz passed away on October 16th. Betty was a pillar of the community. She supported many organizations, projects, programs and causes. She was a force of nature and a very dear soul. I visited Betty for the last time on her 95th birthday this past June. I'm so glad that I was able to see her. This week's column is reprinted from 2017, a few weeks after Betty's 90th birthday soiree. I'm going to miss my friend.]
###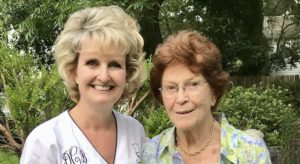 At a recent catering event, one of my servers came back in the staging area and told me, "There's a lady out there who was asking for you. She said she taught you everything you know about cooking." My immediate response was, "Does she have red hair?" "Yes," was the answer. I knew she was talking about Betty Waskiewicz. I met Betty a few months after Vince and I were married. I had just started working at First Presbyterian Church and it only took a few days to realize that Betty was the church's Queen Mother. Betty's father had helped build the church sanctuary with his own hands. Betty grew up in the church and was always around to take care of "things." I remember hearing, "you'd better ask Betty first," many, many, many times. Besides keeping the clergy and church staff in line, she cooked Wednesday Night Suppers every week for years. When Betty's 70th birthday rolled around in June 1997, First Presbyterian hosted a reception in her honor. My boss and our minister, Dr. John Scholer, gave me a small allowance and let me prepare all of the food. It turned out to be my first catering gig. I've been in business ever since. Last week, I had the honor of catering Betty's 90th birthday party in her home. I actually got to cook in her kitchen. It meant the world to me. We're already making plans for her 100thbirthday party in 2027. I wish I had more space to write about all of our experiences together. A paragraph doesn't do it justice. Betty has been a wonderful role model, mentor and friend. Did I mention that she also wrote a cookbook? She sure did. "Strictly for Boys" was published in June 1980 and was reprinted many times over. When I decided to publish my first cookbook in 2005, Betty introduced me to her cookbook company and her representative and she helped me get my official start as a published author. This week, (and, you'd better believe that I asked for permission first), I'm sharing some of my favorite recipes from Betty's cookbook. I'll always cherish my autographed copy from 1992. And, I treasure my friendship with our dear Betty. Happy Cooking!
Hawaiian Chicken
1 (3 pound) broiler-fryer, cut up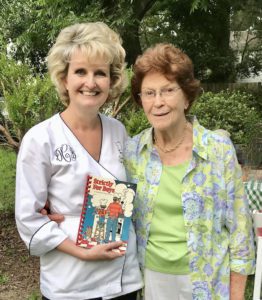 1 cup Kraft barbecue sauce
Wash and drain chicken, salt and let stand about 1 hour. Put flour in plastic bag, drop in chicken, 2 or 3 pieces at a time, shake well; continue until all chicken is floured. Heat cooking oil in heavy 10-inch frying pan. When oil is hot add the chicken and brown lightly on both sides, cook only long enough to brown. Placed browned chicken in a 12x8x2-inch casserole. Mix pineapple, barbecue sauce, cornstarch and ginger. Spoon over browned chicken, cover tightly with foil and bake at 350 degrees for 1 hour. Remove foil and return to oven for 10 minutes. Serves 6
Macaroni and Cheese
4 ounces sharp cheddar cheese
Boil and drain macaroni by directions on package. Pour drained macaroni into 1½ -quart baking dish. Cut cheese into cubes and mix with cooked macaroni. Beat eggs, add milk, salt, pepper and margarine; mix well. Pour over macaroni and cheese in baking dish. Bake at 350 degrees about 30 minutes or until firm. Serves 6.
Quick Fruit Cobbler
1 (No. 2) can blueberries, peaches or cherries
Melt margarine in a 1-quart baking dish. Mix flour, sugar and milk. Pour slowly into baking dish. Carefully pour the fruit into the center of the flour mixture. Bake at 350 degrees for 30 minutes or until lightly browned. Serves 6.
Curried Chicken
2 cups cooked chicken, cut into cubes
½ tart apple, peeled and chopped
Melt margarine; stir in flour and curry powder. Add stock and cook over medium heat until thick and clear. Add chicken and apple; heat thoroughly. Serve over cooked rice. Be sure to serve toasted coconut and toasted slivered almonds with with dish. Serves 6.
1 (10-ounce) can tomato soup
Mix hamburger and ½ teaspoon salt. Form into 1-inch meat balls. Brown in 2 tablespoons oil in frying pan. Peel, wash and quarter the carrots, potatoes and onions. In heavy saucepan, mix tomato soup, water, 1 teaspoon salt and pepper. Heat to boiling; add vegetables and meat ball as they are browned. Reduce heat, cover and simmer for 45 minutes to 1 hour. Serves 4.
The writer owns Catering by Debbi Covington and is the author of three cookbooks, Celebrate Beaufort, Celebrate Everything! and Dining Under the Carolina Moon. For more great recipes and to view her cooking demonstrations, visit and subscribe to Debbi's YouTube channel. Debbi's website address is www.cateringbydebbicovington.com. She may be reached at 843-525-0350 or by email at dbc@cateringbydebbicovington.com.