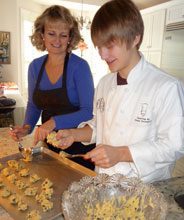 I always wanted my nephew Ray to see me like Auntie Mame from the movies. She was flamboyant and fun and kind of exotic. It was not meant to be. When Ray thinks of me, I imagine he's thinking about food. The recipes and photos in this issue are revamped from almost six years ago when my nephew and his dad had come to Beaufort for a visit.
Ray and I made cookies together. He was cute and fourteen and still just a kid. Ray came for another visit last week. He's now twenty, has tattoos and a man bun. He's still a bottomless pit and we ate and ate and ate during his time in Beaufort. I think he has potential to inherit some of my foodie genes. Time will tell.
Dark Chocolate and Pecan Cookies

Delicious with or without the pecans!
2¼ cups all-purpose flour
1 teaspoon baking soda
½ teaspoon salt
1 cup (2 sticks) butter, softened
¾ cup sugar
¾ cup packed light brown sugar
1 teaspoon vanilla extract
2 eggs
2 cups (12 ounces) dark chocolate chips
1 cup chopped pecans, optional
Preheat oven to 375 degrees. Sift together flour, baking soda and salt.  Beat butter, sugar, brown sugar and vanilla extract in a large bowl with hand mixer until creamy.  Add eggs; beat well. Gradually add flour mixture, beating well.  Stir in dark chocolate chips and pecans. Drop by rounded teaspoons onto lightly greased baking sheet. Bake 8 to 10 minutes or until lightly browned.  Cool slightly, remove from baking sheet to wire rack.  Cool completely. Store cookies in a tightly sealed container. Makes about 5 dozen.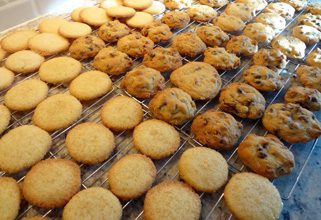 Buttery Sugar Cookie
The simplest cookie of them all! Delightfully crisp and buttery!
2 sticks (1 cup) butter, softened
1 cup sugar
½ teaspoon salt
1 large egg
1 teaspoon vanilla extract
2 cups all-purpose flour
Coarse sugar, for rolling
Beat together butter, sugar and salt in a large bowl with an electric mixer at medium-high speed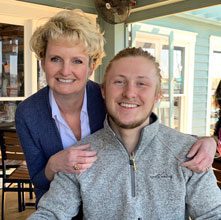 until pale and fluffy, about 3 minutes with a hand mixer.  Beat in egg and vanilla. Reduce speed to low, then mix in flour.  Halve dough and form each half into a disk, then wrap in waxed paper. Put each disk in a resealable plastic bag and chill until firm enough to roll into balls, about 1 hour.  Preheat oven to 350 degrees. While oven heats, work with one piece of dough (keep remaining dough chilled). Roll 1 level teaspoon of dough into a ball, then roll in coarse sugar in a shallow bowl to coat completely. (If dough becomes too soft to roll easily into balls, quick-chill in the freezer or chill in the refrigerator.)  Place balls 2 inches apart on a baking sheet sprayed lightly with canola oil cooking spray. With the flat bottom of a glass, flatten balls into 2-inch rounds. Bake cookies, one sheet at a time, until bottoms are golden, 12 to 15 minutes. Cool on baking sheets for 2 minutes, then transfer with a metal spatula to wire racks to cool completely. Store cooled cookies in a tightly sealed container. Makes about 4 dozen.
The writer owns Catering by Debbi Covington and is the author of three cookbooks, Celebrate Beaufort, Celebrate Everything! and Dining Under the Carolina Moon. Debbi's website address is www.cateringbydebbicovington.com. She may be reached at 525-0350 or by email at dbc@cateringbydebbicovington.com.