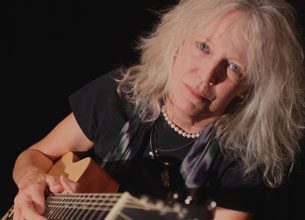 Marshall Chapman grew up in Spartanburg, South Carolina. As a debutante and the daughter of a textile mill owner she started life "€œfirmly part of proper society"€ but was determined to make a very different life doing something else -€" somewhere else.
After seeing Elvis at the tender age of 7, Chapman knew immediately what that something else was. Her memoir Goodbye, Little Rock & Roller details much of that life which has included 13 critically acclaimed albums, two books and roles in several movies including Country Strong, starring Gwyneth Paltrow. Her songs have been recorded by everyone from Emmylou Harris to Jimmy Buffett and Joe Cocker.
Today, the Nashville-based singer-songwriter, who says she is retired, continues to stay busy. She has a new movie coming out and will be making an appearance here in Beaufort on December 15 as part of "€œAn Evening of Stories and Songs."€
Recently, I caught up with Chapman as she was returning from Mexico where she had "€œlimited Internet and phone access."€ I was able to email her a few questions. Here'€™s that interview, also posted on the Porch Talk Blog of the Pat Conroy Literary Center:
Mindy Lucas: You'€™ve had quite an interesting life, to say the least, and yet I read somewhere where you said, "€œThe word autobiography makes me cringe, just the presumptuousness of it: '€˜I was born a poor sharecropper's child…'€™"€ Why is that?
Marshall Chapman: Well, I just didn't want anybody calling my first book an autobiography. Mainly because it isn't. It's simply the stories behind twelve of my songs. But after I handed in the first draft, both my editor and Lee Smith suggested I add another chapter about my background. Lee said, "The reader has to know who's telling the story." So for once, I took someone's advice!
ML: What was the process of writing that like? Was it fun? Excruciating? Were parts embarrassing or do you take a "€œno regrets"€ approach when you sit down to write about those times?

MC: That book mostly wrote itself. I just tried to stay out of the way. It was exciting and sometimes scary. But never embarrassing. My reputation is the kind you can't ruin.
ML: You were in the thick of things in Nashville in the '€˜70s'€"when John Prine was just getting started and Waylon and Kris and all of them were knocking around and you were making quite a name for yourself as well. You said in your book Nashville in the early '€˜70s has been compared to Paris in the '€˜20s. What was it like to be there during that time?

MC: Well, it was a really exciting time. Kristofferson was singlehandedly changing what was acceptable on country radio. "Layin' soft against my skin, like the shadows on the wall." I mean, how great and poetic is that? They had to accept it. Artists like Waylon and Willie were bucking the system and all the record companies could do was hold on and press up enough records to meet the demand. Those were wild and woolly days, for sure. I've often said, the '70s was when the '60s hit the South. And believe me, I partook. We all did.
ML: If you had it to do over, would you? Or would you do anything different?
MC: No, and no. I wouldn't do it over, and I wouldn't change a thing. It was what it was.
ML: What do you tell people you do now? Singer/songwriter and author? Do you still write songs or get that lightening flash (my words) inspiration that you described getting to sit down and write a song? I just read the part in your book about seeing the Stones in Atlanta and how you wrote "€œDon'€™t Leave This Girl Alone."€
MC: Every time I get a good song idea, I go lie down until it passes. I tell people I'm retired – €"but I could be lying.
Right now, I'm not working on anything. That would require a plan. I've never planned anything in my life. Lately, I've been doing movies, only because I keep getting asked to audition. My most recent one is called Novitiate. It opened over Thanksgiving. In that one I play an eighty-year-old nun who loses her mind.
ML: You credit southern writers Lee Smith and Jill McCorkle, with whom you co-wrote the musical revue Good Ol' Girls for encouraging you to write your memoir. What did they say to talk you into that and how did you meet those two?
MC: Well, when Matraca Berg and I flew over to Raleigh to meet with Paul Ferguson and the musicians who played in the original Good Ol' Girls, we'd be sitting around Lee's living room playing our songs. And every time I'd get ready to sing one of mine, I'd launch into some wild story about what happened while I was writing it, or that caused me to write it. And Lee and Jill would say, "Oh you've got to write that down." €Mind you, I was already heading in that direction, but yes, they encouraged me. And I'll say this: the day I read what Lee wrote as the foreword for that book, and the day I read Jill's stream-of consciousness blurb, those were probably two of the happiest days of my life.
Lee and I go way back, to when she was living in Nashville, teaching English at Harpeth Hall. I had just graduated from Vanderbilt and was playing music in the lounge of a steak house called the Jolly Ox. We had some mutual friends and I'd run into her from time to time. Then she moved to Chapel Hill.
I didn't know Jill until we started working on Good Ol' Girls. It was Lee's idea to bring Jill in. And I'm so glad she did. Jill has this badass, rock & roll trance she goes into sometimes when she reads. It's like she's a machine gun firing off words, just mowing everybody down. She takes no prisoners, and everybody loves it when she gets like that. And Lee – €"Lee gets away with murder onstage. I mean, if I said some of the things Lee says, everybody would say, €œ"Oh, you know Marshall, always causing trouble." It's like, Lee can say the f-word, and people say, "Oh, how charming!"€
* * *
Presented by the Pat Conroy Literary Center, An Evening of Stories and Songs with Lee Smith, Jill McCorkle, and Marshall Chapman will performed on December 15, from 6:30-8:00 p.m. at the USC Beaufort Center for the Arts (801 Carteret Street, Beaufort). Sponsored by the Hootie & the Blowfish Foundation and the Anchorage 1770 Inn, the event will feature New York Times best-selling Southern writers Lee Smith and Jill McCorkle as well as South Carolina's own musical superstar Marshall Chapman. A book and CD signing will follow the performance. Reserved seating tickets also include an off-site after party with Lee Smith, Jill McCorkle and Marshall Chapman following the event. Tickets are $45 for general seating and $75 for preferred seating and after-party. Tickets: 843-521-4145 or www.uscbcenterforthearts.com.