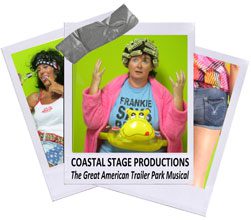 Back by popular demand, Coastal Stage Productions is proud to reprise their over-the-top hit musical sensation! The sedate life in a Florida trailer park gets turned upside down as this hilarious musical comedy takes over. Join this talented Beaufort County cast as they again present the bawdiest, most politically incorrect production to ever hit the Lowcountry stage!
Take a woman who hasn't set foot out of her trailer since her baby was kidnapped 20 years ago. Bring in another woman who suffers from a hysterical pregnancy and another with a husband in the state prison. Plunk them down in a North Florida trailer park named Armadillo Acres. Add some over-the-top song-and-dance numbers, hilarious dialogue and a surprise ending, and there you have "The Great American Trailer Park Musical."
The trailer park trio Betty, Lin and Pickles interact with the audience and provide a running musical commentary on the events at the park, and things really start rockin' when Pippi, a glamorous professional stripper on the run, seeks refuge to escape her insane ex-boyfriend, Duke. She quickly draws the attention of toll-collector Norbert, a simple man who loves his wife Jeannie, but is frustrated with her inability to leave their trailer for the past two decades. It's one laugh after another as we hear their story in this warmhearted, adventurous musical of double-wide proportions.
Leave the kids at home. Rated PG-13 for adult language and situations.
Performances at The Shed Event Venue, 809 Paris Ave, Port Royal, SC. November 30 – Dec 1, 7 & 8 @ 8pm, Sunday, December 2 & 9 @ 2pm. Advance Tickets: Reserved Seating: $25, General Admission: $22, Group Reserved Seating: $22, Online: www.coastalstageproductions.com, Box-Office: 843-717-2175 or $25 General Admission Tickets at the performance.