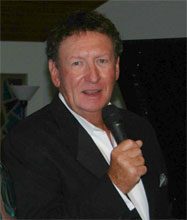 Randy and Dan are brothers, not necessarily born in that order. I should have named Dan (left) first because he is a treasured, long-time member of our Beaufort community; and because we owe it to him that his renowned brother Randy will perform with him, not just once, but twice, on November 16 and 17. Their concerts will knock your socks off.
I can say that confidently because I have attended several of Dan's seven benefit concerts on Fripp, and my socks are probably still under my seat.
Dan and Randy grew up in the small town of Rogersville, Alabama, learned to master various instruments and played in the same bands. They both started careers in Muscle Shoals Sound Studios as session musicians. There Dan played and recorded with a number of famous artists such as Aretha Franklin and Wilson Pickett. "I also played with popular regional bands all through college in the south east," Dan told me. "I toured in the summer with acts like Charlie Rich, Bobby Vinton (She Wore Blue Velvet) and even played a few shows with Jerry Lee Lewis. After a stint as an officer in Vietnam, I settled in Michigan and played clubs and shows until the late 80s." Furthermore, Dan wrote songs, like You're Pourin' Water on a Drowning Man for Percy Sledge, the singer famous for When a Man Loves a Woman. The song rose to #17 in the R&B charts in the late 60s and later was recorded by William Bell and Elvis Costello. Dan also played for John Denver and became chairman of Denver's Windstar Foundation which is dedicated to promoting environmental sustainability.
Randy McCormick (right) went on to record for a living and build a successful career as a songwriter and
studio musician, first working for Fame Studios and later for Muscle Shoals Sound Studios. He performed on hundreds of popular albums featuring artists like Mac Davis, Clarence Carter, Roy Clark, and Dr. Hook.  He may be best known for his keyboard lead-in to the most requested song in Jukebox history, Bob Seger's Old Time Rock and Roll. His song-writing credits are lit up by a sizable number of hits including Suspicions for Eddie Rabbitt, which was honored as the BMI Country Song of the Year in 1980 and won the Robert J. Burton award; Crazy in Love for Conway Twitty, a Top-10 hit in Kenny Rogers' version; Real Love, a number-one duet recorded by Dolly Parton and Kenny Rogers that topped the singles-charts in August 1985, and many other songs performed by singers like Chet Atkins, Joe Cocker, Dionne Warwick and more. Randy also appeared on Austin City Limits and several Nashville Network specials. 
On November 16 and 17 at 5:00 pm both Randy and Dan, not necessarily in that order, will appear at the Fripp Community Centre, 205 Tarpon Boulevard and perform old favorites and songs they recorded. These fabulous concerts are sponsored by Fripp Friends of Music and the Fripp Community Center. Attendees get a free pass at the Fripp gate. Tickets at the door: adults $25 (cash or check only), students free. You are invited to join Dan and Randy at a complimentary cheese and wine reception after the performance. I promise you will go home humming melodies from the concert. Don't forget your socks under your seat. www.frippfriendsofmusic.com or call 843-838-1777.