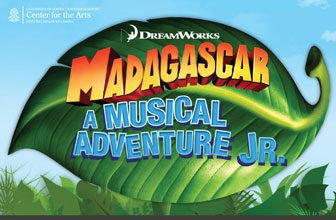 The Beaufort Children's Theatre brings DreamWorks Madagascar – A Musical Adventure JR. to the stage on Friday, November 16 and Saturday, November 17 at 7 pm, and November 18 at 3 pm at the University of South Carolina Beaufort Center for the Arts.
            "This show is a musical comedy and is a lot of fun," said Bonnie Hargrove, Director of the Center for the Arts. "It is a perfect show to bring the whole family to enjoy – the dialogue is clever and the music is very upbeat and entertaining."
            As the show opens we learn that Marty the zebra (played by Dyamante Scotland) may be celebrating his tenth birthday at the Central Park Zoo with his friends Alex the lion (played by Sara-Rose Lyda), Gloria the hippo (played by Holland Perryman), and Melman the giraffe (Ilse von Heimburg), yet he longs to experience life outside of the zoo's walls. When Marty eventually escapes, his animal friends from the zoo pursue him into New York City. After reuniting, the animals are chased by the police, and ultimately felled by tranquilizer darts. They awake, trapped in crates, on a ship, which – through a series of events – is thrown off course.  Upon reaching land the animals discover they have been shipwrecked on the island of Madagascar.  Ultimately, it is only in being so lost that they can begin to discover where they really belong.
            Madagascar – A Musical Adventure JR is an hour-long performance involving 80+ local auditioned actors ranging from age 6-18. The Beaufort Children's Theatre leadership includes Bonnie Hargrove and Noah Krepps, Directors, Angela Brooks, Choreographer, Greg Rawls set design, Mary Ann Ford scenic artist, Casey Parker, costumes, and the involvement from parents and generous sponsors and community members.
            Tickets are available online at www.uscbcenterforthearts.com – where audience members can select specific theater seats ranging from adults $20, seniors $18 and students $14.  Tickets may also be purchased by calling the USCB Center for the Arts Box Office at 843-521-4145. The performance will be at the USCB Center for the Arts at 805 Carteret Street in downtown Beaufort.