The Columbia City Ballet from will be bringing its first class production of The Nutcracker to the Performing Arts Center at USCSB on Monday and Tuesday, December 15 and 16. Performances will begin at 7 pm both nights.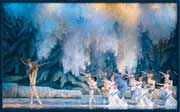 The State calls director William Starrett's holiday classic "as refined as any big-time ballet company in New York or San Francisco."
"It is always so beautiful; I just had to have them back, says Bonnie Hargrove, executive director of Beaufort Performing Arts, Inc. "The Nutcracker has become a tradition here in Beaufort!"
With Tchaikovsky's beautiful score, and its dreamy waltzes and spirited mazurkas, The Nutcracker brings to life the magical tale of Clara and her nutcracker and all the wonderful, colorful characters that visit her dreams.
The ballet company, consisting of 35 professional dancers, will also utilize the talents of local children, ages 3 to 16. "I have to remember the children when I am working on this production—their innocent excitement of being a mouse or a party girl for the first time," says Starrett. "I try to use that energy to bring freshness when I work with the professionals. It really brings me into the holiday spirit."
Tickets for The Nutcracker are on sale now at the USCB box office at 801 Carteret Street, Beaufort. Tickets range from $30 – $40 and are half price for children under 12 years old. Call early to reserve yours. 521-4145.