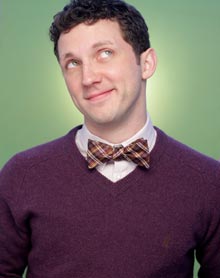 Landing that primo job with a corner office has long filled the daydreams of pencil pushers everywhere. The Arts Center of Coastal Carolina brings the fantasy to life with the hit musical, How to Succeed in Business Without Really Trying, on stage through May 27 in the Elizabeth Wallace Theatre.
Winner of seven Tony Awards and the Pulitzer Prize, this song-and-dance spectacular lampoons Corporate America and all its board room high jinks with the story of a window washer who makes it to the top following the instructions in a how-to handbook.
It's the early 1960s and J. Pierrepont Finch is determined to get ahead without having to work for it. Step one in the self-help guide gets him a mailroom job at the New York headquarters of the World Wide Wicket Company.
With the help of a love-struck secretary, he cleverly side-steps the boss's arrogant nephew and is promoted to junior executive. He continues his ascent by pretending to be an alumnus of the Grand Old Ivy, the alma mater of company president J. B. Biggley.
"Biggley is so out of touch, you can pull the wool over his eyes," said Drew Taylor, the New York actor playing the stuff-shirt executive. "He's the last person to know what's going on in his own company."
Audiences will recognize Taylor from a number of Arts Center productions. He played ex-Nazi Franz Liebkind in The Producers, Eliza Doolittle's father in My Fair Lady and the General in White Christmas. Most recently, he appeared in the holiday musical, The Drowsy Chaperone.
He is joined by another Arts Center returnee, Robert Anthony Jones, cast as Tracy Turnblad's goofy dad in last spring's production of Hairspray.
Playing the lead role of Finch is Anthony Christian Daniel, whose theatre credits include national tours of Mary Poppins and High School Musical.
"Finch is a go-getter who wants to succeed—not for the money and power, but to be seen as a successful man," Daniel said. "He doesn't mean any harm. He just wants to get to the top."
On the way there, he falls for Rosemary Pilkington, his secretarial accomplice. Like Finch, she has her own ambitions to achieve success, only it's not in the workplace.
"She's new fashioned and old fashioned at the same time," said Natalie Newman, cast as Rosemary in her fourth production of the show. "Her goal is not to break barriers, but to marry someone who is an executive and can provide her with the fairytale castle."
A score full of memorable songs and production numbers moves the story along and adds to the nostalgic feel of the play. Among the show-stoppers are "Brotherhood of Man," "I Believe in You" and "Coffee Break," a spoof on office workers' caffeine addiction.
Originally staged on Broadway in 1961, How to Succeed was revived in 2011 and continues its New York run with Nick Jonas in the lead role.
"The freshness of this show comes from watching familiar archetypes behave as archetypes familiarly behave," said director D.J. Salisbury. "No matter the year, there will always be professional jealousy lurking in the workplace and the burning ambition to climb the ladder."
Performances of How to Succeed are at 8 p.m. Tuesday through Saturday with Sunday shows at 2 p.m. and a 7 p.m. show on April 29 and May 27. Tickets are $55, $39 for children 15 and younger, and may be purchased at the Arts Center box office, online at www.artshhi.com or by phone with a credit card by calling 842-ARTS (2787).