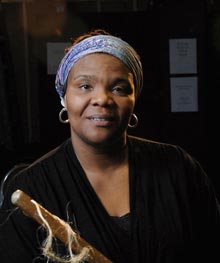 Natalie's Daise's original play, "Becoming Harriet Tubman" has been selected by the Piccolo Spoleto Festival of Charleston to run during the internationally-recognized festival. But first, she is giving one night to her home town, Saturday, May 19 at 7:30pm. Natalie will perform her show at ARTworks, in Beaufort Town Center, where she thrilled audiences with it last year. Tickets are $17 per person, $12 for students (13+), $7 for children (12 and under) and $12 for groups of 10 or more, available online at www.artworksinbeaufort.org and 379-2787.
"Becoming Harriet Tubman" is a one-woman show that tells how one little girl became an historic icon. Through narrative, music, and five characters based on real people, this 60-minute play compellingly portrays the legend of the former slave-turned abolitionist Harriet Tubman. She was a Union spy, the conductor of the Underground Railroad, and fought in the Lowcountry during the Civil War. This play provides insight, entertainment and education for audiences of all ages.
During Piccolo Spoleto in Charleston, Daise will be on stage at Threshold Repertory Theatre, May 26, 27, 28, 31, and June 3. 84 1/2 Society Street, http://www.charlestontheater.com. Tickets are $22 for adults, $19 for seniors, and $16 for students.
Natalie Daise was a featured storyteller at the 2012 BIG Story Fest in Beaufort, and a resident artist at ARTworks. She is well known for modeling effective and joyful parenting, and for bringing Gullah culture to national and international television audiences through Nick Jr's 'Gullah Gullah Island.' Daise is an actor, singer, storyteller, and visual artist: her handicrafts have been featured on HGTV's "Country Style" and in the magazine Coastal Living, and her performances with husband Ron have validated and celebrated the Gullah people for a decade. Together they have been awarded South Carolina's prestigious Palmetto and Folk Heritage Awards.
The Palmetto Theater Xperiment is based in Beaufort. Artistic director J.W. Rone has recently produced and directed 'No Child,' 'Quilting the Sun,' 'Steel Magnolias,' and for 2012, 'Picasso at the Lapin Agile' and an original translation of Moliere's 'The Misanthrope.'