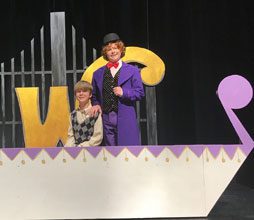 The University of South Carolina Beaufort Center for the Arts invites you and your family to come and enjoy delicious adventures experienced by Charlie Bucket on his visit to Willy Wonka's mysterious chocolate factory, May 18-20. The Beaufort Children's Theater cast will light up the stage in this captivating adaptation of Roald Dahl's fantastical tale.
Featuring the enchanting songs from the 1971 film starring Gene Wilder in addition to a host of fun new songs, Roald Dahl's Willy Wonka Jr. is a scrumdidilyumptious musical guaranteed to delight everyone's sweet tooth.
Roald Dahl's Willy Wonka Jr. follows enigmatic candy manufacturer Willy Wonka as he stages a contest by hiding golden tickets in five of his scrumptious candy bars. Whomever comes up with these tickets will win a free tour of the Wonka factory, as well as a lifetime supply of candy. Four of the five winning children are insufferable brats, but the fifth is a likeable young lad named Charlie Bucket, who takes the tour in the company of his equally amiable grandfather. The children must learn to follow Mr. Wonka's rules in the factory – or suffer the consequences. 
Willie Wonka, Jr is scheduled for one weekend only, May 18 and 19 at 7 PM and May 20 for a 3 pm matinee. Tickets are $25 – $15, and are available online at uscbcenterforthearts.com or the box-office 843-521-4145.
The talented cast of 80 aspiring young actors include:
WILLY WONKA – Jack Fleming; CANDY MAN – Dyamante Scotland; OOMPA-LOOMPAS 1-5 (Speaking)– Kael Forrestall, Caylin Gecy, Mary Virginia Ruff, Ryan Betagoa, Dakota Beckler; CHARLIE BUCKET – Henry Lovett; MRS. BUCKET – GiGi Pingree; MR. BUCKET –Noah Schaeffer; GRANDMA JOSEPHINA – Magan Alvarez; GRANDMA GEORGINA -Bridget Long; GRANDPA GEORGE – Garett Doe; GRANDPA JOE – Mason Herrmann; JAMES – Abe Brown; MATILDA- Sophia Dickerson; PHOEBE TROUT – Holland Perryman AUGUSTUS GLOOP – Patrick Sanders; MRS. GLOOP- Ilse von Heimburg; VERUCA SALT – Ariele Lynard; MR. SALT- Hal Stephens; VIOLET BEAUREGARDE – Emma Dykeman; MRS. BEAUREGARDE – Brycen Ambrose; MIKE TEVEE – Lukas Copeland; MS. TEVEE – Scarlett Mercier; SOPHIE – Maggie Stephens; DANI – Syndey Harris; ALFIE – Jessie Parker, BILLIE – Leila Green
ENSEMBLE
OOMPA LOOMPAS – Dyllan Lenoir, Eva Seivold, Peyton Brock, Teagan Black, Arden Luikey, Caroline O'Kelley, Paige Fosberry, Amelia Raino, Mary Kate Bertagna, Simone Altice, Gracie Brewton, Carson Crosby, Erin Crosby, Joel Foster, Scarlett Bolt, Ella Grace Hoogenboom, Lilyan Severtson, Ella Whittington, Brea Parker, Marie Alvarez, Brittley Yates, Madeline Kave, Lucy Mae Nicka
CANDY MAN KIDS – Ella Paige Glover, Liberty Black, Nora O'Brien, Olive Florence, Kaitlyn Jackson, Olivia Layne, Natalie Bunte, Alex Compton, Caroline Patterson, Liam Martin, Lauren Grice, Gabriela Griggs, Emma Dillinger, Emma O' Bryant, Sadie O'Bryant, Ava Sink, Kendall Martin, Cammy Elliott, Liza Sherbert, Are'aun Bell
SOPHIE – Maggie Stephens, DANI – Syndey Harris, ALFIE – Jessie Parker, BILLIE – Leila Green
COOKS – same as CANDY MAN KIDS
SQUIRRELS – Gayson Odom, Emily Breaux, Blakey Gecy, Elle Lenoir, Aemiliana Ledesma, Mary Margaret Ackerman, Easton Woods