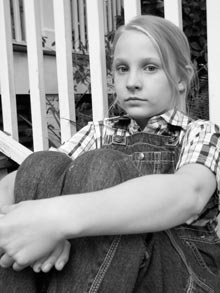 The Beaufort Theater Company takes on an American classic that's every bit as relevant today – and maybe just as shocking – as it was 50 years ago.
To Kill a Mockingbird has been on my mind for a while now. Last year – as the novel celebrated its 50th anniversary – I reread it for my book club, attended a birthday party for it at our local library, and wrote about it in my column.
From
Rants & Raves, June 2010
: "I can't imagine Harper Lee wrote To Kill A Mockingbird in hopes that her readers would come away feeling "comfortable."  I don't think any serious author writes for that reason. What I found, upon revisiting TKAM as an adult, was a beautiful, funny, poignant story… that made me deeply uncomfortable. And I needed it. I needed to feel – really feel – how things were at that time, in that place, for those people. I needed to wrestle with their contradictions, recognize their flaws and their gifts, watch as some of them evolved while others stagnated. I needed to see my own resemblance to these characters – even some of the "bad" ones – and acknowledge our kinship. I needed to feel uncomfortable."
And so it was with great delight that I found myself feeling uncomfortable, once again, as I sat watching the Beaufort Theater Company rehearse its upcoming production of To Kill A Mockingbird, opening May 19th.  Once again, I was in sultry Maycomb, AL, circa 1935. The Old South accents were thick – along with the Old South attitudes toward race and class – and the N Word was being bandied about cavalierly.
***
"It sounds cavalier, doesn't it," director Ian Sprague laughs, during an interview later that night. "It's actually been pretty tense."
There are several African Americans in the cast of TKAM, and a few children, and I'm guessing "tense" is an understatement. I wonder, aloud, if Ian's worried about the audience's reaction to hearing this word that's been so long banished from polite society.
"Honestly? I'm looking forward to it," he says. "Not because I want to shock people, but because I'm curious to see how they're affected by the word. We hear it so frequently in the context of violence – on TV, at the movies, in rap music. But do we still recognize the severity of the word? What about when we hear it from the mouths of children, speaking casually, with no conscious malice?"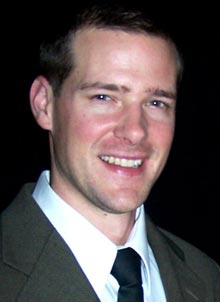 Having recently written a column about the foolishness of the new,  expurgated edition of Huckleberry Finn – the one that's been cleansed of the N Word – I confess to Ian that hearing the word flung about in rehearsal has been surprisingly jarring to me… that the impact was more shocking than I'd expected. It occurs to us both that this speaks to the enduring relevance of TKAM, a story about the 1930s published in 1960. (The novel was later adapted into a play by Christopher Sergel.)
"I think it's even more relevant now than it was when it first came out," Ian says. "Fifty years ago, this stuff was on the forefront of everybody's minds… civil rights, race relations. We were all thinking about it and talking about it. Now we've reached this place where we all assume that we have equality and that everything is okay; and the truth is, it's not. We still have a long way to go. 'Mockingbird' highlights the way things were for black people not that long ago, the struggles that they had to endure on even the tiniest levels of everyday life…. struggles that people today – especially kids – don't realize. Scout has this great line that really drives that home: (housekeeper) Calpurnia has gone to bang
on Boo Radley's door to warn him that the mad dog's coming. In the middle of all this fear and panic, Scout says, 'She's supposed to go around to the back.'"
Natalie Daise, who plays Calpurnia, doesn't hesitate when I ask if she thinks the audience will be uneasy hearing the N Word.
"Yes, I do," she tells me, bluntly.
"Are you uncomfortable with it?" I ask.
"As an actor, I'm not. As a person – as me – I have to put it in context; but I admit, it's not easy. The word is just so loaded. After our first rehearsal, I wasn't sure I could do it. I had to go home and talk it out with my husband and some friends. But you know what? Every story needs to be told. And this is Scout's story. This is about Scout's loss of innocence, and this is Scout's world. If it were Calpurnia's story, it'd be completely different. In fact, as we go through rehearsals, I keep writing that story in my head."
"I saw you perform your one-woman show about Harriet Tubman a few months ago," I tell Natalie. "It was absolutely wonderful. I know you wrote it, too. Maybe Calpurnia should be your next project. 'Calpurnia's Story'…"
"It's not a bad idea," she smiles. "Not bad at all."
***
Cast member Leo Gannon has his own audience reaction to worry about. He's playing one of the most beloved and admired characters in all of American literature: Atticus Finch. Those are some pretty big shoes to fill – thanks, in no small part, to Gregory Peck's iconic performance in the film adaptation of TKAM. I ask Leo if he's feeling any pressure.
"In a word, yes. I haven't seen the movie in years, but it's burned into my brain. I remember the first time I saw it, and there was Gregory Peck, and I thought… man, he is Atticus. So, the hardest part for me is not my lines, my blocking, my intentions or any of that. The hardest part for me is trying not to be Gregory Peck. Obviously, there's no point in trying to do it better than he did. All I can really hope to do is bring something different to the role. Create a different Atticus. Although, that Atticus was perfect, so… yeah, I feel pressure. But I'm having a good time with it. I know it sounds corny, but it's such a privilege to play thi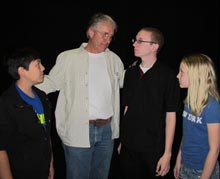 s guy. I always knew that if I got the chance, I'd jump at it."
I ask Leo about the relevance issue, and he agrees that TKAM has plenty to say to a contemporary audience. "Anybody who's trying to raise children in an environment that's often very dark – trying to raise them not to be that way when there's so much peer pressure from the opposite direction – well, that's a struggle I think we can all relate to. Atticus tries so hard to shield his kids from the ugliness around them – he's always telling them to 'go inside,' or 'go to your room' – but in the end, he can't protect them. They have to grow up, and they do."
***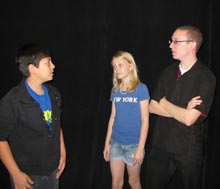 I interview the kids playing Scout, Jem and Dill together, in a group. We only have a few minutes before they have to return to the set, and they're talking over each other with all the animation and enthusiasm of… well, kids.
ME: "I happen to know you've all three just come off of 'Seussical The Musical,' which was fantastic! What was it like working on two plays at once?"
Stewart Trask ('Scout'): "It was really hard, but it's gonna be worth it! It was just for two weeks that the rehearsals were overlapping, but at least we were in the same building …"
Ryan Arbuckle ('Jem'): "Production week was so hard. We were so tired…."
Ivan Estrada ('Dill'): "This play's easier, though, because all you have to do is talk. No singing or dancing…"
ME: "But you guys have a ton of lines! I don't know how you do it all, with school, too… Luckily, you're all old pros at this… "
Stewart: "I've been in 11 plays!"
Ryan: "Ivan and I have done 8 or 9… "
ME: "You guys must really like this stuff."
Stewart: "We love it! And we love each other. We're like a little family."
ME: So, you're used to children's theater. How do you like working with all these grown-ups?"
Ivan: "It's so much fun! I had no idea there were so many great actors in Beaufort."
Ryan: "This is probably my favorite show ever. The cast is so awesome."
Stewart: "Again, it's like a family. Leo (Atticus) is like the dad. He keeps things in
order. And the other adults are always teaching us new skills we need to learn."
All three kids inform me they plan to pursue acting careers – Stewart and Ryan in film, and Ivan on Broadway. Their faces beam, their excitement is infectious, and I wouldn't bet against any of them.
Neither would TKAM co-director (and my co-publisher and husband) Jeff Evans, who has this to say about his youngest cast members:  "Working with the kids has been pretty great. We're giving them a certain amount of experience that they wouldn't get in a children's production, I think. And they're a lot of fun to have on the set. At the same time, we've found that it's certainly a good idea to take their cell phones away at the beginning of rehearsal."
***
The youngest of these junior cast members, Stewart Trask, is just finishing up sixth grade. I have my fourth grader here at rehearsal with me, which may account for some of my aforementioned discomfort. When Scout turns to her father on stage and asks, "Atticus, what's rape?" I find myself sinking into my chair, then deeply relieved to see my daughter chattering away with a friend a few rows back, ignoring rehearsal completely. She will see the play – her dad's co-directing, and she's asked to see it – but we will have to have a "talk" beforehand. I don't necessarily look forward to it, but at almost 10, I think she's probably ready for it.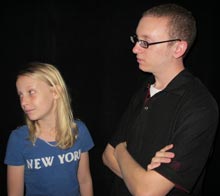 I ask Ian Sprague for his take on the kid-friendliness of TKAM. "Well, I think it's very age-appropriate for middle schoolers. Probably 5th graders, too. As for 4th graders? It depends on the 4th grader, I guess.  Seeing live theater is so good for kids, but parents should know that they'll probably have to have a conversation. They'll need to talk about race relations… and, of course, the topic of rape comes up. Though, the way it's handled is very subtle… not particularly descriptive."
Jeff Evans agrees that fourth grade is about the right age. "The play's a little sensitive, but there's some stuff that's really important for kids to see and hear. I think the importance of that material outweighs the shock value, by far."
***
This is the second play that Ian and Jeff have co-directed for BTC, preceded by last ye
ar's Arsenic and Old Lace.
"Co-directing is not a common practice in the theater," Jeff tells me, "But I think Ian and I work really well together, mainly because we have such different strengths. Ian's better with the technical parts… staging, set design, that kind of thing. My strength, I think, is script analysis, working with actors, etc."
(As a community theater hobbyist, myself, I've had the privilege of working with both Ian and Jeff, and they're both very good at all of the above. If you ask me, it's their completely different personality types that make the pairing work. One is Type A and the other is… not. And that's all I have to say about that.)
Both directors have years of experience in every aspect of the theater.  Ian started acting in high school, as well as dabbling in the technical side of things, landing a job with the famed Madam Walker Theatre Center of Indianapolis. Throughout college and grad school, the creative writing major continued to act, direct and design sets. For the past four years, he's been teaching English and Drama at Beaufort Academy, where he regularly oversees elaborate student productions.
Jeff got started a little later, working as an apprentice actor with the Berkeley Shakespeare Festival after college, then moving into other theater productions, as well as a bit of film. Here in the Lowcountry, he's been producing Shakespeare in the Park since 1998, and mounted and starred in Sam Sheperd's "True West" last spring.
But the co-directors would rather talk about their TKAM cast.
"These actors are really, really good," says Jeff. "From the most experienced, to the least, it's an incredible cast."
Leo Gannon (Atticus) is a native New Yorker who's done lots of theater and a good bit of film, with small parts in The Prince of Tides and The Last Dance, and a starring role in the independent film Coyotes.
Mary Elias (Miss Maudie) has done lots of film work, too, including playing Martin Sheen's wife in the movie "O," a modern adaptation of Othello.
"Most of my part hit the cutting room floor," she tells me, laughing. "But you know what? I've got it all in my head! I got the experience. I got to work with one of the greats. Martin Sheen was amazing…"
Mary tells me she and Leo are old acting buddies from way back. "We studied with the same acting
coach, but at different times and in different cities. We've never actually acted together before, so this has been fun!"
Natalie Daise, of course, is well-known in these parts and beyond, having starred with her husband Ron in Nickelodeon's Gullah Gullah Island, among other endeavors. As mentioned above, she recently wrote and starred in a one-woman play about Harriet Tubman, an experience she calls "transformative." (It was pretty darned transformative for those of us in the audience, too.)
"I'd been wanting to work with an ensemble again – something I haven't done in a long time – so this has been really wonderful," Natalie says.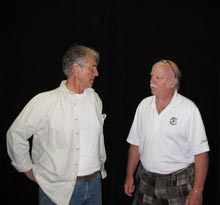 There are so many other terrific actors in this large cast – many of whom I've worked with in Lowcountry Shakespeare productions. Dave Falls, whom I acted with last October in Twelfth Night, discusses his TKAM character, Sheriff Heck Tate:
"It's another enjoyable part… another type cast part," he chuckles.
"How so?" I ask.
"I seem to be fitting a specific character type lately… not that I mind. Sir Andrew Aguecheek… Teddy, the crazy brother…. Let's just say I'm not the serious guy."
Another Shakespeare veteran, Michael Kane, plays the only character in TKAM who, according to Ian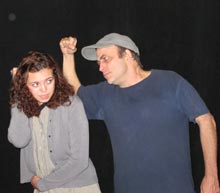 Sprague, "has no real redeeming moment." That would be Bob Ewell, the slimy, despicable father of Mayella Ewell, who has accused an innocent man of rape.
"Michael is such a brilliant actor," says Ian. "He builds so much complexity into the role… so much self-loathing. It's amazing to watch. You actually feel for the guy."
The rest of the cast members – some of whom are not here tonight  – receive equally rave reviews from their directors.
"Having a cast this good certainly makes our job a lot easier," Jeff Evans tells me.
The cast, co-directors, and USCB Center for the Arts director Bonnie Hargrove are all hoping to draw a large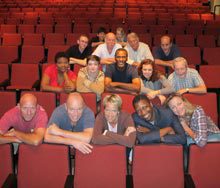 and diverse audience. I have a feeling they won't be disappointed.
After all, as Jeff says, "It's a classic work of American literature. It's celebrating its 50th anniversary. It translates really well to the stage.  It's provocative, topical, intelligently written, and deeply moving. And it's got kids… "
It's To Kill A Mockingbird. What more is there to say?
***
To Kill A Mockingbird opens Thursday, May 19 at 7:30 PM at the USCB Performing Arts Center. There will be performances at 7:30 PM May 20 – 21, and a 3:00 PM performance on Sunday, May 22.
Reserve your tickets today by calling the USCB Center for the Arts box office (843) 521-4145 Ticket prices:  Adults $20, Seniors/Military $18 and Students $15.
Cast: Ryan Arbuckle (Jem Finch), Michael Bible (Boo Radley), Erin Dailey (Mrs. Dubose), Natalie Daise (Calpurnia), Jessica Lendi Dickson (Mayella), Mary Elias (Miss Maudie), Ivan Estrada (Dill), Dave Falls (Heck), Patrick Ferri (Bailiff), Bill Dalton (Mr. Gilmer), Leo Gannon (Atticus Finch), Kwame Johnson (Tom Robinson), Jennifer Joyce (Miss Stephanie), Michael Kane (Bob Ewell), John Kraft (Mr. Cunningham), David Smalls (Reverend Sykes), Stewart Trask (Scout), Fred Wilson (Judge Taylor), Crew: Ian Sprague (Director), Jeff Evans (Director), Bonnie Hargrove (Producer), Casey Chucta (Set Design), K.C. Newcomb (Tech), Jason Lake (Tech)