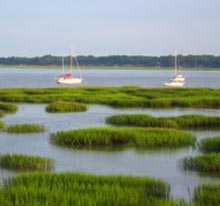 Key acquisitions, bold new initiatives and a new leader propel the Beaufort County Open Land Trust into its Fifth Decade.
Anyone who's ever admired the view from the bluff of the Beaufort River on Bay Street owes the Land Trust a great big "thanks." Forty-one years ago the seeds of the Trust were sewn among the stately live oaks as a trio of Beaufortonians formed an alliance to thwart a plan to develop the property.
In 1971 John Trask, Jr., Marguerite Broz and Betty Waskiewicz pooled their resources and borrowed and additional five thousand dollars to preserve the view and the Open Land Trust took root. In the more than four decades since the Open Land Trust has preserved much more than the occasional vista with nearly 20,000 acres of protected land in Beaufort County.
Lemon Island, the Bluffton Oyster Factory and Frank Lloyd Wright's treasured southern masterpiece, Auldbrass Plantation, are all part of these efforts. In 2010 one of the major acquisitions included The Green in Beaufort's historic Old Point. The property is practically a character in Pat Conroy's novel, The Great Santini and the film version features the actual location. Conroy was a key player in the preservation effort.
2011 saw 4600 acres protected from development including Coosaw Plantation, Orange Grove Plantation and historic Penn Center Farm. The Trust also acquired four parcels along Factory Creek at the base of the Woods Memorial Bridge that will eventually become a waterfront park in partnership with the city and county. The Trust recently held it's 41st annual luncheon at historic Penn Center, the first for Executive Director Patty Kennedy since taking the reigns from Anne Bluntzer last September. A day later we sat down in her office.
THE INTERVIEW
Mark Shaffer: It's been a busy six months. How does it feel?
Patty Kennedy: It feels great. I love this organization and I love the work that we do. The breadth of what this organization does is so exciting. Over time the Trust has evolved from a little grassroots effort by a handful of people to preserve a few vistas into this multi-faceted, dynamic organization.
MS: The signs we see all around – View Preserved by the Beaufort County Open Land Trust – serve as reminders of the original mission.
PK: I think the vistas provide a touchstone. People drive by them every day and I think it makes things very real – it's all about preserving this landscape view. How spectacular is that?
For many years the thought process was about preserving the vistas – to buy up properties that were about to be lost and preserve them. What started to happen was the recognition that as a conservation organization we can have a broader mission to actually start using conservation easements as a means of preserving larger tracts of land. And we've done that all over Beaufort County.
MS: The scope of the mission has broadened considerably.
PK: The ACE Basin kind of set the stage for that in the northern part of the county. It's an ecological
treasure and the land use pattern there centered on these old historic plantations. You have hundreds and even thousands of acres of land under single ownership, so if the financial incentives were correct conservation easement was a great tool for the landowners to use.
MS: Not all landowners are in line to enjoy those particular incentives, which brings us to efforts to protect working rural farms on St. Helena and elsewhere. Among the key partners are the National Resources Conservation Service and the U.S. Department of Agriculture.
PK: The interesting thing with most of the federal programs is that they require a local [funding] match. I think that in the last two to three years almost all of the USDA money that's been allotted to South Carolina has come to Beaufort County because we have that match.
We rank high – St. Helena, Whale Branch, north of the Whale Branch – any of our working farmlands would rank high because of the threat [of development] and the nature of it. But we have a working match that most of the other areas don't.
One of the issues that we have with St. Helena's is heirs' property where over time there's just been an exponential growth in family members who have a vested interest. And everybody has to sign off on it because a conservation easement is essentially a real estate transaction and you have to have the signatures of all the heirs. Sometimes that's impossible. So the strategy is to protect the smaller farms to the extent that we can, but then take the big ones that are most likely to revert to development of some kind and protect those because then you take the pressure off the small guy. If you've got ten thirty-acre farms and a two thousand-acre farm it's less likely that a developer's going to go after all those smaller farms. The goal is to take the development pressure away. The end goal of the program is to keep the small farmers farming.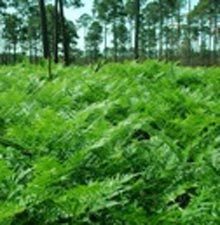 MS: The Land Trust is involved in a lot of partnerships. Besides the city and the county, the NRCS and USDA, you're working with the Department of Defense and the Air Station and a slew of others.
PK: At the luncheon I was thinking, now whom did I forget to thank? We also partner with all the conservation organizations and others – Historic Beaufort Foundation, Coastal Conservation League, Spring Island Trust, the Port Royal Foundation – all of these groups that are working on quality of life issues, preservation issues, education and outreach. This is a big portion of what we do – work with a collective of non-profit groups with perspectives on these issues and protecting this beautiful estuary system that we all live in. We all work together on this through advocacy, education, outreach, and events to promote different organizations. There's a whole collaborative effort and we're not in any sort of contractual agreement.
MS: You're involved with an initiative so new it doesn't even have an official name yet.
PK: "Coosawhatchie to the Sound" or "Salkehatchie to the Sound" – we keep changing it. Essentially the Port Royal Sound Foundation is a new organization that is documenting and educating around the importance of the Port Royal Sound estuary. We've been defining the rivers and streams that drain into the sound and creating a land preservation focus area. We work in different factions outside of Beaufort County: the ACE Basin Task Force, the Southern Lowcountry Preservation Area as well as creating a focus area that ties directly to Beaufort County via Hampton, Allendale and Jasper counties.
MS: Essentially what goes into the water up there eventually ends up down here and has a direct effect on us.
PK: That's exactly right. The Southern Lowcountry Task Force is focused on the Savannah River and up and it's got four or five different neighborhoods, all of which we would take easements on.
The ACE Basin Task Force was a land preservation model. A book's coming out that docu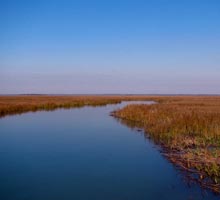 ments it called Rice and Duck. It's probably one of the most widely documented conservation success stories – a group of individuals, agencies and organizations who al worked together to preserve this ecological treasure. They started working with a very specific landscapes and landowners to do voluntary easements. What these key individuals did was pull in all the conservation groups and then the state and federal agencies and it became this brain trust for conservation.
The Southern Lowcountry Task Force was modeled in the same way. One of their key starter focus areas was the Savannah River Preserve, which is the watershed of the Savannah River. Then they expanded out to the Broad River and the Port Royal Sound
drainage basin and parts of the Salkehatchie. We have easements in the ACE Basin focus area as well as the Southern Lowcountry focus area. They're defining geography that affects us and we're carving out this new initiative to focus in on the Port Royal Sound drainage. There's a lot of stuff going on.
MS: There certainly is and one of the projects that goes right back to the roots of the Trust is the Factory Creek Vista project.
PK: It's an amazing story and does go back to the vision of these very smart people who love this city and the vistas in it. Historically we've sort of had this wish list of views and vistas we'd like to preserve. This piece of land at the base of the bridge on Lady's Island has been on that wish list for a long time.
MS: The four parcels begin immediately after the boat landing.
PK: And frankly, we could go farther to open that view back up of Factory Creek and the Beaufort River. We had willing sellers who felt it was time for a change and a phenomenal private donor who wanted to leave a land legacy. This gave us the ability to do something meaningful and leave a mark. And I think that was the intent. This enabled us to go to the city and the county and say, "this is an important piece of land for all of us." We acquired the four parcels. There are four buildings on them and they'll be vacated in December and sometime after that they'll be razed and the vista will be reclaimed.
We'll get some funding, possibly through grants to build a park. It will be passive in nature and the dock will become a public fishing and crabbing dock. The property is jointly owned by the Trust and the count and the county will maintain it.
MS: Let's talk about preservation as an economic driver. How do you go about selling the idea that less is more, that – in some cases – if you don't build it, they will not only come, they'll keep coming back?
PK: What I would say – and it's been said time and time again – is that people are moving here for a very specific reason. And that's because we have an extraordinary landscape. Not just the rivers and the marshes but the maritime forests that are replete with migratory songbirds and wildlife. We have planned communities where bobcats still roam. There is an aspect of living in the Lowcountry that is so authentic and so very real and so beautiful – that is the draw. And once people are here that is the experience they want to have every day. And so the Land Trust works to preserve this fabric and I think the counter to the development side is that you have to have this in order to make that work. It's equally important and I think you have a lot of smart and sophisticated people who understand that and a development community who understands that.
I said this at the luncheon: I think land preservation crosses all boundaries – political, financial, social – because so many people agree that it's vital. You don't really have to sell it. It's a driver in its own right.
GET MORE INFO
Lowcountry Weekly is proud to partner with the Beaufort County Open Land Trust. Watch for updates on projects and reports in these pages, at www.lcweekly.com and on our Facebook page.
Check out the protected vistas, discover more about OLT projects like the Factory Creek Vista and find out how you can get involved at www.openlandtrust.org
Mark Shaffer's email is backyardtourist@gmail.com