Beaufort Children's Theatre presents Disney's "Beauty and the Beast, Jr."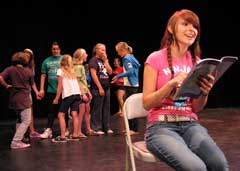 Beaufort Children's Theatre is back on stage at the USCB Performing Arts Center with Disney's "Beauty and the Beast, Jr." for one weekend only: June 5 at 7 PM and June 6 at 3 PM.   Join 70 aspiring actors, ages 6 – 18, as they delight you with the story of the brainy and beautiful Belle, who yearns to escape her provincial life… and her brute of a suitor, Gaston. Belle gets more adventure than she bargained for when she becomes a captive in the Beast's enchanted castle! Dancing flatware, menacing wolves, and singing furniture fill the stage with thrills in this beloved fairy tale about very different people finding strength in one another and learning how to love.
"Beauty and the Beast, Jr." cast includes: Narrators –Savannah Mullens, Preston Coleman, Keating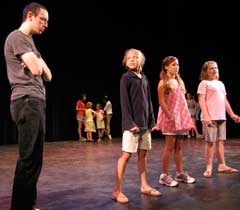 Reichel, Kitty Strawn; Belle -Lynleigh Mclain; Beast- Ryan Arbuckle; Gaston- Eliott Chucta; Lefou –Ivan Estrada, Mrs. Potts -Allie Fraley; Chip – Amelia Evans; Old Beggar Woman – Brooke O'Neill; Madam D'Arque – Raquelle Williams; Maurice – Conor Gallagher; Babbette- Elise Dean; Cogsworth – Michael Dan Holmes. Jr.; Madame De La Grand Bouche – Ellen Hodges; Lumiere –Logan Suber.  Villagers: Eliza Akers, Makayla Alsten, Jasmine Callender, Lexy Cannon, Caleb Cronbaugh, McKenzie Daniel, Jenna Dean, Samantha Farley, Alaina Galtelli, Ashton Giammona, Jefferson Gibson, Maggie Kinton, Gloria McCreary, Mary McNeal, Joseph Mooney, Mary Mullen, Taylor Murphy, Kaitlyn Nick, Peyton Nick, Ansleigh
Pingree, Hailey Seckinger, Molly Smith, Rebecca Strawn.  Silly Girls: Mary Margaret Achurch, Shannon Courtney, Zoe Farley, Chandaa Johnson, Taylor Johnson, Jessa Norton, Michelle Perri, Rachel Shelton, Grace Stewart, Stewart Trask, Katy Waller. Servants: Pat Balmediano, Kaitlyn Boulware, Lauren Bush, Sara Correll, Gracie Cunningham, Abigail Freeman, Brittany Gates, Olivia Giammona, Sofia Giodani, Rebecca Johnson, Brinlee Johnson, Jacquelyn Johnson, Madison Mullen, Zaria Pope, Abigail Skinstead, Anna Smith, Rosie Stewart, Avery Thomas.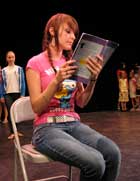 USCB proudly supports the creativity, educational experience, and community spirit involved in Beaufort Children's Theatre productions. Ticket prices are: adults $12, children $8.  To reserve your tickets call the USCB box office at (843) 521-4145. .