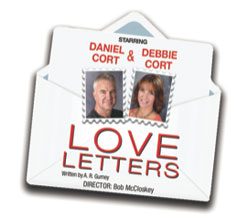 The May River Theatre returns in its 19th season to present 'Love Letters' by A.R Gurney, an emotional play that tugs alternately at the funny bone and the heart-strings. It tells the story of two childhood friends whose life-long correspondence begins with birthday party thank-you notes and summer camp postcards.
The friends continue to communicate through challenging life experiences. The play is a tender reflection of shared nostalgia, missed opportunities and deep closeness of the two complicated friends. 
May River Theatre is coming back after an 18 month pause due to the Town Hall renovation where they perform. MRT founders, Jodie and Ed Dupuis had 'Love Letters' on their wish list and the show's Director, Bob McCloskey decided that due to the non-profit's new beginning, it was the perfect time. McCloskey is well-known for his leading actor roles in My Fair Lady, The Lion In Winter, The Odd Couple, Fiddler On the Roof, The Producers,Spamalot, Love Letters, Best Little Whorehouse In Texas andHellman Vs. McCarthy.He has been an Assistant Director in many SCCT shows and made his director debut in 'Promises, Promises', last fall.  
The play focuses on establishing the characters' personalities without the aid of set, costume, or movement. Because of the show's two-person, male-female cast, and MRT's desire to make a splash with their return production, the theatre approached Daniel and Debbie Cort, who have a history with MRT and a well-deserved reputation as outstanding performers. 'Love Letters' format and content is completely different than their previous productions, which include The Pajama Game(Sid & Babe), Man of La Mancha(Don Quixote & Aldonza), The Addams Family(Gomez & Morticia). MRT supporters familiar with their theatrical accomplishments have the fortuitous opportunity to enjoy the Corts' first non-musical performance together. 
The show runs May 2-5th at 20 Bridge Street in Bluffton. Thurs-Sat 7pm./Sunday matinee 2pm.) Tickets ($27) www.mayrivertheatre.comFor ad sales, donations or volunteer opportunities call 843-815-5581. Donations: May River Theatre, PO Box 1674, Bluffton, SC 29910.