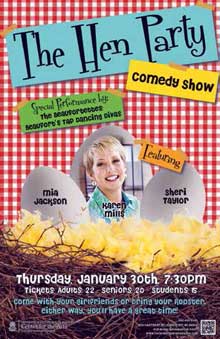 Women just love to laugh! And they love to laugh most with each other about their common problems and challenges. So, if you're one of these women, get some friends together and come to "The Hen Party" at USCB Center for the Arts on Jan. 30 for an evening of hilarious introspection on the trials and tribulations we all face sooner or later.
Low rise jeans, hot flashes, memory loss and new-fangled technology are just a few of the puzzling topics that Karen Mills and Leanne Morgan will attempt to unravel for their audience, with liberal doses of good-natured southern humor served up with lots of love and laughter.
The headlining comedians have been playing in theatres and clubs across the country and both have the winning ability to relate to their mostly female audiences. Karen finds "funny" in everyday life, even when she was battling cancer. Her mission with her humor is to inspire people to see the love and laughter in their common challenges. She has been a national touring comedian for 20 years and appears regularly on Sirius XM Laugh USA and recorded a one-hour special for Blue Collar Radio.
Leanne was a stay-at-home mother of three and found her comedic talents when she started selling jewelry at in-home parties. Her parties were booked months in advance and soon she was being asked to appear at civic and business events. Since turning professional she has appeared on "The View," was a finalist on Nick at Nite's "Funniest Mom" and toured three years with Southern Fried Chicks.
Tickets are Adults, $22; Seniors, $20; Students $15, and can be purchased online at www.uscbcenterforthearts.com or call the box office at 843-521-4145. All seats are assigned.