Or Lessons From the Longest Location Scout Ever
All in the Family
This is a story about family. Not actual blood relations, but the kind that's drawn together by fate or circumstance and then something like lightning strikes. That is the secret of the Beaufort International Film Festival. Throughout the years as the festival has grown and evolved, it's felt like family, growing pains and all: the Beaufort International Film Family. Either way – it's BIFF.
Uyen Le and VW Scheich joined this budding family in 2013, winning Best Short for "Wallenda," a film about the circus. Specifically, a film about the great high wire artist, Karl Wallenda, grandfather of VW's cousin Tino Wallenda. VW was also raised in a family of daredevil circus performers which explains his fearless showmanship. With a background in entertainment law, Uyen's focus tends to be more grounded. Together they are a lethal creative tandem and a treasured part of the BIFF family. Think of it this way: VW's the cousin most likely to get you locked up. Uyen's the one with the bail money and the law degree.
This year they celebrate their 10th "BIFF-iversary" opening the festival with a matinee showing of their new feature film, "Stars Fell Again," the follow-up to the 2020 smash "Stars Fell on Alabama," shot in Beaufort.  We caught up by phone shortly after the film's red-carpet debut in Los Angeles.
Uyen Le: It was amazing! Most of the cast showed up.
VW Scheich: 99 percent. A couple couldn't make it because they're working, so not a bad reason.
Mark Shaffer: Did the first film get this kind of premier?
VW: It debuted during COVID and all the theaters were shut down, so we had to think outside of the box. We did a drive-in theater thing where people pulled up in their own cars with family and friends, got their popcorn, and we all hung out in the parking lot and watched the movie. I do like a nice applause after a film, but a hundred cars honking horns and flashing lights? (Uyen laughs) I'm just saying, it was kind of epic.
MS: When did the sequel talk begin?
VW: Leaving Beaufort after shooting the first one. That was hard, but [Producer] Doug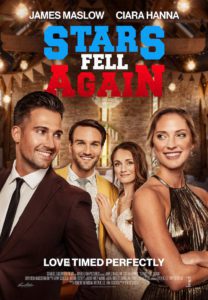 Vetter made it easier by offering up some seats on his private jet. We all piled in [Cinematographer Wey Wang & Writer/Producer Robert Windom]. I think somewhere over the middle of Texas we're half a bottle of bourbon in and we're like, "You know what we should do? A sequel!" And we just kind of spit-balled [the storyline] halfway across the country until we had a rough outline. Then we reteamed with Robert and came up with this beautiful script that continues the story of Madison and Bryce's relationship and also brings in her family. Because nothing makes things go smoothly during the holidays like family. (Laughter) Follow that rule, you'll have your own rom-com.
Uyen: At this point the sequel was basically in our heads.
VW: Right. The first film hadn't even been cut yet. We were just dreaming big. And in a wonderful surprise the first one was received really well.
Uyen: It found an audience and people really seemed to enjoy it.
VW: When that happened, we thought, maybe we can make that bourbon dream come true.
MS: You were still editing the first film when COVID hit and everything changed – particularly the movie business. Will it ever go back to the way it was or is this the new normal?
VW: No. I think this is the new "normal" and it's going to continue to change and audiences will adapt. Nowadays we have giant tv screens and surround sound in our living room, so you don't have to go to your local theater – although I love it – but as you know, they keep tearing theaters down.
MS: All too well. The first film became a streaming hit during COVID. Was that always the idea for the sequel?
VW: Yeah, I think nowadays trying to make a movie you have access to this wonderful world wide web where you just send stuff out through an aggregate and get it on iTunes and Amazon and maybe a subscription platform like HULU. And if that's how the audience found the first film, you have to do it again.
The Longest Location Scout Ever
MS: This is also ten years since your first BIFF.
VW: Yeah, and when we were there the first time, we were hanging out on the porch of the Rhett House, thinking we've gotta come back. So, we [polished] a screenplay, submitted it and came back with "Pawn." Won best screenplay with that. Then we started thinking about the next year, again sitting on the Rhett House porch, and actually started writing "Interwoven" right there, which also brought us back. And then we moved to Beaufort! We were like, what could be even more crazy? Let's just do it! And we did.
MS: Ironically, you spent two years living in Beaufort trying to get a movie made that never happened and eventually made a different movie that becomes the first feature shot in the state in years.
Uyen: Yes, I like to think of it as the longest location scout ever…
(Laughter)
VW: Uyen keeps me true to my word. If we say we're gonna make a movie, we're gonna make a movie. Sometimes we're just a bit ahead of the curve. We really tried to will one ("Basement Bob") into existence, but had to step back and return to L.A. And then [Writer/Producer Robert Windom] showed us a couple of scripts, and one could be re-tooled for a small town. And we said, "We know a small town."
It's all a matter of being patient with your work sometimes. Let it ferment. I'm so impatient and I want it all done yesterday. Luckily, Robert's even more impatient (laughs). He wants it done the day before yesterday.
He's like, "Can we release it on DVD?"
I go, "Robert, it hasn't been shot yet."
"But can we still do that?"
(Laughter)
Uyen: Mark, you can imagine how much fun it was for me working with those two. (Laughs)
MS: Barely. (Laughter) What's next for you two?
VW: We're gonna go to BIFF!
(Laughter)
MS: I walked into that one (laughter). What are you looking forward to about that experience?
VW: We're looking forward to seeing everyone and meeting the filmmakers and having a great screening. The audiences at BIFF are special. BIFF is one of those experiences as an independent filmmaker that you have to have. It's a must on the list. If a BIFF audience hasn't screened your movie, it hasn't been seen by a great audience. It's really amazing.
And then there's the gala, and I'm really looking forward to the Saturday Shorts—
Uyen: We're not going to be there Saturday—
(Pause)
VW: But I am looking forward to it regardless…
(Laughter)
"Stars Fell Again" screens 4pm, February 21st at the USCB Center for the Arts, followed by the opening night gala at Tabby Place. Tickets are available at www.beaufortfilmfestival.com and the Visitors Center inside The Arsenal at 713 Craven St.