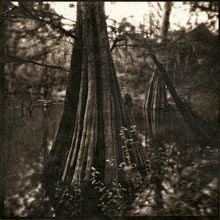 Pieces of scrap glass left over from framing jobs at Beaufort's Charles Street Gallery are making their artistic debut in Charleston as negatives in Gary Geboy's new collection of platinum palladium and wet plate collodion photography.
The exhibit, "Organic Legacies" opens February 12th at the Rebekah Jacob Gallery at 502 King Street in Charleston. It features the work of Geboy and painter/printmaker Tom Nakashima. Both artists focus on abandoned buildings and trees, in various stages of the life cycle, but interpreted in wholly different ways.
Nakashima's work on paper was inspired by a pile of fruit trees uprooted to make way for a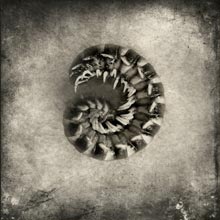 housing development in Berryville, Virginia. Geboy's natural subjects are closer to home, most of them collected in the Lowcountry and then photographed on his Beaufort back porch under natural light.
"I needed a way to convey the fragility of these overlooked treasures and there's nothing more fragile than glass," says Geboy.
For his last exhibit, a 2013 pairing with Beaufort fiber artist Kim Keats, Geboy worked in platinum palladium, a vintage process made famous by late 19th century masters like Alfred Stieglitz and Edward Curtis. For the month-long "Organic Legacies" show in Charleston he adds an even older technique photographic technique, invented in 1851, called wet plate collodion.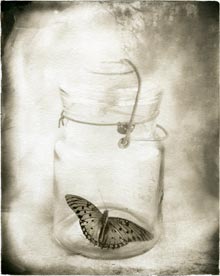 "You might not recognize the process by name, but if you've ever looked at Civil War images by Matthew Brady's photographers you've seen wet glass plate collodion," says Rebekah Jacob, gallery owner and southern art historian. "Gary breathes new life into a forgotten process and preserves a part of the South that is truly universal."
Geboy sees his reach back into the archives of photographic techniques as an anecdote to the contemporary landslide of digital images. "I love my camera phone as much as the next person, but there's a difference between recording daily life and making images that are truly one-of-a-kind and process is part of that distinction."
For more on the Feb. 12th – March 12th Geboy/Nagashima "Organic Legacies" exhibit visit http://www.rebekahjacobgallery.com