BIFF-Inspired Recipes to Enjoy at the Movies
It's time to roll out the red carpet! The 17th annual Beaufort International Film Festival is almost here and the whole town is giddy with anticipation. Opening night festivities begin on Tuesday, February 21st. On Wednesday at 9:00 am, filmmakers, directors, screen writers, movie stars and lots of film-loving fans will begin viewing all of the nominated flicks for four action and drama-packed days and nights. Of course, we'll all eat our weight in popcorn. That's a movie-watching must. Still, some of us won't want to miss a single film or to leave the theater long enough to go out for lunch, so I've created several BIFF-inspired offerings that can be made the night before and safely tucked into a small bag to take to the movies. If you're so inclined, you can easily make extras to share with some of your movie-watching friends. BIFF Executive Directors, Ron and Rebecca Tucker joined me in my kitchen to test all of these delicious recipes. To watch the Tuckers in action, please visit my YouTube channel, Debbi Covington: My Fabulous Cooking Show. Official BIFF photographer Susan DeLoach caught all of our antics on film. If you love movies, you'll love BIFF. Please join us. It's going to be a great week! For more information about the Beaufort International Film Festival and to purchase movie and event tickets visit www.beaufortfilmfestival.com. I'll be catering Awards Ceremony Cocktail Hour on Sunday, February 26th. We hope to see you at the movies!
BIFF Munch

A delicious sweet and salty snack to munch on at the Beaufort International Film Festival. Be sure to take extra for your film-loving friends.
1 (3.28) ounce package microwave popcorn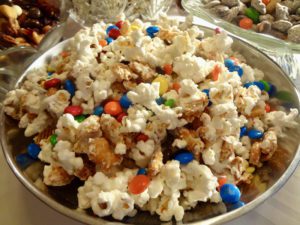 2 cups pretzels
2 cup salted mixed nuts
2 cups M&M's candies (peanut, plain, mini or a combination)
1 cup semi-sweet chocolate morsels
½ cup blue melting candies
½ cup red melting candies
½ cup yellow melting candies
2 tablespoons candy sprinkles
Pop popcorn in microwave according to package directions. Cover a large baking sheet with aluminum foil. Spread cooked popcorn on baking sheet. Remove and discard all unpopped kernels. Add pretzels, salted mixed nuts and M&M's candies. Melt chocolate morsels in microwave and drizzle over popcorn mixture. Repeat with blue, red and yellow melting candies. Garnish with candy sprinkles. Let mixture dry for at least 3 hours or until set. Break into pieces and serve. Store leftovers in an air-tight container.  Serves 10.
BIFF Bowl (Chicken and Orzo Salad with Arugula)
1 cup plus 2 tablespoons dried orzo pasta
¼ cup extra-virgin olive oil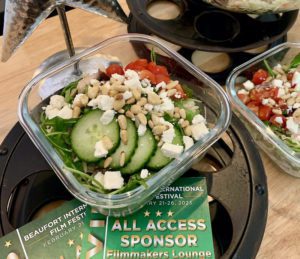 1 tablespoon fresh lemon juice
½ teaspoon freshly ground black pepper
1 large red bell pepper, diced
1 cup sliced kalamata olives
1/3 cup chopped red onion
4 cups shredded cooked chicken (I used deli chicken)
Cook orzo to al dente, according to package directions. While pasta is cooking, whisk together olive oil, vinegar, lemon juice, honey, garlic powder, pepper and salt in a medium bowl. Add bell pepper, olives and red onion; toss lightly. Drain cooked pasta. Add pasta to the vegetable mixture and toss to coat. Fold in chicken and arugula. To serve, place pasta salad in individual bowls; top with cucumber slices, tomato halves, crumbled feta and toasted pine nuts. Serves 6 to 8.
The BIFFwich Lowcountry Sub
Red onion, cut into thin slices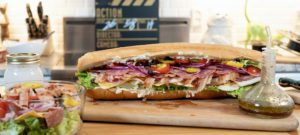 1/4 cup sweet pickle relish, drained
1 tablespoon dried oregano
1/3 cup red wine vinaigrette
1/3 cup extra-virgin olive oil
1 large loaf French bread
Cheddar-Jack cheese slices
Bacon slices, cooked and drained on paper towels
Sliced tomatoes, seasoned with salt and pepper
Soak red onion in cold water for several minutes to cut the bite of the onion and mellow the flavor. In a small bowl, mix the mayonnaise with pickle relish. Set aside. In a bottle with a pour nozzle, mix oregano with red wine vinaigrette and extra-virgin olive oil. Shake well to combine. Slice French bread in half, lengthwise. Slather both sides of bread with mayo-pickle relish sandwich spread. Top with green leaf lettuce, cheeses, meats, drained red onions, tomatoes, banana peppers and black olives. Drizzle sandwich liberally with vinaigrette. Place remaining bread on top of the sandwich. For best results, wrap the sandwich tightly in saran wrap and refrigerate for 2 hours or overnight before slicing. Serves 6 to 8.
The ingredients for the sandwich spread and vinaigrette are listed in the BIFFwich recipe.
Cheddar-Jack cheese slices
Bacon slices, cooked and drained on paper towels
Sliced tomatoes, seasoned with salt and pepper
1 tablespoon sandwich spread
2 tablespoons vinaigrette
Cut lettuce, cheeses and meats into bite sized pieces. Place in a salad bowl. Top with red onion, tomatoes, banana peppers and sliced black olives. In a small bowl, combine sandwich spread with vinaigrette. Mix well and drizzle over salad before serving.
Buttered Popcorn Crème Brulee
¾ cup milk
4 cups popped buttered popcorn
1 teaspoon vanilla extract
Extra sugar for caramelizing
Extra popcorn, to garnish
Preheat oven to 350 degrees. Boil a kettle of water. Place heavy cream in a medium pot and bring to a very low simmer. Turn heat off, add the buttered popcorn and stir to saturate the kernels. Allow the cream mixture to steep with the popcorn for 10 to 15 minutes; strain the liquid through a fine mesh sieve into a small pitcher, pressing the solids with the back of a spoon to release as much of the liquid as possible. Place the egg yolks, sugar, salt and vanilla extract in a mixing bowl and whip with a whisk until the mixture is pale in color. Dribble in a little of the warm popcorn infused cream mixture into the egg mixture, whisking, to temper the egg yolks. Add eg yolks mixture to the hot cream mixture, slowly, while whisking, until completely incorporated. Place four 6-ounce ramekins in a baking dish and pour the custard mixture into the ramekins, dividing the mixture equally. Place the baking dish with the ramekins in the preheated oven and carefully pour hot water into the baking dish, allowing it to come about an inch up the sides of the ramekins. Bake for 18 to 20 minutes or until the custards are set around the edges but still jiggly in the centers. Cool completely in the refrigerator. To serve, sprinkle the tops with sugar and brulee with a torch or under the broiler until brown and caramelized. Top with a few pieces of buttered popcorn before serving. Serves 4.
The writer owns Catering by Debbi Covington and is the author of three cookbooks, Celebrate Beaufort, Celebrate Everything! and Dining Under the Carolina Moon. For more great recipes and to view her cooking demonstrations, visit and subscribe to Debbi's YouTube channel. Debbi's website address is www.cateringbydebbicovington.com. She may be reached at 843-525-0350 or by email at dbc@cateringbydebbicovington.com.