Beaufort International Film Festival Marks Big Chill 40th
Each year for the past 17 years, Ron and Rebecca Tucker manage to pull off the minor miracle that is the Beaufort International Film Festival. And each year after the last award's been handed out, the applause fades into the night and the curtain comes down on another BIFF, they ask each other the same question: Why go on?
"Once we start planning it and put out the call for submissions, it's kind of a snowball effect and we are absolutely spent during the process," says Ron. "But it is kind of addictive, though every year it gets a little harder for a lot of different reasons."
COVID posed a unique challenge, albeit one that affected the festival only minimally. The 2020 festival was already in the books by the time the world went into lockdown, and though scaled down, the 2021 festival was conducted under strict protocols.  Competition, however, doesn't come with protocols.
"There are more [regional] film festivals now and we're all competing for films and sponsorship," says Ron. "But even though a lot of our filmmakers are screening at other festivals around the same time, I see them choose to come to us. They want to be here."
"Filmmakers are a buzzy bunch," says Producer Uyen Le. "Word of mouth means a lot." Her partner and husband, Writer/Director VW Scheich agrees. "It's how we first came to BIFF."
That was a decade ago and in the years since the pair have been a near constant creative
presence for BIFF and Beaufort (see the accompanying piece, "Stars Keep Falling"). This year they'll generate big buzz of their own by opening the festival with a special first ever matinee screening of their latest film, Stars Fell Again, the brand-new sequel to the hit 2020 rom-com, Stars Fell on Alabama. In the original Beaufort doubled for Alabama and the Tuckers co-produced through the Beaufort Film Society.
A constant factor in the buzz that's made Beaufort one of the top-rated festivals year after year is the intimate setting. All of the films screen under the big top of the USCB Center for the Arts. Attending filmmakers get a post screening Q & A with the audience while the audience has the opportunity to rub shoulders with the filmmakers. It's up close and personal all day, every day. Trust me, you can run but you can't hide at this film festival.
"We didn't want to be like other festivals," says Ron. "We wanted to stand out and really support the filmmakers. And the word gets out. It's really evident this year. A couple of the veteran judges tell us this is the best overall selection of films we've ever had."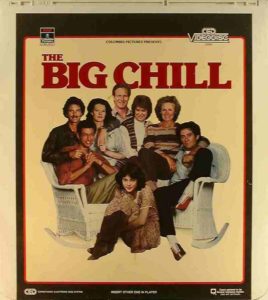 The roster includes four full length features, three documentary features, seven short documentaries, four animation shorts, ten student films and a staggering twenty-nine short films. One of the last films to make the deadline – the short Ivalu from Denmark – is nominated for an Academy Award. Each year there seems to at least one film that gets the judges buzzing. This year it's the short film, Ghosted.
"Every single judge described it as, "Wow!" says Ron.
I've long thought that if the Beaufort International Film Festival were to adopt a theme song, it should be Marvin Gaye's Motown classic, "I Heard It Through the Grapevine."  There are two reasons. One: over the festival's 17 seasons its popularity among filmmakers has been achieved almost entirely by word of mouth – a global grapevine, if you will. Two: Gaye's iconic tune sets the narrative tone in the opening montage of the film that put Beaufort squarely on Hollywood's radar 40 years ago. Writer/Director Lawrence Kasdan's The Big Chill was nominated for three Oscars, including Best Picture. It helped launch the careers of Oscar winners and nominees like Glen Close, William Hurt, Jeff Goldblum and Tom Berenger, and it ushered in a golden age of filmmaking in Beaufort and South Carolina that included the likes of The Prince of Tides, Die Hard with a Vengeance, Forrest Gump, and many, many more.
And it made dancing around with leftovers in the kitchen look cool.
This year's list of BIFF honorees includes the film's Cinematographer and Editor. Co-recipients of the Pat Conroy Lifetime Achievement Award, John Bailey and Carol Littleton, also happen to be married. Both have amassed an astonishing list of honors during remarkable careers far too long to detail here.
"They've both worked on some of the biggest films ever," says Ron Tucker. "A lot of Beaufort and BIFF connections are in there."
In addition to The Big Chill Bailey's lensed classic films like
Silverado, In the Line of Fire, As Good as it Gets, and Groundhog Day. Littleton's edited most, if not all, of Kasdan's directorial work including Body Heat, The Accidental Tourist, and Grand Canyon. She won an Emmy for the TV adaptation of Tuesdays with Morrie and was nominated for an Academy Award for her work on little film by Steven Spielberg called E.T.: The Extra-Terrestrial.
"The Big Chill told the [film] industry that you could go to a small South Carolina town and make a quality film," says Dan Rogers. The Senior Project Manager at the SC Film Commission has seen it all in his 35 years on the job. Rogers receives this year's Behind the Scenes Award and according to Ron, nobody's more deserving.
"Dan's been charging the hill for a long time," says Ron. "He can tell you how much money the movies that were made here spent. And he can also tell you how much money the movies that didn't get made here could've spent."
"You build on every film," says Rogers. "'A film as popular as The Big Chill became a calling card for South Carolina. It gave producers a comfort level and gave the Film Commission a voice to say, 'Here's how they did it and here's how we can do it with your story.'"
The story Writer/Director David Kniess tells in his feature documentary, The Gift, is one worthy of only the fourth Santini Patriot Spirit Award ever presented.
"It is a very powerful film, a very emotional story" says Ron. "How he got some of the footage, I have no idea."
"This story started many years ago on a random red eye flight and a seat next to a young Marine named Jason Dunham," says Kniess.
On April 14, 2004, young Corporal Dunham was leading a patrol in western Al Anbar Province, when his convoy was ambushed. Dunham made the ultimate sacrifice to save his comrades and was posthumously awarded the Medal of Honor. Kniess calls his film an intimate look at the life of Corporal Dunham, his family, and Marines of Kilo Company, 3rd Battalion, 7th Marines. "Intimate" is putting it mildly.
"People need to see The Gift to get a better understanding of what it's like for men and
women to go to war and the after-effects that linger for the rest of their lives," says Kniess. "It's for anyone who has experienced the loss of a loved one. Loss is universal."
Kniess is humbled to receive the Santini.
"The fact that it has only been given out a few times makes me feel that I have accomplished what I set out to do, and I feel The Gift is an important story that people need to see."
Ron expects The Gift to be well-represented on awards night.
"Most of the production crew are coming, possibly Corporal Dunham's family and about 25 members of his unit."
Why go on? There's your answer.
Get the complete schedule, check out previews and buy tickets at www.beaufortfilmfestival.com. Tickets are also available for purchase at the Visitors Center located in The Arsenal at 713 Craven St.