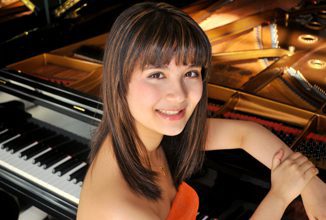 The Beaufort Symphony Orchestra and music's rising young stars help drive each other to greater levels of excellence. It's not an easy life for young soloists as they reach their late teens and young adulthood, explains Conductor Fred Devyatkin, the Beaufort Symphony Orchestra's Musical Director.
The proficiency they had at age eight or eleven is no longer a novelty. Now they are seen as adults and now they actually need to make a living. They find themselves in competition with long established big names represented by management companies.
The established soloists command fees that are well beyond what a small-town symphony like Beaufort's could begin to afford. There is a silver lining to this story however, that benefits everyone concerned. For those like Maestro Devyatkin, that are willing to put in the many weeks and months of searching that it takes, they sometimes come across that one undiscovered yet extraordinary young soloist who is on the verge of greatness. Fred reaches out to his extensive music world contacts across the globe, talking with other conductors, former teachers and mentors.
Recently, Devyatkin scoured countless hours of video recordings from regional piano competitions to find eighteen-year-old Nadia Azzi, the featured piano soloist for this season's Warsaw to Paris concert. The conductor usually begins with an idea for the concert, which sometimes changes. Devyatkin approached Nadia about performing a Grieg piece. To Fred's delight, Azzi, known for her extraordinary finger technique, asked if Chopin or Prokoviev, both more complicated and technically challenging, might be possible. "This is the kind of thing that causes a great deal of excitement among the Beaufort Symphony musicians," the conductor reports, "and motivates us to achieve unexpected levels of performance."  
"Some of the young soloists are so good," Devyatkin tells us, "that if you put them behind a screen and had them play alongside the thirty to fifty thousand dollars a performance big name soloists, you couldn't tell the difference." Twenty-year-old cellist, Irena Josifoska, is another of the Beaufort Symphony's 2016-17 season soloists. The conductor found her through a fellow conductor and former teacher. Irena displays a stunning appetite for both her instrument and her music and plays with an uncommon liveliness and color. She was the featured soloist in the Dvorak Devotion concert this past February.
It is a win -win for everyone. The rising young stars come away with a paid performance on their resume and a video of the performance that is often better quality than anything they have had before. The excitement and challenges of playing with these genuine prodigies has continually elevated and improved the Beaufort Symphony Orchestra's stature and level of performance. Newcomers to the Beaufort area from larger cities with better-known (and significantly better-funded) orchestras are often stunned when they finally get talked into attending a concert. "Hey, these folks are good!"
The Beaufort Symphony Orchestra's next concert is From 'Warsaw to Paris,' Nadia Azzi soloist, on May 11 and 14, at Sea Island Presbyterian Church on Lady's Island in Beaufort. Ticket information is available at beaufortorchestra.org.
Concerts are funded in part by the SC Arts Commission which receives support from the National Endowment for the Arts.