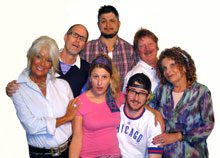 Coastal Stage Productions presents a clever comedy about moving on.
Young couple Olivia and Gabe (Robyn Beckwith & Shane Kelly) are starting their new life together and moving into their own apartment in Chicago.
They've just packed up all of their belongings and driven twelve hours from New York City for a fresh start. The lovely couple is still a LONG way from gaining their independence and moving day becomes a little too crowded when both sets of parents (Margy Oehlert & Dave Falls, Donna Capps & Dan Herrin) and the new building superintendent (Paul Gonzalez) all decide to show up to help! With cleaning products, bottles of liquor, and plenty of sage advice, they all offer Gabe and Olivia pointers on how they should prepare to tackle their new life. Adding to the day's hilarity, the loaded U-Haul truck suddenly drives off and Gabe decides to unexpectedly pop the question! Thank goodness for silent prayer, great vodka and the Things My Mother Taught Me.           
 
            If you enjoyed Meet the Parents and The Out-of-Towners make your reservations today and be prepared to laugh out loud as Luke Cleveland directs this wonderful and touching Katherine DiSavino comedy for Coast Stage Productions.      
            Katherine DiSavino is one of the top 75 best-selling playwrights published by Samuel French. Her plays have been translated into multiple languages and performed around the world. Theatrical critics have called her work "true-to-life," "superbly written," and "entertaining and laugh-out-loud funny."
            Performances of Things My Mother Taught Me will be at The Shed at 809 Paris Avenue in Port Royal. May, 12th & 13th at 8pm and 14th at 2pm – Advance $20. Catered Mother's Day Dinner Theatre: May, 13th at 6pm – Advance Only $48. (Reserve by May, 11th) Local Box-Office: 912-656-1598 or Online: www.brownpapertickets.com
            Remaining CSP productions for 2017 include Clybourne Park, the compelling dramedy by Bruce Norris and a reprise of the fun-loving Great American Trailer Park Musical. For best seating, lowest prices, and exclusive privileges ask about a CSP – Theatre Season 2017 Sponsorship.
            Opening its third year of performances, Coastal Stage Productions is a regionally touring theatre company, based in Ridgeland, SC. CSP is dedicated to presenting diverse, high-quality productions in communities across SC & GA and to incorporating the finest local actors, directors and craftsmen into their professional quality productions.