Chamber Music Hilton Head will take you way back…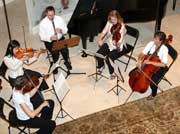 Love the Golden Oldies? Well, Chamber Music Hilton Head has just the program for you, coming up early in February. Two selections – one by Mozart, the other by Brahms – and both of them classical masterpieces.
First up is a sonata by Johann Brahms. There is a popular misconception about sonatas that they are solos for, say, violin and simply to be accompanied by piano. In truth, a fine sonata like this one is a collaboration between equals. Certainly the two performers Brahms had in mind for his Sonata in D Minor would have expected nothing less. Hans von Bulow, piano, and Joseph Joachim, violin, were personal friends of the composer and leading virtuosos of the late 19th century.
Four contrasting movements comprise the sonata. The opening Allegro establishes a dark, minor tonality and is quite beautiful in a restless, questioning sort of way. An answer is provided by the broad and noble Adagio, one of those truly sublime moments in all of classical music. There follows a delicate Scherzo with harmonic colors that anticipate the coming Impressionistic style, Debussy in music, Monet in painting. A tightly wound and tumultuous Presto agitato concludes the piece.
Tristan Lehnert and Jean Shamo will perform the sonata. Prior to settling in Beaufort, where he now owns a small business, Lehnert belonged to several symphony orchestras and toured four continents as violinist in the Premiat Trio. Jean Shamo was an active chamber music pianist in Chicago and with her husband, Bob, founded Chamber Music Hilton Head eleven years ago.
The February concert concludes with Mozart's ever-popular Clarinet Quintet. Not five clarinets(!), rather the traditional string quartet format plus a single contrasting instrument. Mozart was quite fond of clarinet, believing it to be the instrument most like the human voice. Its somewhat plaintive tone quality makes it a fine instrument for chamber music, able to project solos effortlessly, but also fusing seamlessly with strings in supportive passages.
In four movements, the quintet starts with a melancholy Allegro, moves on to a rapturous Larghetto, continues with a graceful Menuetto, and concludes with a cheerful Finale that will bring smiles of recognition to the faces of many in the audience.
Russell Floyd is principal clarinetist with the Hilton Head Symphony Orchestra. He will be joined by Asako Kremer and LiZhou Lou, violin; Yvonne Johnson, viola; and Angela Maleh, cello.
Chamber Music Hilton Head is a repertory ensemble whose dozen musicians are heard throughout the year in a variety of ensemble groupings. Its complete season can be viewed at its website, cmhh.org.
The Details:
Monday, February 2, 7:30 pm
All Saints Episcopal Church, HHI
Tickets $20, students free
843.681.9969 for info and tickets
Program notes and recorded excerpts online