This fall, opportunites abound for the musically inclined!
USCB University Chorus
The University of South Carolina Beaufort is searching for Lowcountry voices to form its brand-new University Chorus. The chorus class will meet on Wednesday's from 6:30pm to 9:00pm on USCB's historic downtown Beaufort campus.
Who should register?
Students as well as members of the community who love to sing are encouraged to audition for the class, also known as BMUS 129. Instruction will emphasize vocal jazz and other genres. Musical experience and the ability to read music are not prerequisites.
"This course will be a wonderful opportunity for students of all ages experience the magic of vocal harmony," says Vic Varner, adjunct professor of Music at USCB.
The choir will perform locally at University and community events, and may participate in choral tours.
What's in it for me?
The course will provide one hour of college credit and guarantees a fun time for all who take part. Singers, instrumentalists and students from all majors are encouraged to participate. All members of the new ensemble will learn more about reading music, gain performance experience, and enhance their vocal technique.
About the University Chorus Director, Vic Varner
Varner has been a choral director and performer for 28 years, having built 4 award-winning high school choirs, and directed church choirs throughout the state.
For more information…
If you would like to request an audition, contact Victor Varner at 843-592-1953 or vmvarner@hotmail.com.
Beaufort Youth Orchestra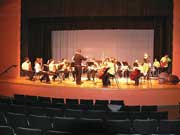 The Beaufort Youth Orchestra will hold auditions on Thursday, August 28, 6:30-9:00 at Beaufort High School. Students in Elementary, Middle, and High School are welcome to audition. They should be prepared to play a scale, a prepared piece, and sight read.
The Youth Orchestra is directed by Fred Devyatkin, conductor of the Beaufort Orchestra. It will prepare three different programs to be performed at several locations in the Beaufort area. The programs consist of music from the Baroque, Classical, Romantic, and Contemporary periods of music as well as popular selections.
For more information, contact Peggy Copley at pcopley@islc.net or 522-1236.
Low Country Chorale
Do you love to sing? Want to share that voice with us?
Who: Low Country Chorale
When: Tuesday, Sept 2 at 6:30pm (continuing every Tues, until performances.)
Where: St. John's Lutheran Church, Ladys Island.
Music fee: $30.00 (high school students fee is waived)
Please plan on joining us as we begin reheasing for our Winter Concerts. Perfomances are scheduled for November 21 and 22.
Contact: Marge Boyle for additional information at 770-0066