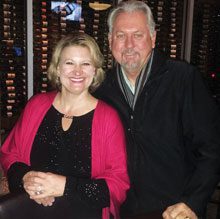 12th Annual Beaufort International Film Festival Rolls Out the Red Carpet
By Mark Shaffer
It's a longstanding tradition that in the final week leading up to the Beaufort International Film Festival I sit down with Ron and Rebecca Tucker, the powerhouse duo behind BIFF, to get the lowdown on how things are shaping up. And every year, regardless of the number of pre-sold tickets or the massive buzz on social media, it's always the same with Ron.
            "No one's going to show up," he says. "I'm always afraid no one's going to come."
            And, of course, every year more and more people do show up making BIFF the largest film festival in the Palmetto State. The twelfth iteration looks to continue the trend with around 60 filmmakers booked to attend.
            "A couple of the films represented are bringing almost their entire casts," says Rebecca.
That includes a feature that won't even shoot until sometime this summer. Previous BIFF award winners Chris and Emily Reach White debut their upcoming musical comedy, Electric Jesus, in the screenplay category. They've also rented two houses for their cast and crew and booked a special promotional concert at Q on Bay following Thursday evening's final screening. (See the accompanying interview)
            "That's something that's not been done before," says Ron. "An event inside of an event. This opens a whole new door for BIFF. This is definitely the most 'out of the box' festival, yet."
And certain special events like the party at Q are included in the price of a festival pass.
            "We had someone buy a bunch of individual tickets recently," says Ron, "they were all for the same day. For a few dollars more they could've had the day pass. It's a great deal. And this is one of the most affordable film festivals around."
            "For $50 they could've seen every single film that day instead of just a few," says Rebecca. "The day passes and the full festival passes are the way to go."
            Those passes pack more even bang for the buck in 2018. The Tuckers added an extra day of screenings last year. This year they've booked four distinctly different features, split the documentary films into short and feature length categories, and expanded the overall slate of films.
This year's special honorees include a behind-the-scenes movie veteran and a highly decorated combat veteran who singlehandedly changed the depiction of warfare in the American film industry.
            Charleston-based Set Director, Missy Ricker, is the first female recipient of the Behind the Scenes Award. Ricker earned her MFA in photography and filmmaking from VCU in 1994 and sits on the Board of Directors for the Carolina Film Alliance. Her credits include the CBS series "The Inspectors," HBO's "East Bound and Down," and Lifetime's "Army Wives." She's currently wrapping up work on the highly anticipated return of Michael Myers to the big screen. "Halloween," currently shooting in Charleston, also marks Jamie Lee Curtis' return to the iconic role of Laurie Strode and the franchise that made her a star.
            When Marine Corps Capt. Dale Dye retired from active duty in 1984 he headed to Hollywood with a mission to make war movies more realistic. His impact was immediate. Acting as military advisor on Oliver Stone's landmark film, "Platoon," he famously immersed the cast in a rigorous boot camp-style training program prior to filming. The Missouri native's just as comfortable in front of the camera with on-screen credits including "Saving Private Ryan," "Band of Brothers," and Tom Berenger's critically acclaimed mini-series, "Rough Riders." He is currently shooting the World War II drama, "Greyhound," with Tom Hanks and prepping his directorial debut, "No Better Place to Die," which Hanks will also produce.
            Dye receives the inaugural Pat Conroy Lifetime Achievement Award at the 12th annual Beaufort International Film Festival. According to festival runners, Ron and Rebecca Tucker, naming BIFF's most prestigious award after Beaufort's favorite adopted son was only logical and done so with the blessing of the Conroy family. "Beaufort's long film history began with Pat when his novel The Great Santini was made into a feature film and shot locally," says Ron. "Dale was the Military Advisor on three productions shot in the Beaufort area including Forrest Gump and Rules of Engagement.He single-handedly changed the way Hollywood makes war movies."
            Festival goers will have a chance to meet and hear from the legendary "Drill Instructor to the Stars" 3:15pm Friday, February 23rd.
            "I'm going to moderate a discussion with him," says Ron Tucker, "about his career as a marine and how he transitioned to Hollywood, his experiences with filmmakers like Oliver Stone, Steven Spielberg, Robert Zemeckis and Tom Hanks. It's going to be fun."
            As for the large number of filmmakers coming to BIFF for the first time, what sort of advice would the Tuckers give out?
            "Start at the opening ceremony," says Ron, "mingle and meet and do what the filmmakers always do during that two hours – discover Beaufort. They head to a nearby watering hole afterward and that starts the whole process with the word of mouth. The new people have high expectations because of what they've heard about us. And we're working hard not to disappoint them.
            "Last year one of the filmmaker's called us the 'films-first film festival," says Rebecca. "That's our goal. The filmmakers and the films always come first."
The 12th annual Beaufort International Film Festival runs February 21-25 with all screenings at the USCB Center for the Arts. Get tickets, schedules and more at www.beaufortfilmfestival.com