Award-winning film seeks to shed light on post-traumatic stress disorder among veterans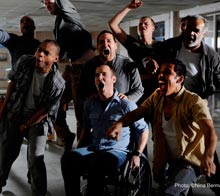 Writer/Director K. Lorrel Manning's "Happy New Year" is a lock to raise eyebrows when it screens at this year's Beaufort International Film Festival. But according to the filmmaker that's the whole point of the film. Manning's first full length feature – adapted from his own play – is a frank and often disturbing examination of the effects of post-traumatic stress disorder on American military personnel.
Manning, Lead Actor/Producer Michael Cuomo and the film's military advisor, Joseph Harrell, spent much of 2011 on the film festival circuit promoting the movie as a means for opening a dialogue on PTSD. They'll continue the trend in Beaufort with a highly anticipated panel discussion immediately following the film's South Carolina debut.
For Manning and Harrell BIFF is a homecoming of sorts. Harrell was a Drill Instructor on Parris Island and is a graduate of USCB. These days Manning's based in New York, but he grew up in Spartanburg and still has family in the upstate. Most of them will get their first look at "Happy New Year" shortly after the lights dim for the Friday screening.
Mark Shaffer: Go ahead and give us the short pitch for the film.
K. Lorrel Manning: "Happy New Year" tells the story of a war torn marine who returns home to face his fiercest battle yet – the one against himself. It's an entertaining yet hard-hitting look at the perils of post-traumatic stress disorder (PTSD) that affects at least 20% of all veterans.
MS: The tagline is "Back from Iraq, the battle has just begun." What got you interested in doing something on PTSD?
KLM: My interest in the subject started as far back as 2004. I was in a bookstore and randomly came across a copy of Nina Berman's "Purple Hearts – Back from Iraq." It's a book consisting of portraits and interviews with 20 American veterans who were severely wounded in the Iraq war. It changed my life. After reading that book, I started researching, reading whatever I could find on the internet, and talking to various people in the military whenever I got the chance. I had no idea what I was going to do with the research. I figured an idea would come to me, eventually. A few years later it did.
MS: This project began as a stage play. How did it evolve into a feature?
KLM: In 2007, I was hired to direct a workshop of a new play called "A Steady Rain." It was a two-character play about Chicago policemen. Whenever I'm writing, directing, or acting in something with a subject matter that's foreign to me, I like to immerse myself in research so I know what the heck I'm doing. So, I flew to Chicago and spent the weekend riding around with various policemen. One of the officers I met that weekend was an Iraq vet. We spent hours talking about his time overseas and how difficult it was for him to come home and re-acclimate himself to civilian life. For some reason, this particular conversation struck a chord with me. That night, I went back to my room and started to write. What came out hours later was a one-act play called "Happy New Year," which told the story of two veterans reuniting in a VA hospital on New Year's Eve. It was very much influenced by a lot of what I was reading in the paper at the time – PTSD, the rise in veteran suicides, the Walter Reed scandal, etc.
Once I got back to New York, I sent it to my friend Michael Cuomo. He strongly encouraged me to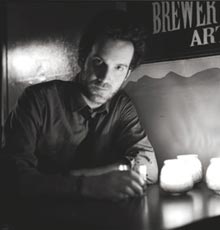 continue working on it. I immediately told him that I wanted him to play the lead role of "Sgt. Cole Lewis." I was the literary manager and a resident director at an Off-Broadway theatre company called the Barrow Group at the time, and I noticed that I was getting a lot of play submissions that dealt with various aspects of the Iraq War. So, I came up with the idea of putting together an evening of short plays based on this theme, with "Happy New Year" as the centerpiece. The show was called "The War At Home," and had a limited Off-Broadway run to great success. One night a group of military mothers came in to see the show. They were floored by it, and strongly urged us to find a way to bring "Happy New Year" to a wider audience. They suggested making it into a film. We both thought it was a great idea. Six weeks later, we raised $20,000 and shot the "Happy New Year" short film. The short film saw great success on the festival circuit and eventually premiered online via the Huffington Post in 2008.
When we were in the fine-cut stage of editing for the short, we had the opportunity to show the film to esteemed Hollywood Producer Iain Smith ("Children of Men," "Wanted," "The A-Team"). He strongly encouraged me to expand the story into a feature film. I thought it was a very daunting task – trying to stretch a 15-minute film about 2 vets talking in a hospital room into a feature. Impossible. Well, a few days later, I came up with an idea. I called Michael and pitched it to him. I decided to set the whole film in the hospital and surround "Sgt. Lewis" with lots of other veterans from various wars and backgrounds.
Because I was again entering foreign territory, I knew I had to do more research. So, Michael and I set out on this journey of interviewing any veteran who would speak to us. In the end, we interviewed over 80 vets from various wars – Iraq, Afghanistan, Desert Storm, Vietnam and WWII. It was important to me get as much accuracy as possible. I even had some of the guys read various drafts of the script and give feedback.
We eventually raised the money to shoot the film in December 2009 and had our World Premiere at the South By Southwest Film Festival in March 2011. We spent all of last year on the road, going to over 15 film festivals and setting up special screenings for veterans and their families across the country and partnering with various veterans charities like Blue Star Families, Hope for the Warriors, the Jericho Project, and the Creative Coalition.
MS: The film's been compared to "One Flew Over the Cuckoo's Nest." Does that work for you and if so, was there any inspiration drawn from Cuckoo?
KLM: Honestly, I don't mind it. It's also gotten comparisons to "Coming Home," "Born On The Fourth of July," and my favorite, "The Best Years of Our Lives" – all stellar films. I consider them all to be some of the best films ever made.
MS: Your pal Michael Cuomo is not only the film's lead he's also the producer. Who gets the last word on the set?
KLM: Ha! Good question. Michael is my closest friend. He's like my brother, seriously. It's a really great working relationship. We've worked really hard on it. For our partnership to work as well as it has requires a great deal of trust, honesty, loyalty and confidence in one another. He completely trusted my vision in the editing room. I'm also an extremely collaborative artist. So, he was always a major part of the process, from being present for the interviews to giving notes on the script and on various cuts of the film. He was completely able to draw a line between being a producer and an actor when he needed to. So, it's been a great match. There will be many more films to come.
MS: There's a lot of talent involved with this both in front of the camera and behind it. How did it all come together?
KLM: We worked with a great casting director by the name of Adrienne Stern. She was actually the very first casting director that we interviewed. We interviewed about a dozen more, then found our way back to her. She really got the story and was very passionate about it. So, she and I worked together on putting together the cast. Michael and I knew tons of actors from the theatre world, and Adrienne knew tons from the film world. So, it was a great mix of talent coming together.
Our cinematographer was the Academy Award-winning Soopum Sohn. I worked with Soopum on the short film. So, it was a no-brainer for him to come aboard for the feature. We have a great working relationship. For "Happy New Year" we decided to be as spontaneous as possible in the way that we shot it. Almost like a documentary. I didn't want any showy camera moves. We did our best to stay out of the way of the performances, creating a sort of fly-on-the-wall experience for the viewer. We also had an amazing crew all working below their normal rates because they really loved the material.
MS: By now you're all veterans of the festival circuit. How have audiences reacted to it?
KLM: It's been an incredible journey. My favorite part of the festival experience has been the talkbacks. I never like to assume an audience is going to love the film. Each audience is different. So, I go into every screening with a bit of curiosity, wondering what the response will be. For the most part, the responses have been overwhelming, especially among the vets. They are quite often blown away by Michael's performance and the authenticity of the script, often finding it hard to believe that neither Michael nor I are vets. I attribute that success to not just our abilities to tell a great story as a writer/director and actor, but also to the intense research that we did, the vets who trusted us in telling their stories, and the help of our military adviser Joseph Harrell, who was a Drill Instructor on Parris Island from 2005-2008. He was awesome. It takes a village.
We set out to make a film that would not only entertain but also one that would spark a dialogue. Judging from the responses that we've received on the road thus far, we're doing that.
MS: You were invited to Oldenburg – the German Sundance. What was the experience like and was the received differently than in the U.S.?
KLM: It was absolutely amazing! We didn't know what to expect. A number of people told us to just go and have a good time but to be prepared for the German audience to not really embrace the film because it's such an American story. Nothing could have been further from the truth. They absolutely loved it. They laughed at all of the jokes, got all of the slang, and were one of our best audiences. There were a lot of German vets at our first screening, and they told us that they could seriously relate to the characters in the film. In many ways, we were telling their story, too. I, then, realized the potential power of what we'd created and how universal the theme is. We ended up winning the Audience Award for Best Film. They totally embraced us and the film. I'd love to go back.
MS: We understand the film's been picked up for distribution. Details?
KLM: There are several top distribution companies currently reviewing the film and we are also speaking with one of the strongest independent service agencies about releasing the film independently in the event we decide to go in that direction. Either way, we are aiming for an anticipated June/July 2012 theatrical release, starting in New York City with select cities to follow, particularly major media cities as well as military base cities.
MS: You've got a connection to the Upstate and your folks are still there, correct?
KLM: Yes, I grew up in Spartanburg, then headed to New York to pursue my career in the arts. My mother, sister and a lot of my Mom's family still live in the Upstate. My father lives there now, too. They've all been my rock during the incredibly hard times.
MS: We're told your parents will get their first look at the feature film when it screens at BIFF. How special is that?
KLM: I think if there's a blackout the night of our screening, my mother's smile will light up the whole city. She's so proud and excited. I've offered to show the film to her on DVD, but she refused, saying she wanted to wait and see it on the big screen. So, I can't wait for her and my Dad to see it. She will definitely tell me what she liked and didn't like. And I've already prepared her for the strong language. Ha!
MS: What was it about BIFF that got you attention?
KLM: Steve Danyluc of the Independence Fund reached out to me on Facebook last year, after hearing and reading about the film from various people. He asked if he could screen the film at the Lt. Dan Weekend last September. We said, "Sure." Unfortunately, we weren't able to attend because we were in Germany the very same weekend for our International Premiere. Steve strongly urged us to consider bringing the film to the Beaufort International Film Festival, and introduced us to Executive Director Ron Tucker. Ron saw the saw the film and welcomed us with open arms.
MS: We're anticipating a huge turnout for the film and the post-screening Q&A. Who's involved in that and how is it coming together?
KLM: We're very excited. The post-screening panel discussion participants will be myself, lead actor/producer Michael Cuomo, our military adviser Joseph Harrell, Hidden Wounds founder and Executive Director Anna Bigham, Iraq vet and Independence Fund member Josh Lindsey, and we're waiting for confirms from another guest from the local military community.
MS: What's next for you and Michael?
KLM: I just started working on the script for my next film. It's called "Red House." It's a dark comedy about an ex-convict and an altar boy on the run. I'll write and direct, and have a supporting role. Michael will play the lead. We plan to shoot in early 2013.
MS: Apart from the film festival, anything in particular you're looking forward to doing or seeing in The Lowcountry?
KLM: We're all staying at the Beaufort Inn. According to our military adviser Joseph Harrell, who used to live in the area, the breakfasts there are legendary. Can't wait.
"Happy New Year" screens Friday, February 17th at 7:00 pm with a panel discussion immediately following. Admission is free to all active duty and retired military personnel.