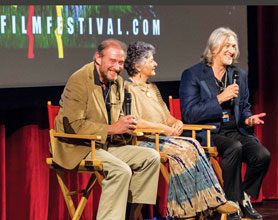 The Beaufort International Film Festival

Eyes Another Landmark Year
Interview by Mark Shaffer
This February will mark my tenth consecutive Beaufort International Film Festival. Well, sort of. Truth be told, I'd have to drop a big, fat asterisk by the 2018 event. I made it to the opening gala, reconnected with old friends from previous festivals and made enough connections with the new crop of filmmakers to get the sense that something truly special was about to unfold.
            The next morning I was on the road out of town with a family emergency, not to return until the closing night awards and after party. That's right, I made the parties and missed the movies. To be sure, I wouldn't change a thing. A potentially grim situation turned into a happy ending worthy of Frank Capra. And I made it back in time to share in the nearly indescribable energy of another landmark year for an event that continues to transcend its genre. It seems to me that what festival runners Ron and Rebecca Tucker have crafted through the years feels more like a slightly crazed family reunion where each year some long lost eccentric relations are welcomed into the fold.
            The 13th BIFF premiers February 19th, 2019. Earlier this month I sat down with the Tuckers to talk about BIFFs past and future.
Mark Shaffer: Recap the last festival for me, because when I came back, it seemed, like the energy level was higher than I think I've ever seen it.
            Ron Tucker: Well, I think I remember the comments that were made after the awards ceremony, people who had been to the festival before, and who had been to many festivals, said they thought this was the best one yet. They say that every year. But I felt it, too. I felt like it was the best for a lot of reasons. We had more impactful films that moved people to action.
            Rebecca Tucker: "Call to action" films.   
            MS: It's kind of a standing point of this festival really …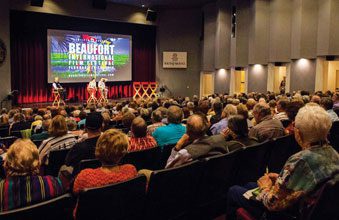 Rebecca: It's become a theme.
            Ron: Good example, the one from Mischa Marcus–
            Rebecca: I Am Still Here, which was about human trafficking, child trafficking —
            Ron: And since then human trafficking seems more prominent than ever, almost as if they were ahead of the curve and they did a feature film. And Johnny Rey Diaz was mesmerizing.
            And we had that special day with Dale Dye. We had the talk that afternoon. He reviewed the graduation at Parris Island that morning, then he came in still flying high from that, because he'd never reviewed a parade before, and then he had the opportunity to sit with me, and for me to talk for almost an hour and it was the culmination of years of trying to get him here. So it was a win-win for both of us. It was emotional.
            Rebecca: Because it had been a long road to get him here.
            MS: Yeah, you tried for almost a decade, right?
            Ron: Yeah, he kind of stayed in character as the tough guy, until someone in the back asked him what it was like to review the graduation. There was this long pause, and he said, "I saw 600 American success stories walk across that parade day." And he said it kind of re-invigorated him.
            Rebecca: And he was so accessible to the filmmakers. He really took a lot of time with them.
            MS: So, some long-term goals were achieved.
            Rebecca: They were. Yeah. And we're still reaching for those goals, as always.
            Ron: And attendance was up.
            Rebecca: We averaged 266 per screening.
            Ron: We had some screenings over 400. We had a whole lot over 300. Most of the filmmakers, well not most of them – all of them – especially those that were seasoned veterans of the festival circuit, said they had never seen audiences like this.
            Rebecca: They were engaged, and asking questions and participating.
            Ron: Even the people who had been here before, like Felix Martiz, and Chip White, and even Chris White, were like, wow, this is so much different than the last time we were here, the atmosphere, the electricity, and the enthusiasm. The audiences are so engaging. They want to know. They want to spend time with us. You have to give the hook to everybody's Q & A because they're still going strong. So, it was really, really good.
            Rebecca: It was.
            Ron: We always make a lot of contacts that we stay in touch with. People that we've met in past years and stayed connected with want to have a reason to come back. And we already have a lot of veteran filmmakers that have films submitted. And they've told other filmmakers.
            MS: This is the way you've built it …
            Rebecca: That's right, it's about referrals. Word of mouth.
            Ron: Yep. Exactly. And here we are, first of October, we've extended the deadline to November 15th, we took out our first-ever national ad in Movie Maker magazine. And along with that includes a couple of write-ups, post-festival features. They'll send us enough magazines to supply to the filmmakers.
            Rebecca: So that's nice. They might not have gotten it otherwise.
            Ron: We want everyone to see that we've reached that level with a national publication. The reason we extended the deadline is because that edition doesn't hit the street until October 30th, which was the day before our deadline. So we've got 15 days plus, that issue they told us has the longest shelf life of their editions, because it's the fall/winter edition, so it will go in past the festival.
            Rebecca: So if we are successful with this, next year we'll know to get it in sooner.
            Ron: As of today, we've approached 300 entries, from 27 countries, with a month and a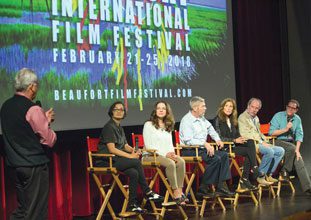 half to go. And we usually get most entries during the last two weeks. And I told our group yesterday, at Shorts at High Noon, that the entries were coming in from all over the world and we already had some really strong films. We've added a day, so now we're opening on Tuesday night, all day screenings on Wednesday, Thursday, Friday, and Saturday. And possibly some – I won't call them screenings – but there will be some on Sunday, at some other place other than USCB. Something like workshops or maybe a filmmaker brunch.
            We thought we'd change the marketing strategy this year. We're putting Beaufort on the map. We want them to know they're going to someplace beautiful in February, and if we're fortunate like we were last year, 84 degrees.
            MS: With the exception of one year, you've had stupidly good luck with the weather.
            Ron: I think it's shaping up really well. We'll just need to drink more coffee to get us through the extra day …
            Rebecca: We can do it.
            MS: BIFF arrives smack-dab in the middle of one of the slowest commercial times for this area and its impact is absolutely apparent to anyone paying attention. Are you finally getting a little bit of recognition for that?
            Rebecca: Actually, Jonathan Sullivan with the Beaufort Inn said he was definitely able to tell because this past year we moved away from Valentine's Day, so they were really able to truly measure the difference.
            Ron: They did see a significant difference–
            Rebecca: — in the numbers. He didn't say a specific dollar amount, but just in the numbers.
            MS: And the venue has been upgraded a bit.
            Ron: This is a really good positive point, and I'm glad you brought that up. Last year the quality of the picture, and the sound, the audio-visual, was the best it's ever been.
            MS: The Monday night movies at USCB have been a big deal.
            Rebecca: Yeah, I'm sure that was their main motivation. But having an international film festival, I'm sure, helped justify that grant.
            Ron: And that's the other thing, and we made this comment the other day – we're the only international cultural event north of the Broad River. We got our top 100, again.
            Rebecca: And that's from FilmFreeway.com. That's huge.
            Ron: Out of over 6,000 film festivals we're in the top 2%, based on filmmaker reviews. We're proud of that.
            MS: Since the last BIFF Ron's got a seat on the board of the Carolina Film Alliance.
            Ron: They're the television and film advocate for South Carolina, the organization working with the legislators and the South Carolina Film Commission. My place on the board is trying to bring it to all of South Carolina. Right now it's just in Charleston. The new Halloween was just filmed there, Mr. Mercedes is being filmed there, and they have one with Jon Goodman just got the green light to series.
            MS: The streaming market continues to explode. Any thought of partnering with the likes of Netflix or Amazon to get some of their first release films and help build that coveted Oscar buzz?
            Rebecca: Interesting.
            Ron: Well, we've actually thought about that. Trying to get exposure to our filmmakers.
            Rebecca: There's a thing called Shorts TV, there's that as well.
            MS: A lot of the streaming services have a dedicated shorts channel.
            Ron: Yeah, so we're trying to think of everything. We've looked into that – but getting the winning screenplay in front of someone that's a mover and shaker – so we can say, one of the perks about winning best screenplay is that you get your screenplay read. Might not get your movie made, but at least you got your foot in the door. But the Netflix thing, and Amazon, and all the streaming things, they are all looking for content.
            Rebecca: We always want to raise the bar.
            Ron: But we don't want to be bigger than is comfortable.
When [producer/director] Jonathan Flora was last here, five years after his first visit, he said he was glad to see that the heart and soul of this festival still existed. That it had not gone the way of a lot of other festivals.
            MS: Hadn't become a meat market.
            Rebecca: Exactly.
            Ron: Every year the challenge is there, and we just try to make sure we don't go below where we went before. And every year I say, I just hope someone shows up. And if they do, we're good to go.
            Rebecca: (Laughing) Yep, that's what he says every year. Every year.
The 13th annual Beaufort International Film Festival kicks off with a gala opening February 19th, 2019 and runs through the 24th. Go online at www.beaufortfilmfestival.com for details and tickets.