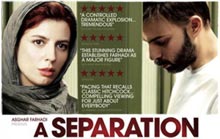 USCB Center for the Arts to feature Oscar-winning Best Foreign Film, "A Separation," with a Post Show Panel Discussion
Lowcountry Weekly recently interviewed Center for the Arts Independent Film Series host Dennis Tavernetti about the Best Foreign Film Oscar winner, "A Separation," which will be featured on Monday, May 21 at 7:00 pm at USCB Center For the Arts in downtown Beaufort.
LCW: We have attended several of the USCB Center for the Arts' Indie Film screenings and have been impressed with the variety and quality of the selections. How does a city as small as Beaufort get access to these films?
DT: Emerging Pictures based in New York City provides an extensive inventory from which Center for the Arts makes their selections. EP converts the films to their new digital high definition format and transmits them to their server at USCB via a high speed internet pipeline. USCB pays an annual lease fee for the server and shares the ticket revenue with EP.
LCW: How has this new entertainment opportunity been accepted by Beaufort?
DT: This is the first year of USCB's contract with EP, and they really had little idea what to expect regarding attendance. In the beginning attendance averaged only 10 to 15 per showing, and has slowly increased to 30 to 40 on average. We have hit over 200 for special documentaries such as "Turtle" and over 100 for the better-known films, "The Way" and "Midnight in Paris."   The Center for the Arts is now showing at least one different film a week and we hope to average 100 attendees or better per film in the future.
LCW: The screening of "A Separation," the Academy Award-winning foreign film from Iran, will take place May 21st. We understand that this film is now available for rental locally or via mail from Netflix. Why see it at USCB?
DT: Unlike most of the films USCB shows, this Oscar award winner can now be watched on home TV via pay for view or DVD. However, the "small screen" experience is not nearly as satisfying as enjoying a film shown on USCB's state-of-the-art HD big screen projection. Also, Center for the Arts charges less than other film venues and does not require a long drive to a specialty film theatre.
LCW: There will be a post-show panel discussion about the movie. Can you tell us more about that?
DT: An important part of USCB's mission is to educate, inform and foster discussion in an educational setting. The issues presented in this film are quite common across all world cultures and will provide a rich mix of topics for lively discussion. Toward this goal I will be hosting a panel discussion following the movie to allow those in the audience who wish to stay to discuss the issues raised in the film with our panel members. The issues in the film are not necessarily resolved in the end, allowing audience members to share their opinions on how they think it should end.
LCW: What issues are raised by the film?
DT: The morality of separation and divorce and the roles that religion and the legal system play in the issue; adult children's responsibility to care for aging parents; and determining between mother and father the "appropriate" custody of a teenage child.
LCW: Those are certainly pertinent issues for discussion. How can the audience participate?
DT: Our on-stage panel will include a minister from a local church who will speak to the religious and moral questions; a family practice psychologist with observations from a societal and wellness vantage point; and an attorney who specializes in family law and who will discuss legal issues. I will moderate the discussion, and we are looking forward to a diversity of opinions and viewpoints from both panel members and our audience.
LCW: What do you hope to achieve with this panel discussion?
DT: We do not expect the audience or panel members to agree or arrive at a consensus. What we are hoping to achieve through this forum for free expression of opinions is a healthy discussion about our diversity and a greater understanding of the common bonds we share with one another.
Dennis Tavernetti is a resident of St. Helena Island where he retired to the Lowcountry and maintained his lifelong interest in the arts. He is a member of the USCB Center for the Arts Advisory Committee and an early supporter of its Emerging Pictures program.
Open seating ticket prices for each film are Adults $7; Seniors and OLLI members $6; and Students $5. For more information call the Box Office at 843-521-4145. Box Office opens one hour prior to film time.