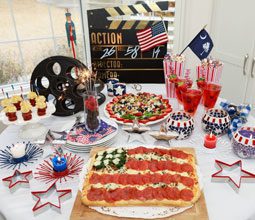 Have you seen Mel Gibson's film The Patriot? The movie was filmed entirely in South Carolina. It's based on the life of Francis Marion, also known as The Swamp Fox, who was one of the great militia leaders of the American Revolutionary War.
There's a scene in the movie when Anne Howard stands up in church and declares herself an ardent patriot. "Half the men in this church, including you, father… and you reverend, are as ardent patriots as I. Will you now, when you are needed most, stop at only words? Is that the sort of men you are? I ask only that you act upon the beliefs of which you have so strongly spoken, and in which you so strongly believe." I love that quote!
Dale Dye, 2018 recipient of the Pat Conroy Lifetime Achievement Award, is a true ardent patriot. Mr. Dye is a decorated Vietnam War Marine Corps veteran. He is an actor, technical advisor, radio personality and writer. This year's Cooking with the Movies installment is a tribute to American military films. We're celebrating patriotism. It's all about being red, white and blue. We Beaufortonians are so blessed to live in a military community. We're proud of our ardent patriots; they're our superheroes! The 12th Annual Beaufort International Film Festival is underway, but it's still not too late to purchase tickets. For more information www.beaufortfilmfestival.com. See you at the movies!
P.S. Thank you, Susan DeLoach, Official Photographer for the Beaufort International Film Festival, for taking these beautiful photos of my BIFF-inspired culinary creations!

Patriotic Popcorn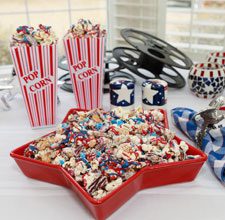 3 tablespoons vegetable oil
½ cup raw popcorn kernels
3 cups pecan halves, toasted
3 cups Crispix cereal
1 (8-ounce) bag Pepperidge Farm pretzel fish
2 cups red and blue M&M candies*
18 ounces white chocolate candy melts**
1 cup red candy melts
½ cup dark blue candy melts
1 (1.7-ounce) jar red, white and blue candy sprinkles
Heat the vegetable oil in a large heavy-bottomed pot with a lid; add the popcorn kernels and cook until the kernels have popped. Season with salt and set aside. Remove unpopped kernels from pot. Line a large baking sheet with aluminum foil. Spread popcorn, toasted pecans, Crispix cereal, pretzel fish and M&M candies evenly on the pan. Melt white candy melts according to package directions; pour evenly over popcorn-candy mixture. Stir gently to coat. Melt red candy melts according to package directions; drizzle over popcorn mixture. Melt dark blue candy melts according to package directions; drizzle over popcorn mixture. Sprinkle with red, white and blue candy sprinkles. Set aside until candy melt coating hardens; about 90 minutes. Break popcorn mixture into pieces and store in an airtight container. Makes approximately 20 cups.
*I used a combination of mini and regular sized M&M's. I also used both milk chocolate and dark chocolate. **Candy melts are in many different colors. They're candy wafers that can be melted and used for decorating and candy making. Candy melts are available on the cake pan/cake decorating aisle of most general merchandise stores.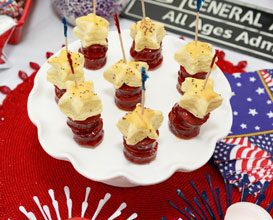 Spicy Puff Pastry Sausage Stars
1 (17.3-ounce) package frozen puff pastry sheets
1 egg, beaten
Poppy seeds
1 (12-ounce) package beef smoked sausage
1 cup apple jelly
½ cup buffalo wing sauce
2 tablespoons cornstarch
Thaw puff pastry in refrigerator according to package directions. Preheat oven to 400 degrees. Using a small star-shaped cookie cutter, cut puff pastry into stars. Place pastry stars on a baking sheet. Brush the tops lightly with a beaten egg and sprinkle with poppy seeds. Bake for 12 to 15 minutes or until pastry stars are puffed and golden. Remove from oven to cool. Lower oven temperature to 350 degrees. Slice smoked sausage into 30 slices. Place in a baking dish. In a small bowl, mix apple jelly with buffalo wing sauce and cornstarch. Stir to combine well. Pour mixture over sausage slices. Cover baking dish and cook in prepared 350 degree oven for 45 minutes. Using a toothpick, skewer a puff pastry star with a slice of sausage. Serve warm. Makes 30.
Red, White and Blue Salad with Bourbon Vinaigrette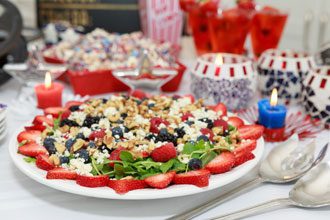 For the vinaigrette:
1/3 cup apple cider vinegar
2 tablespoons light brown sugar
3 tablespoons bourbon
2 teaspoons Dijon mustard
¾ teaspoon salt
½ teaspoon black pepper
½ cup vegetable oil
For the salad:
1 (5-ounce) container baby arugula
1 pint strawberries
½ pint blueberries
½ pint raspberries
½ pint blackberries
½ cup crumbled blue cheese
½ cup roughly chopped walnuts, toasted
Place vinaigrette ingredients in a small jar with a tight-fitting lid. Shake well to mix. Place arugula on a large platter; toss with vinaigrette. Slice strawberries. Top dressed arugula with sliced strawberries, blueberries, raspberries and blackberries. Sprinkle with crumbled blue cheese and chopped walnuts. Serves 8.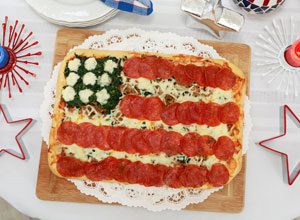 Grand Old Flag Pizza
1 pound refrigerated pizza dough*
½ pound Italian sausage
1 (10-ounce) package frozen chopped spinach, thawed
1 (12-ounce) package mozzarella cheese
¾ to 1 cup jarred pizza sauce
1 (6-ounce) package pepperoni slices
Follow directions on the pizza dough package for preparation and oven temperature recommendations. Press dough into a prepared 9×13-inch baking pan to form a rectangle. Parbake crust for 10 minutes. Remove crust from oven. Remove sausage from casings and cook over medium heat until browned and cooked through. Drain well on paper towels. Squeeze-dry thawed spinach to remove excess moisture; divide into two equal portions and set aside. Cut a few slices of mozzarella cheese. Using a very small star-shaped cookie cutter, cut stars to decorate the flag. Shred the remaining mozzarella cheese and set aside. Spread pizza sauce evenly over pizza crust. Top with cooked Italian sausage and half of chopped spinach. Use remaining spinach to form a background for the cheese stars. Decorate with mozzarella stars. Top the rest of the pizza with shredded mozzarella. Use sliced pepperoni to make stripes. Preheat oven to 350 degrees. Bake for 15 to 20 minutes or until cheese is melted and pizza is warmed through. Makes 12 slices. *I used freshly made pizza dough from the Publix bakery. Pizza dough from the refrigerated section of the grocery store will work, too.
Sparkling Spritzers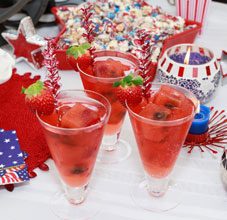 Raspberries, blueberries and/or blackberries
Prepared fruit punch
Champagne, ginger ale or lemonade
Place a combination of berries in an ice tray. Top berries with fruit punch and freeze for 12 hours or overnight. Place fruit punch cubes in tall glasses and cover with champagne, ginger ale or lemonade. Number of servings varies with size of glasses.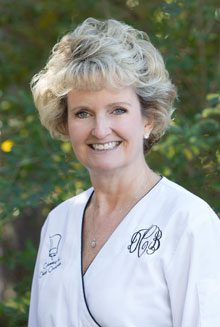 The writer owns Catering by Debbi Covington and is the author of two cookbooks, Gold Medal Winner of the Benjamin Franklin Award, Celebrate Everything! and Dining Under the Carolina Moon. Her NEW cookbook, Celebrate Beaufort will debut in April 2018. Debbi's website address is www.cateringbydebbicovington.com. She may be reached at 525-0350 or by email at dbc@cateringbydebbicovington.com.