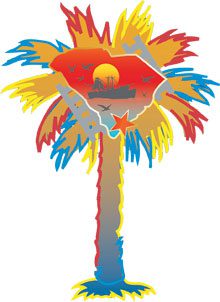 The Beaufort International Film Festival Celebrates a Milestone – A Look Back and the Road Ahead With Executive Director Ron Tucker

Interview by Mark Shaffer
"How the hell did you pull off something like this in Beaufort, South Carolina?"
– Bestselling author and Beaufort resident Pat Conroy to BIFF director Ron Tucker during the 2010 festival.
There is a scene in Lawrence Kasdan's 1991 film Grand Canyon that's bugged me for years. Mary McDonell's character runs through the pristine streets of her idyllic, upscale Los Angeles neighborhood lost in her thoughts, wrestling with a dilemma and her maternal instincts after recently finding a baby abandoned in a park.
Should she keep the child at the risk of her marriage or give the baby up to the system and maintain her precarious marital status quo? She cuts through an alley and a grizzled, wild-eyed homeless man (played by McDonnell's husband) lunges toward her muttering in tongues like a radio scanning the airwaves in search a station. She tries to avoid him but it's a tight space. As she passes he locks eyes with her and clearly says, "Beaufort, South Carolina. Keep the baby."
The second part makes sense – it's the sign she's subconsciously been desperately seeking. But it's the freaky reference to Beaufort that doesn't make any sense. Poof! It comes right out of thin air like a lightning bolt on a sunny day – in a service alley beneath the palms of Bel Air, no less. It's been driving me crazy for almost 25 years. No character in the film has any connection to Beaufort or South Carolina as far as I can tell. But writer/director Kasdan and leading man, Kevin Kline, do. They both spent time here in the early 1980's shooting Kasdan's classic The Big Chill. As to why the bizarre reference to Beaufort in this particular film, who's to say? But if I ever get the chance to ask Kasdan just one question it's damn sure going to be, "So what's with the Beaufort reference in Grand Canyon?
So what does this have to do with the 10th Annual Beaufort International Film Festival?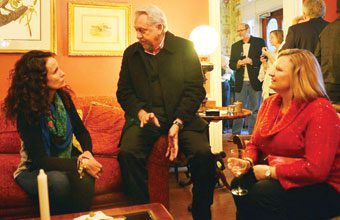 Bear with me. In the first part of this interview we discussed how the festival has grown from a total weekend attendance of about 500 the first year to around 10,000 in 2015. Under the careful direction of Ron and Rebecca Tucker and the Beaufort Film Society, BIFF has grown into a destination event, the state's largest film festival and – according to Movie Maker Magazine – one of the 50 coolest film festivals on the planet. As the festival has grown it's attracted filmmakers working in every genre and cultivated relationships with many of the nation's top film schools. Filmmakers who attended the first BIFF still return and for some, like actor/filmmaker Gary Weeks, it's become an annual ritual; an opportunity to reconnect with old friends, make new ones, network, form partnerships and make things happen (more on this later). Students who submitted films over the years are now working professionals in the industry who continue to participate and spread the gospel of BIFF. Each year the buzz continues to build. For the milestone tenth festival the Tuckers fielded an astonishing 718 entries from 66 countries. Somehow they manage to fit all of this into four frenetic days each February and spend the entire year piecing it all together.
So, what's all this got to do with a seemingly random reference to Beaufort in a film most people have never even heard of? Just this: I don't think it's a random reference. I think that like most of the filmmakers who flock to BIFF, Lawrence Kasdan fell in love with this place and though he's never been back to make another movie this proves that Beaufort's stuck with him, at least a little bit. Who knows how it came up, but it did and you can bet if I ever get the chance, I'm going to find out why.
Meanwhile, the 2016 festival is shaping up as another landmark event for Beaufort. But putting this house of cards together is a difficult and often delicate task and just because a filmmaker's won before does not guarantee they'll even make the cut of finalists. What the Tuckers deal with each year is perhaps best explained with a scene out of Shakespeare in Love, as Henslowe and Fennyman discuss the fickle nature of the theater business:
Henslowe: Mr. Fennyman, allow me to explain about the theatre business. The natural condition is one of insurmountable obstacles on the road to imminent disaster.
Fennyman: So what do we do?
Henslowe: Nothing. Strangely enough, it all turns out well.
Fennyman: How?
Henslowe: I don't know. It's a mystery.

BIFF AT TEN
MS: What's the toughest part of this process.
RT: Well, this year we had 718 entries from 66 countries. Just getting through them was a test of endurance. But there's something else. Over the years as the filmmakers come and embrace the festival we build these relationships with them. We become friends and embrace them right back. But we protect the integrity of the festival. There is no favoritism. So when they submit in succeeding years we hope they understand this if they don't make the cut. It hurts every year to go to those friends of the festival – particularly those people who really spread the love for the festival – and tell them that someone to whom they spread that love got in and they didn't. That's one of the hardest things we have to do. But we have to protect the integrity of the festival. It has to be fair. It has to be legitimate. So it's 'thanks and try again next year.'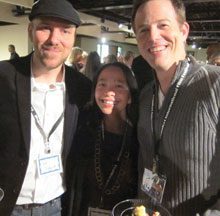 MS: So, you're saying there was a big sigh of relief this year when VW Scheich and Uyen Le's film Interwoven made the cut.
RT: (Laughs) Yes, there was.
MS: There's a great backstory here because they represent the culmination of what you began with the festival a decade ago.
RT: They do.
MS: This is a husband and wife team who were L.A. based when they came to BIFF a few years ago with their short film Wallenda. They network with the other filmmakers and hit it off with Gary Weeks and start talking about collaborating on a film. Like so many others, they fell in love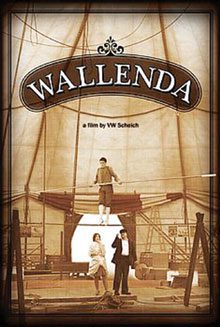 with the festival and the town and came back the next year-
RT: And they didn't even have a film.
MS: Right. They brought storyboards and concept art, which was a first. The conversation continues with Gary. Then they go off and make an independent feature with an Oscar winning actress (Mo'Nique). Meanwhile, Gary's written a script and they all decide that it has to be shot in Beaufort. The day VW finishes the final edit on Interwoven, they throw their bags in the car and move to Beaufort – two blocks from the film office – and begin to put Basement Bob together with the Beaufort Film Society as a producing partner. This would be the first feature film shot in Beaufort this century. So, ten years down the road you're on the verge of the payoff. How does it feel?
RT: You're right. This was one of the reasons we started the film festival in the first place, to re-introduce the landscape of Beaufort and the Sea Islands to these filmmakers who have the capability to make movies here. Other methods weren't working because South Carolina couldn't compete with the incentives other states – particularly Georgia – were offering. So we decided why not target the next generation of filmmakers, get them to Beaufort where they fall in love with what they see and say to themselves, "What a great place to make a movie. Now I understand why 20 plus movies have been shot here." And the wheels begin to turn.
Along come VW and Uyen with Wallenda and the first thing I remember is that they came in fully market ready. And by that I mean they had T-shirts, ball caps, cards and posters – all sorts of stuff. They were a film festival programmer's dream to come in and help us market your movie and market your attendance possibilities. And they won the short film category that year and, of course, they meet Gary Weeks. I kid Gary all the time that he has more BIFF nominations than we've had festivals because he often has multiple entries across categories.
MS: He's a consummate "hyphenate," writer – director – producer – actor.
RT: He is that. So, they meet and then VW and Uyen come back with a screenplay submitted, and instead of hanging around waiting for the screenwriters' workshop, VW brings a complete storyboard detailing how a movie is put together from the script. And it opened a lot of eyes to the labor that goes into making a film. And their screenplay wins! Now they're two festivals in and two time winners in two different categories. And here's Gary who's had nominations for features, shorts, screenplays, acting and directing –
MS: Mr. Multi-Hyphenate.
RT: And here we are with the three of them collaborating to make this feature film – Basement Bob – in Beaufort. It feels awesome.
MS: They get the question all the time, you get the question all the time – hell, I get the question a lot: What's going on with Basement Bob? People are curious. They want to know. The town is excited about this and while we can't go into detail just now, there should be some major news in time for the festival.
RT: Yes, hopefully there will be.
MS: And folks will read about it first right here in these pages or on LowcountryWeekly.com and our social media.
RT: Right.
MS: Now, there's more big news including a homegrown honoree who's guaranteed to draw a crowd, so you're urging people to buy tickets in advance and not wait until the last minute.
RT: Rebecca and I have been talking about this and I think for the first time ever we may need crowd control. We're working that out now, but based on the numbers from the last few years and pre-sales we're looking at a potential sell-out of every screening and event. And the real publicity drive hasn't even started, yet.
And a few things are different this year. The opening gala's in a new venue, Tabby Place downtown on Port Republic Street across from where it has been. It can accommodate a lot more people, which is good because we have Vanna White coming.
We're giving the Santini Spirit Award for the first time in five years. Jonathon Flora, who is the only previous recipient of the award for his documentary on the Lt. Dan Band, is coming to present it. The Behind the Scenes Award goes to Jonathan Gaynor who has 50 plus movies to his credit as a sound mixer including Forrest Gump, The Patriot, and The Notebook. Oscar winning sound designer, Eugene Gearty (Fargo, The Departed, Life of Pi), will present that award.
MS: Vanna White is a pop culture icon and a Palmetto State native. She grew up in North Myrtle Beach. She's being honored with the Spirit & Pride of South Carolina Award, the same honor Andy MacDowell took home last year.
RT: This is a special award that we present to someone from South Carolina in film, television or music who's made an impact in their field and reflected positively on their home state. Vanna's done that. She gives back and has never forgotten where she comes from. In fact, she's the executive producer of one of the movies in competition. Her brother's a producer on it. And again, none of the judges knew this. It just worked out this way.
It's shaping up to be an over-the-top year. If 2010 was our breakout year, I've got a feeling this year is going to be our "bust out" year.
MS: But like every year, you're still worried that no one's going to show up, right?
RT: (Laughs) Yep. Every year. Every year.

IF YOU'RE GOING
The 10th annual Beaufort International Film Festival runs February 10-13th. Advance purchases are recommended, as seating is limited. Purchase your tickets online at BeaufortFilmFestival.com or at the Beaufort Regional Chamber of Commerce Visitor Center in the Arsenal at 701 Craven Street, Beaufort.
Lowcountry Weekly and lowcountryweekly.com are proud media partners with BIFF. Watch for exclusive content, features, interviews and live coverage of the festival on lowcountryweekly.com and our social media.
Mark Shaffer's email is backyardtourist@gmail.com