Chris Brinker honored with Robert Smalls Award posthumously.
Friday, February 8, 2013. I'm listening to my phone interview with filmmaker Chris Brinker from earlier in the week, late (as usual) for my deadline. The producer-turned-director is wrapping up production on a film he's developed for a decade and a half, the dark fact-based crime drama, Whiskey Bay.
The project also stars Matt Dillon and pairs Tom Berenger and Willem Dafoe for the first time since the two squared off in their Oscar nominated roles as Sergeants Barnes and Elias in Oliver Stone's Platoon. A continent away, Brinker's enthusiasm is electric – even over a sketchy wireless signal. This is kid-in-the-candy-store stuff – the guy who practically willed one of the biggest cult hits of the last twenty years to life is giddy at the prospect of seeing his first directorial effort on screen. It's infectious.
I pause the interview to call Lowcountry Weekly Publisher, Jeff Evans, about some visuals we need to secure for the piece from BIFF Executive Director, Ron Tucker. I'm on the phone with Jeff when Ron buzzes in.
"I've got some really bad news," he says.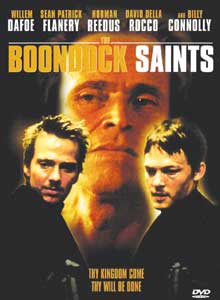 Chris Brinker started out as a camera assistant and set painter, studying the filmmaking process from the inside out. He produced several award winning short films in the early nineties and landed a job at New Line Cinema working in the development division. In 1997 Brinker launched his own company and a year later he produced the cult smash The Boondock Saints. Brinker followed up with features like Borough of Kings, Lonely Street, and the inevitable The Boondock Saints: All Saints Day. Brinker was also heavily involved in developing interactive games, mobile apps, soundtracks, comics and graphic novels. He also owned and operated a film related merchandising company with a social network that pushed 6 million active users.
According to his brother and business partner, Michael, Chris was wrapping up one of the final shots for Whiskey Bay on February 7th when he complained of chest pains. He died early the next morning at Kaiser's Los Angeles Medical Center of complications due to a massive aortic aneurysm. He was 42 years old.
The following conversation took place by phone two days before his death and a week before he was due to arrive in Beaufort. He was thrilled about completing his dream project and humbled to be honored at the 2013 BIFF. He was also excited about taking part in a panel discussion with Tom Berenger to promote Whiskey Bay and talk independent film. I was to moderate.
"Now, you're going to open it up to questions for the audience, right?"
"Absolutely," I assured him.
"Good. Good. I'm really looking forward to talking to the audience and seeing what they're interested in." I could practically hear the gleam in his eye over a bad connection three thousand miles away…
Mark Shaffer: What finally prompted you to take a shot at directing?
Chris Brinker: Well, I'd been seeking another director to take on this project that I was
passionate about and I thought, well, I'm a storyteller. I like to tell stories. So, at 40 years of age I decided to direct a movie instead of buying a red Porsche. (Laughs)
I nurtured a few first time directors so I understood the process. So, about two years ago I said I wanted to make this film and I want to make it with a specific cast of talented, well-known stars. And with the likes of Matt, Willem and Tom you get incredibly talented, iconic artists. I was adamant with my producers and casting director that this story demanded that each part had to be cast with care. These are the guys I wanted in the film. All three were at the top of my list. They also have great value in cinema and distribution and that world because of their bodies of work. They're iconic actors, you know?
MS: Speaking of iconic, I believe this is the first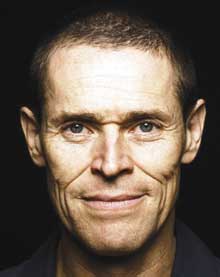 time Dafoe and Berenger have appeared on screen together since they faced off as Elias and Barnes, respectively, in "Platoon." (Matt Dillon's brother Kevin also appeared in "Platoon.")
CB: It is. That interested me on a couple of levels. I didn't know if that would be noticed but it certainly has been. There's a definite excitement to see them together again.
MS: Last time around they both got Oscar nominations, as well. It sounds as though they're treading similar character paths this time.
CB: Yeah, but the good news for Willem is that he gets his revenge here. (Laughter) I told Tom that we could call this "Elias' Revenge."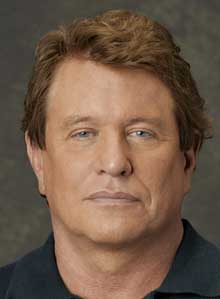 MS: You mentioned that you got the three leads you wanted from the start – Dillon, Dafoe, Berenger. That's a rare thing but they also bring a bit of cache to the project.
CB: Well, the stars aligned – so to speak – and I was able to get the exact cast that I wanted. This also meant that I was able to set the project up with a distributor on board prior to shooting it so that it would have a life and place in the marketplace. A division within Sony's taken the worldwide rights. They'll distribute it.
MS: How's the transition to the director's chair so far?
CB: It's been different in some ways and quite familiar in others. As a producer I've always been there at the inception and the genesis, where the writing occurs. The genesis of all films is the story. As a producer I've always taken [projects] from script to screen and through the marketing.
At the same time, the half a dozen films I've been involved with have [with one exception] all been first time directors. They've all needed me to collaborate. So that was familiar.
MS: And dealing with actors?
CB: I wasn't the type of producer who came up with the financing and then disappeared. I was on set, talking with them and making sure that their creative needs were met. That was familiar. And then as you go deeper and discuss the character and flesh out the story – conceptualize – those types of things are much more detailed and… constant. As a producer you can kind of [step back]. As a director you're constantly in the moment and it never really leaves your head. You get pulled in. [Whiskey Bay] is a dark story. It's a dark world so you kind of end up going to a dark place and you try to take that emotional journey and also help the actors go where they need to go. Those are the kind of things in life you just have to experience and your instinct, your training and your study just come into play. It either works or it doesn't.
MS: Depending upon who's talking, independent film is either dead or approaching its golden age. What's your take?
CB: It's definitely changed a lot. You look at these "independent films" like mine, but there's a studio in the wings behind it. It's different in the sense that [the studio] is not hands-on so the artists and filmmakers can do things that aren't as closely scrutinized as a big studio picture. I think independent film is still alive, but it's not like the '90's when people were going out and finding financing for films with no distribution. They were maybe trying to do some pre-sales abroad and then they'd present it to the market place and try to get an independent company like an October Films interested. Those days are gone.
Now, if you look closely, these independent divisions are owned by a bigger conglomerate or studio. So, it's all changed but at the same time people can go out – filmmakers and storytellers – and do things that they couldn't do back then with the technology and affordability of being able to get a camera and [editing software like] Final Cut Pro and create something. Whether it ends up on Youtube or Hulu or it's an independent feature you make for $250,000 that ends up reaching millions of people, I think that independent film and independent storytelling is still alive. It's just changed. It's just different. And I think there's more opportunity for anyone to pursue that whereas it was a tighter knit community both in the movie business in general and also independent film financing earlier. It's still there and I think it's encouraging that anyone can go do this if they're motivated and passionate.
MS: Since you brought up financing, let's talk money. You shot the bulk of this film in Louisiana, right?
CB: Yes.
MS: South Carolina used to be a hotbed for major movie production until the geniuses in Columbia decided we didn't need hundreds of millions of dollars pouring into the economy and slashed our incentives. States like Louisiana, Georgia and North Carolina, in the meantime, amped up their packages. How important were those incentives for you to roll film?
CB: It was crucial to making the film. This story is actually set in Louisiana. So when we started developing it the incentives weren't really a factor, but when we got there it became instrumental to our financing. For any film in the seven-figure budget range it's absolutely crucial that you have that [incentive] component. It's frustrating for someone who lives in Los Angeles with a former governor who was also a movie star that we no longer really have incentives that can keep production [at home]. They called it "runaway production" in the '90's. Everything was going to Toronto or Vancouver. Now on a national level individual states have fought back and created jobs and businesses.
It's got to be frustrating. South Carolina is such a distinctly beautiful and original backdrop, you know? Creatively, if the story warrants it you want to go to these different places as a filmmaker. But I can't shoot in L.A. I've got to go double it in Vancouver. Or you can't shoot someplace else; you've got to go to New Mexico instead. There's a compromising factor to all this. You get the money to make your movie, but you don't get to shoot it exactly where you want to. Fortunately that wasn't a factor with Whiskey Bay being set in Louisiana.
Sometimes the creative outweighs that benefit. It's rare, though. I come from a producing background. The financial side of it does not drive me as much as the storytelling side of things. I've got most of my life savings in this film. There wasn't enough money to make the film so I actually put the rest in to supplement the shortfall. There has to be a balance between art and commerce.
MS: Have you been to South Carolina before?
CB: I have not. I'm looking forward to it. (Laughs) I've seen pictures and I've heard a lot of great stories from Tom.
MS: You know his character's got a line in The Big Chill about not being able to live down here all the time and yet here he is 30 years later.
CB: (Laughs) There's something admirable about that.
MS: Any thoughts on receiving the first ever Robert Smalls Indie Vision Award?
CB: Tom was telling me about that. I've got to tell you, it's interesting. I'm sort of the mindset that I don't deserve anything. (Laughs) I'm honored. I really enjoy talking to and sharing with young people and people who are pursuing something they love. So to be recognized with something like this – it's really cool.
The inaugural Robert Smalls Indie Vision Award will be presented posthumously to Chris Brinker on Saturday, February 16th at the BIFF Awards ceremony at the USCB Center for the Arts. For a full schedule of BIFF events, visit www.beautifulfilmfestival.com