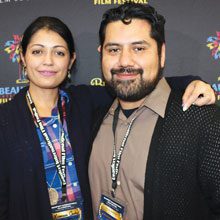 The Class of '17 Hits a Highwater Mark for Diversity and Talent
By Mark Shaffer
"If my film makes one more person miserable, I've done my job." – Woody Allen
It's a Lowcountry Weekly film festival traditon to reach out to a group of attending filmmakers, get the story behind their films and find out why the Beaufort International Film Festival is such a draw. It's also a pretty good way to take the pulse of the fest before a single frame of film hits the screen. The class of 2017 may be the most diverse so far. They're represented here by a half dozen filmmakers, all of whom will personally present the South Carolina premier of their work at BIFF.
From the Feature Film category Writer/Director/Producer Shawn Tolleson brings her second feature Saturn Returns to BIFF. Tolleson, who splits time between L.A. and Vancouver, is an alumna of the University of North Carolina School of the Arts and among the vanguard of a 2017 class strongly represented by women on both sides of the camera (See 'BIFF's Year of the Woman.")
Wally Marzano-Lesnevich writes, produces and acts in Almost Paris, directed by Domenica Cameron-Scorsese (yes, that Scorsese) and starring a cast of familiar faces including up-and-comer Abigail Hawk, better known as Lt. Baker on CBS' Blue Bloods.
Directors Tommy Faircloth and Thomas Torrey are both South Carolina based. Faircloth works out of Columbia while Torrey calls Fort Mill home. Faircloth's Family Possessions suggests that "some family secrets should remain burried." The plot of Torrey's tense Fare centers on a driver for hire who finds himself driving the man who he believes is having an affair with his wife.
From the Short Film category Iliana Guibert writes, produces, directs and stars in Twice Upon a Time which is based in part on her experiences as a 9/11 widow. And finally, BIFF and local bartender favorite Felix Martiz returns (above, with partner Xiomara Castro).  In 2012 Martiz flew back to L.A. with Best Feature and Best Actor trophies for his inventive Santiago, an exercise in guerilla filmmaking. This time out he brings the short Mia, "a fresh retelling of an old Mexican folktale, La Llorona (The Weeping Woman)."

FADE IN:

First time attendees, how did you find out about BIFF?
Tolleson: I did a lot of research on festivals, aiming to identify the ones that might be a fit for my film.  I went to the University of North Carolina School of the Arts, so festivals in the Carolinas were a target of mine.  I reached out to Ron with an email that included the trailer for my film, asking if he thought it would be a fit for BIFF, and he replied positively!
Torrey: As a southeastern filmmaker and South Carolina resident, BIFF has floated around the periphery of my radar for a few years. But I didn't become fully aware of all that BIFF had to offer until my friend and colleague Evan Vetter told me that I had to apply. Evan is a festival alum and said it was one of the highlights of his own film's most recent festival run.

Marzano-Lesnevich:  We were lucky enough to play the Big River Film Festival in Savannah, GA, where we won Best First Time Feature Director and our team met the wonderful Rebecca & Ron Tucker at the awards reception. 
Guibert: I found out about the Beaufort International Film Festival through a search on FilmFreeway and via word of mouth.
Faircloth: I met Ron and Rebecca at a small film festival, South Carolina Underground Film Festival,  in Charleston in 2015 and they told me about their festival.  I had already heard about it before, but doing mainly horror films. I had never submitted a project to BIFF before. I usually stick to genre festivals but after meeting them, I decided to take a chance.
So Felix, how many BIFFs is this and what keeps you coming back?
Martiz: This will be the third time and definitely not the last. I'm a huge fan of the festival and all the wonderful people that make Beaufort the special place it is. Beaufort is a beautiful town with a wealth of history and a unique spirit. We return for the southern hospitality and the art loving people who come out every year to support our independent films, which we are proud to share with everyone here. Ron and Rebeca have truly created something special for us filmmakers to look forward to every year… I definitely do. 
You're traveling from near and far. Why go to all the trouble to attend our little soiree?
Guibert: After hearing such nice feedback from other filmmakers who attended BIFF in the past I knew I wanted in.
Torrey: [It's] an easy drive for me. "Fare" was shot in Charlotte and Fort Mill, and while our BIFF screening is our final stop on our festival tour before our worldwide release, it happens to be the first screening in South Carolina. We couldn't miss the chance to be present at our hometown premiere. 
Martiz: The intimate setting allows for a personal experience during the festival. We love the attention, and have made some incredible lasting friendships and great memories over the years. Beaufort is an awesome town with an amazing festival that's on our minds year round.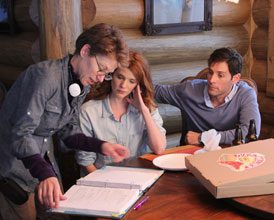 Tolleson (left, standing): First off, I feel really supported by Ron.  He personally called me to invite me to the festival and to share that the film and I had been nominated for awards.  The personal touch goes a long way.  Also, he talked about how well supported the festival is by the community.  This goes a long way for a filmmaker.  I want to come to a festival where there's an audience for my film!
Faircloth: I've been all over the country to festivals of all sizes.  Once we found out we were accepted, it was very important to attend to not only support the film but also the film festival.  As a SC filmmaker, I want any film projects and festivals in my home state to be successful.  Since I was lucky enough to be chosen as an official selection, there was no way I was going to miss it.  Almost my entire cast is attending as well.  It's also super important to support other filmmakers too, so I want to catch as many of the films as I can.
Marzano-Lesnevich: We were fortunate enough to be nominated for a variety of awards, including Best Picture, Best Director, Best Actress and Best Actor (twice!), so we wanted to make sure we were represented. Also [I've] heard terrific things from [festival alums] V.W. Scheich and Gary Weeks. Plus, that famous Southern hospitality! 
Put some butts in seats for your screening.
Martiz: Mia is a psychological drama about a woman's decent into madness after being unable to cope with the loss of her daughter. She calls upon the souls of dead children in the hopes of seeing her daughter once again. This is a unique and fresh retelling of an old Mexican folktale La Llorona (The Weeping Woman). 
Faircloth: Family Possessions is a paranormal type of horror film with a lot of elements from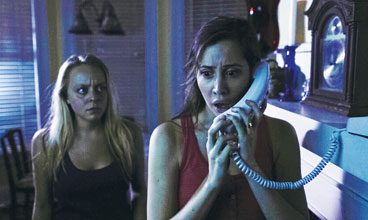 the late 70's, early 80's horror films.  The story centers around a family moving into the house of a deceased relative and once inside, they discover they may have inherited more than just the house.  It will make you JUMP out of your seat!
Torrey: Fare is a feature-length thriller set entirely inside a moving car. It's a dark exploration of marriage and betrayal and follows an Uber driver who finds himself driving the man who is secretly sleeping with his wife.
Marzano-Lesnevich: Almost Paris, which premiered at the prestigious Tribeca Film Festival, tells the personal side of the financial crisis. Directed by Domenica Cameron-Scorsese (daughter of the legendary filmmaker), the film's set in the wake of the mortgage-lending crisis, when a former banker returns to his hometown. Faced with his family and childhood friends and seeing the impact of his actions, our hero learns to give back to those he loves in ways that are priceless. Plus, there'll be a Q&A afterwards with myself and Ms. Abigail Hawk. 
Tolleson: Saturn Returns is the story of 5 college friends who reunite in Mammoth Lakes, California for a wedding of two of their group.  Thirty-six hours before the wedding the missing sixth friend of their group shows up uninvited and unexpected.  He is also the former best friend of the groom and ex-boyfriend of the bride. 
All are about to turn 30, which in astrological terms is their first Saturn return.  Saturn represents big life decisions—life partner, life purpose, career and the like. As a filmmaker, I find this time in a person's life to be really rich.  And so this is a touchstone for the film, and hopefully something that many in the audience can relate to. The film is also a love-letter to Mammoth Lakes and the Eastern Sierras, best known as Ansel Adams favorite place to photograph.  The Eastern Sierras are a character in the movie, which has the effect of taking the audience on a journey as they watch the film.
Tell us about the cast.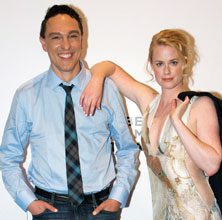 Marzano-Lesnevich: We have a remarkable cast! Abigail Hawk (left, with Marzano-Lesnevich) is best known for her role as 'Baker' on CBS' Blue Bloods, and recently starred in A Christmas In Vermont with Chevy Chase. Michael Sorvino has appeared in Lifetime's Human Trafficking and the indies Once Upon A Time In Queens and Precious Mettle opposite his father, Paul Sorvino. Susan Varon plays 'Josie' on Netflix and Marvel's Daredevil, Adam LeFevre is currently opposite Matthew McConaughey in Gold, and Francesca Scorsese (youngest daughter of Martin) makes her film debut as 'Lindsay'. 
Guibert: Patricia Stark, is a Fox News Correspondent in NYC. Some of her credits include Madam Secretary and Law & Order Criminal Intent. Lorraine Ziff has a host of indie films under her belt as well as producing credits. Rick Zahn's credits are too many to list but for starters, House of Cards, Third Watch, Law & Order. Cris DeMeo recently starred in Back in the Day with Alec Baldwin and Danny Glover. I'm the lead actress. [My] credits include appearances on Blue Bloods, MTV's Once Bad Choice, CW's Carrie Diaries, and USA's new show, Falling Water.
Martiz: Stefy Garcia carries the entire film and is a revelation. We are excited that the festival has honored her performance with a best actress nomination. She truly delved into the character and gave a very powerful  performance.
Tolleson: The cast includes Nicholle Tom, best known for her work on the TV show The Nanny, where she played the teenage Maggie Sheffield.  She's worked non-stop since then and turns in a terrific performance.  It also includes Jordan Belfi (Scandal), Alison Haislip (Battleground), Michael Cory Davis (Animal Kingdom), Miles Gaston Villanueva (a breakout star of The Young and the Restless, Jane the Virgin, also currently starring opposite Al Pacino on stage in God Looked Away), Andrew Dits (Snowden), and Erin Chambers (General Hospital).
Torrey: I wrote and directed Fare, but also star in the film. I grew up acting and while it continues to be a side interest for me, behind my passion of directing, I was excited about the chance to play the complicated character of Eric. I also knew that, given our budget and aggressive schedule, I needed local actors who could volunteer their time. The amazing Katherine Drew plays my character's wife, Audrey. J.R. Adduci, known in the region as Bobby from Morris-Jenkins, plays the cuckholding lover Patrick, and my go-to character actor of choice, Pat Dortch, dons an Irish accent and plays the enigmatic Foreigner, who sets the story's events in motion. 

Faircloth: Family Possessions includes two actors that have made their careers from being in classic horror films.   Felissa Rose starred in one of the most infamous slasher films of all time, Sleepaway Camp. Mark Patton starred in Nightmare on Elm Street 2: Freddy's Revenge. Mark got his start on Broadway with Cher and Kathy Bates in Come Back to the Five and Dime, Jimmy Dean, Jimmy Dean. Mark has not been in a horror film since Nightmare 2, so getting him to return to horror in my film was an honor.
Who's coming with you?
Tolleson: I am actually coming by myself as my partner is also my husband and we have six year old twins!  Someone has to get them to school in the morning.
Torrey: We're still figuring that out. Hopefully one or two from the cast and the film's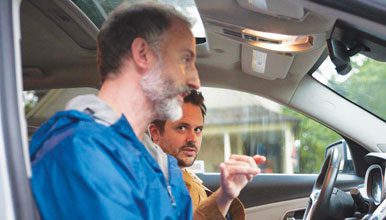 producer, Justin Moretto. Justin and I founded our production company Bad Theology together, and Fare is our first film. 
Faircloth: Almost my entire cast will be in attendance including Jason Vail, Morgan Monnig, Leah Wiseman, Erika Edwards, Lizzie Mears, David Michael Wilson, Andrew Wicklum, Tracey de Leon, and producer Robert Zobel.  We also have many friends and family attending.
Marzano-Lesnevich: My lovely co-star, the indomitable Abigail Hawk! 
Martiz: My lovely producing partner Xiomara Castro will be joining us for the entire run of the fest. She attended last year, her first time, and took a real liking to Beaufort.
We love interesting anecdotes from the set . . .

Faircloth:  We shot in two large mansions located in Greenville, NC.  One of the houses we actually stayed in for the last week of shooting and although this house was not the "haunted" house in the film, the entire cast and crew heard various sounds of walking and running on the second floor of the house.  One night Robert, the producer, heard stomping up stairs and went up to see why everyone was still up only to see that no one was awake.  It was very unsettling.  In the main house in the film, we shot at the Albion Dunn House, which is on the Historical Register in Greenville.  We were shooting in the attic and our lighting director fell through the ceiling and barely caught himself from landing in the stairwell and was inches from a large chandelier hanging in it.  It was a tough shoot but we completed the entire film in less than two weeks with only a crew of four.
Guibert: I was having trouble finding a real U.S. Marine for the opening funeral scene in which a Marine [presents the flag]. I very much wanted it to be a real Marine as the flag we were using was the actual flag given to my daughter and me after my husband was killed.  The Marines I found were either not available, were being deployed again or simply did not fit into their uniforms anymore.  I finally had to throw in the towel and hired a very nice actor who had a uniform.  On the morning of the shoot as we're setting up for the funeral scene, I look up and see a tall Marine in dress blues walking my way with three more Marines also in their dress blues. This was one of the Marines I had spoken to who was not available but at the last minute was able to rearrange his schedule and brought along three others Marines who came out to help and support me.  Semper Fi. I get emotional every time I tell that story.
Marzano-Lesnevich: We had a glorious time, filming for three hectic weeks in beautiful Oyster Bay, Long Island. We shot in the terrific Rothmann's Steakhouse and may have indulged in a steak dinner and drinks, paid for by Abigail after she wrapped. Our Executive Producers Cynthia & Tom Rosicki own Sparkling Pointe Vineyards and Winery on the North Fork and we had a hell of a wrap party. Plus the film's fellow producers and co-stars (Wally and Michael), who went to high school and college together, dormed together once more, and may have sipped a finger of Basil Hayden to unwind each night. 
Martiz: On the first day of shooting we got so inspired by the tone of the film and the process that we ended up shooting some extra scenes that we came up with on the spot. The scenes ultimately did not make the cut. But the crew had fun.
Tolleson: We shot for 17 days in the tiny town of Mammoth Lakes, 300 miles North of Los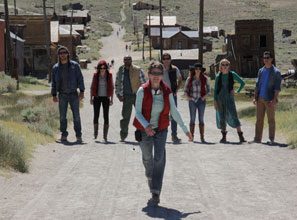 Angeles.  It was very remote and very intense.  One day we spent at the top of the 11,000 foot Mammoth Mountain shooting a bike park sequence.  We also shot another 75 miles North in the ghost town of Bodie, which is only reachable in the summer by a 7 mile dirt road.  In fact, no feature films have ever been shot there because it's so remote and hard to access.  It's absolutely gorgeous, as only a gold rush ghost town with absolutely no services can be.
Torrey: Thankfully, everything went according to plan, which would be the only way we could shoot an entire feature in three days. Driving in real traffic, with cast and crew inside an SUV, was also challenging. But thankfully we spent a lot of time testing for safety and apart from one moment when a police car started tailing us (only to eventually leave us alone), there were no mishaps. 
Besides standing ovations, critical accolades and a collecting a trophy, what else is on the agenda during your time in Beaufort?
Martiz: We plan to tour the Gullah-Geechee corridor and get a feel for the town's history. I also plan to dive into the town's culinary scene and eat as much pecan pie as possible.
Torrey: The South Carolina coast is among the best in the country, and my wife and I have been all over. But this will be my first chance to see Beaufort properly, and I hear it's a great little town with a lot of spark and culture. 
Marzano-Lesnevich: I've gotten a local tip to check out Breakwater, Saltus and The Old Bull! 
Faircloth: My mother, sister and niece,  and two of my aunts will be seeing the film for the first time, and long with my producer's parents as well.  We are excited that they get to experience it with an audience.  We plan on getting some really good seafood while we are there and seeing as many films as possible!
Guibert: To enjoy beautiful Beaufort and it's lovely people.  What great hospitality and I've not even arrived yet. I feel like royalty.  I'm so looking forward to my stay at the magnificent Anchorage 1770! I'm also looking forward to meeting lots of filmmakers, watching great films and making some new friends.
Tolleson: I'm excited to connect with filmmakers and audiences to share the film.  Saturn Returns is a crowd pleaser and I'm thrilled to share it.  I also remember the lowcountry food being very good in South Carolina, and I'm excited to have some great meals!!
How's the BIFF staff treating you?
 Faircloth: Wonderful!
 Marzano-Lesnevich: Truly wonderfully– they're putting us all up, which honestly makes the travel to the festival possible, and Ron, Rebecca and the staff have been top-notch.
Torrey: Incredible. On the festival tour, as a filmmaker, you notice which festivals put their focus in the right areas — communication, hospitality, community support. BIFF has already shown that they excel in all three categories and it's made for a great experience thus far. 
Tolleson: I love the great communication. They are wonderfully responsive.
Martiz: Like royalty.
Did we miss something?
Torrey: Fare will release on all digital on-demand platforms on Tuesday 2/21! So this is truly the last chance to see the film on the big screen prior to its worldwide release. Faremovie.com has all of our social media platforms, and with a small film like ours, building our audience is everything. So follow us! Share us! Be our champions!
Marzano-Lesnevich: We're excited to see Beaufort, and all the films that will be screening, including seeing Julie Dash and Daughters Of The Dust! 
Martiz: I need a ride from the airport. ; )
ETCETERA
NOTE: This interview has been compressed and edited
Buy tickets and more at www.beaufortfilmfestival.com