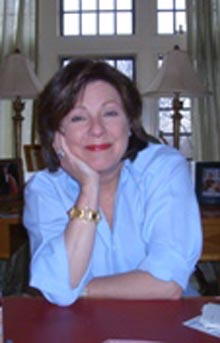 Debuts Folly Beach by Dorothea Benton Frank
There's only one Dottie Frank whose matchless podium style is as striking as her books, to bring to life her new book,
Folly Beach
, which she will debut on Wednesday, June 15
th
at the Sea Pines Country Club, Hilton Head. Frank will talk about the research and yes, traumas, of writing the book, answer questions and sign copies which will be available for sale. The luncheon, which starts at noon, is sponsored by Continuing Education of the University of South Carolina Beaufort.  Registration is made with Jo Ann Kingsley at 843-521-4147 or
kingsley@uscb.edu
.  The all-inclusive price is $42.
With its glistening sandy beaches, laidback Southern charm, and enticing Gullah tradition, Folly Beach has long been one of South Carolina's most historic and romantic spots.  It is also the latest breathtakingly lovely strip of coast Dottie Frank focuses on with heroine Cate Cooper, who spent her childhood in her family's rambling beach house. Yet Folly Beach holds more than just memories.
Once upon a time another woman found unexpected bliss and comfort within its welcoming arms. An artist, writer, and sometime colleague of the revered George Gershwin, Dorothy Hayward enjoyed the greatest moments of her life at Folly with her beloved husband, DuBose. And though the Haywards are long gone, their passion and spirit lingers in every mango sunset and gentle ocean breeze. And for Cate, Folly too holds the promise of unexpected fulfillment when she is forced to look at her life, and the zany characters who are her family, anew. Folly Beach doesn't just hold the girl she once was. . . it also holds the promise of the woman she's always wanted—and is finally ready—to be.  A perfect Dorothea Benton Frank read.
The 'perfect read' that launched the career of this New York Times best selling author is Sullivan's Island, published in 2000, which opened the door of the South to readers worldwide.  The demand for more followed and so did the books:  Lowcountry Summer, Return To Sullivans Island, Bulls Island, The Land Of Mango Sunsets, The Christmas Pearl, Full Of Grace, Pawleys Island, Shem Creek, Isle Of Palms, Plantation.
Frank has appeared on NBC's Today Show, Parker Ladd's Book Talk and many local network affiliated television stations. She is a frequent speaker on creative writing and the creative process for students of all ages and in private venues at the National Arts Club, the Junior League of New York, Friends of the Library organizations and the Susan G. Komen Breast Cancer Foundation.  Frank's passion for the arts and education has made her an avid fundraiser.  Currently she is on the Board of the South Carolina Historical Society.
The author, who was born and raised on Sullivan's Island in South Carolina, and has been married forever to Peter Frank, currently divides her time between New Jersey and the Lowcountry of South Carolina.