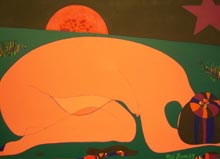 Featuring the Art of Mel Green
Time and tide have unique ways of creating new perspectives on our lives and life's journeys, and the routes they take.  This is especially true in the life of artist Mel Green, an internationally known abstract artist. Melvin Green was born during the height of the Great Depression to Whitaker and Sarah Green in the Jenkins Community of Beaufort County.  Born into a large extended family with limited job opportunities and his love of drawing to pass the time, Mel left the Lowcountry after graduating from Robert Smalls High School and joined the army in 1953.
While sightseeing in Europe during military leave, Melvin explored the ravaged countryside and was fully cognizant of his own struggle of poverty and racism back home. He was equally frustrated with the denial of his civil rights and equal access to opportunities in the United States. Melvin expanded his myopic view of the world through a kaleidoscope of lenses to see how oppressed people were caught up in what he called, throughout his life and work, "The Struggle." There in Europe, he took an interest in oil painting, and almost like an illusionist trying to manipulate a marionette – and expose the deeper and hidden meanings of life and his quest to follow his heart – Mel put oil to canvas and began painting quietly and seriously. With a keen hunter's eyesight and calibrated steady hand, Mel set out to chart a new course for his life, submitting his instincts to pursue his passion of abstract painting.
Upon his honorable discharge from the army in 1955, he moved to New York to study art.  While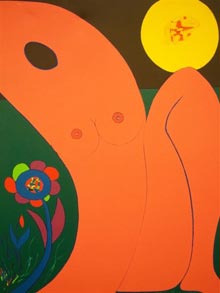 there, Mel became acquainted with other ambitious, aspiring artists who were also attending the American Art School, the Art Students League, and the School of Visual Arts in New York City.  He eventually graduated from the School of Visual Arts in 1959.  After working for several years as an illustrator, and with adesire to become a serious and independent painter full time, Mel returned to Europe, but eventually settled in San Miguel de Allende, Mexico in 1967.  For the next forty years, he plied his craft as an artist and painter in Mexico, where his life and work flourished.  Mel credited his unique style and influence to European artists, particularly Picasso, and other South American artists.  His work is located in private collections and US Departments of State Embassies throughout the world.  In February 2007, Melvin Green died unexpectedly in Guadalajara, Mexico. Honoring his wishes, he was buried in Beaufort, SC, in the family burial plot beside his beloved parents.
Mel's artist statement: "I believe that beyond having faith and talent, the true creative artist must commit himself to the ideas he wishes to express to the viewer.  My art is an expression of my love, ideas, and true feelings and philosophy of life.  In my paintings, I am concerned with creative concepts, abstract ideas, and patterns of colors, lines, shapes, movement and feelings.  The bright colors in my paintings express the way I think and feel about Mexico, where the intensity of the sunlight is so warm, strong and bright.  The lines in my paintings express a continuous movement and changing of shapes, colors, and forms.    I think of them as lifelines that are always changing into other relevant forms.  If you can see and understand the waves in the ocean or a beautiful dance in motion, then you will get the idea of what I'm trying to express in my paintings.  It's very abstract, but it's also very recognizable."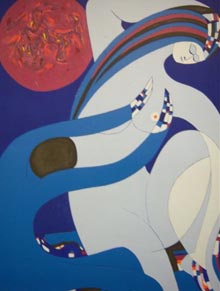 Friends, relatives and art patrons will have an opportunity to view his artwork at the Red Piano Too Art Gallery's Spring Fling Exhibit.  According to gallery owner Mary I. Mack, the gallery will host a reception on Saturday, May 28, 2011 from 10:00 AM – 5:00 PM.  The exhibit will run May 28—June 30, 2011 and is free and open to the public.
In addition to Green's collection, the gallery will have a number of other artists and authors sharing the day.  Among the authors scheduled to participate are Vertamae Grosvenor, Earl Cooler, Sr., John Warley and Alvin J. Green.
Vertamae Grosvenor, well known culinary anthropologist, poet, actress and television personality, and writer is a correspondent on National Public Radio's Cultural Desk. Grosvenor will be on hand to discuss and sign copies of her autobiographical cookbook first printed in 1970 Vibration Cooking: or, The Travel Notes of a Geechee Girl. She provides NPR's news magazines with stories that explore African American creativity, community, and citizenship.  Grosvenor has been a contributing editor to Elan Magazine and Essence Magazine and has written for The New York Times, The Village Voice, The Washington Post, Life, Redbook, Ebony, and Viva.  Grosvenor was born and raised in the Lowcountry.  Her first language was Gullah, a combination of West African languages and English.
Another Lowcountry writer, Earl Cooler, Sr. is the author of Tales of the Great Swamp: Shrouded in Mystery. This is the story of the author's prolific and judicious great-great-grandfather, Andrew Ishmael Cooler, born in the St. Helena Parish in Beaufort in 1815.  Cooler weaves unique tales surrounding the growth of historical Beaufort County and present-day Jasper County.
In addition, John Warley, a Beaufort resident and author will be available to discuss and sign copies of Bethesda's Child.  Warley revealed to Victoria Smalls who curates all of the gallery's exhibits and the collection of Mel Green, that he was "stunned to read Mel Green's history." Smalls said, "Warley revealed to me that he and his wife from 1993 to 1995 lived in San Miguel de Allende, the very place where the featured artist spent many years of his life painting and creating."  "It is a paradise for painters (and writers)" expresses Warley.
John Warley will also be signing the just-released This I Believe on Fatherhood, a memorable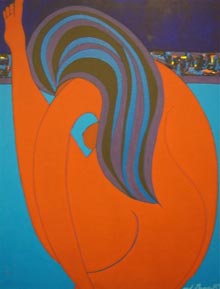 collection of essays that includes Mr. Warley's "Lingering at the Doors" and would be the perfect Father's Day gift.  Newly published This I Believe on Fatherhood a compilation of essays or testimonies from fathers recounting their defining moments of parenthood to the children who share the impact their dads had on them.  It brings memories to life, both joyful and sorrowful, illustrating the powerful bond that exists between father and children. This book grew out of the compelling stories of fatherhood from the popular NPR radio show This I Believe, the 1950's, Edward R. Murrow's radio show. Warley states that  "NPR received over 90,000 essays and I am proud to say that my essay, "Lingering at the Doors", was selected for inclusion in this collection."
The gallery will also feature the book of Alvin J. Green poet and author of The Struggle For Peace Of A Gullah Mind and brother to the late artist Mel Green.  Alvin J. Green was born and raised in the South Carolina Lowcountry, although he has spent most of his adult life in New England. His poetry comes face to face with the lively characters who spent generations trying to eke out a living in the Sea Island fishing and farming communities, and those who lived a comparatively quaint life in the New England landscapes.  The Struggle for Peace of a Gullah Mind captures every facet of American life and its varied cultures. This book of poetry reflects Green's passionate and encouraging words not only to endure, but also to taste the rich heritage of Gullah storytelling. He establishes himself as a vibrant poet by introducing readers to the precipitous characters he has known.
"Spring Fling" promises to be an exciting event as all of the businesses on St. Helena Island in the Downtown – Corner's Community  "pull-out-all-the-stops" to satisfy your taste for art, literature, food, music and an over all day to remember.
For more information on the "Spring Fling" event, artists and authors contact The Red Piano Too Art Gallery at 838-2241, www.RedPianoToo.com or stop by the gallery located at 870 Sea Island Parkway on St. Helena Island.