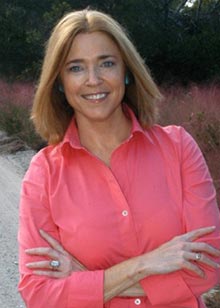 Mary Alice Monroe is an active environmentalist, bestselling novelist in both
USA Today
and
the New York Times
and one of the favorite authors to visit the USCB Lunch With Author Series.  On May 5
th,
a Cinco de Mayo celebration at the Moss Creek Clubhouse will herald her debut of
The Butterfly's Daughter
, her latest book which skillfully incorporates the transformational journey of four very different women as they follow the migrating monarchs across the United States to Mexico.
Monroe will talk about her research for this book and how she chased monarchs to their winter sanctuaries high in the mountains of Michoacan, Mexico; how she taps into ancient rituals and myths of the Mexican people who believe the monarchs are the spirits of the recently departed.  Monroe will answer questions and sign books at the luncheon which starts at noon.  The all-inclusive price is $42 and reservations are made with Jo Ann Kingsley, 843-838-521-4147 or kingsley@uscb.edu.
A review of the book on the back cover states:
Every year, the monarch butterflies –las mariposas—fly a thousand miles on fragile wings to return to their winter home in Mexico.  Now Luz Avila makes that same perilous journey south as she honors a vow to her beloved abuela—the grandmother who raised her—to return her ashes to her ancestral village.  As Luz departs Milwaukee in a ramshackle old VW Beetle, she finds her heart opened by a series of seemingly random encounters with remarkable women.  In Texas, however, a startling revelation awaits: a reunion with a woman from her past.  Together, the two cross into Mexico to witness the returning monarchs in the mountain village Abuela called home, but they are also crossing a border that separates past from present… and myth from reality.
Monroe is involved with several environmental groups and is on the board of the South Carolina Aquarium.  Her work with these groups provided the inspiration for her novels The Beach House, Skyward , Sweetgrass , Swimming Lessons, Time Is a River, and Last Light Over Carolina and her children's book, Turtle Summer. Her other books are The Long Road Home, The Four Seasons, The Book Club and Girl in the Mirror. She lives in Mount Pleasant with her family.
The luncheon is sponsored by the University of South Carolina Beaufort Continuing Education.  Reservations at kingsley@uscb.edu or 843-521-4147.  All-inclusive price is $42.  Moss Creek Clubhouse, Bluffton at noon.