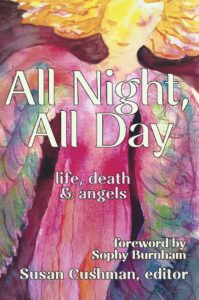 The nonprofit Pat Conroy Literary Center will host a panel discussion and book signing for the anthology All Night, All Day: Life, Death & Angels on Thursday, September 21, at 5:00 p.m. Free and open to the public, this event will be held at the Conroy Center (601 Bladen St., Beaufort). Books will be available for sale and signing. Seating is limited; please call 843-379-7025 to reserve in advance.
The panel discussion will include editor Susan Cushman and contributing writers Cassandra King, Wendy Reed, and Nancy Dorman-Hickson.
"All Night, All Day is an inspirational collection of personal essays, stories, and poems by outstanding women authors who write about the appearance of the divine in their lives. Some of these angels come to save a life or change a flat tire. Some appear to warn people, tell them what to do, suggest more vegetables and maybe better shoes… In this stunning anthology which explores so many heartwarming brushes with celestial beings, all these angels are messengers come to assure us we are not alone, and we are loved."—Margaret McMullan, award-winning author of Where the Angels Lived
This is Susan Cushman's fourth anthology to edit. She is also the author of two novels, two memoirs, and a short story collection. Pat Conroy and Cassandra King are her two favorite authors and inspired her to write.
Cassandra King is the author of five best-selling novels and two nonfiction books. Her latest book, Tell Me a Story, a memoir about life with her late husband Pat Conroy, was named SIBA's 2020 non-fiction Book of the Year. A conversation with Cassandra at her home in 2018 about angels—and particularly about the one that visited Pat as he was dying—was the inspiration for this book.
Wendy Reed is an Emmy-winning writer and producer, whose work include documentaries and the long-running series Bookmark with Don Noble and Discovering Alabama. She is the author of An Accidental Memoir: How I Killed Someone and Other Stories and the co-editor of All Out of Faith and Circling Faith: Southern Women on Spirituality.
After almost twenty years as a features editor at Southern Living magazine, Nancy Dorman-Hickson now freelances in Birmingham, Alabama. She co-authored Diplomacy and Diamonds, the best-selling memoir of Joanne King Herring who was portrayed by Julia Roberts in the movie Charlie Wilson's War.
Learn more about the nonprofit Pat Conroy Literary Center at www.patconroyliterarycenter.org.