Authors, illustrators and readers are gathering in Beaufort in April to meet, sign books, find a good read, snack on some literary muffins (trashy romance = chocolate, for instance) and experience handmade books too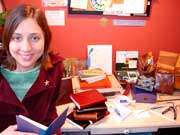 The Book Makers Festival at ARTworks begins with a gallery show on April 3rd that includes limited edition book-lettes, artist's books, and handmade books, in addition to illustrations and artwork inspired by poetry.
Benita Van Winkle, an artist and college-level instructor of book arts and photography in Winston-Salem, is creating an altered book, originally published by Press 53, specially for the show. "I thought it would be fun to make a book about a book publisher that would go to a book festival," she said. "What I love about the idea of a festival of book making and book writing is that they are truly not that different. As creative people, we tend to be shut away in our studios or writing spots with little to no contact with the outside world. Once we have finally given birth to the project at hand, we rarely get to experience the sharing with others in a public way. This type of festival allows for that interaction. I have also taught a bookbinding workshop to writers and they were very receptive to the idea of learning a new handcrafted type of presentation for their words."

The gallery show opens on Friday, April 3rd, 6 to 8pm, with a reception with the artists, open to the public. Beaufort bookmaker Nicole Blowers will exhibit her work, and is offering workshops on book-making and book-binding in April at ARTworks; writing workshops are being offered as well.
"My favorite type of book structure is definitely the Coptic binding because it is one of the oldest book formats, dating back to the 2nd century AD, and it is the most versatile and conducive to creating art journals," Nicole explained. "A handmade book can come in many forms, some are made from modified books, some are made from scratch. The true mark of a handmade book is more the process than the materials. Has the artist infused some of their unique creativity using hands on processes? Is the final book indiscernible from its original state, has it truly been changed? If so, a handmade book was created."
The main festival day is Saturday, April 25th from 10 to 5pm, when Book Makers will include many more literary elements, stories, narratives, and poems too, with prosey authors such as John Jeter, Lisa Kerr, Bernie Schein, Kami Kinard, Tracye Faulkner, Lynn Bryant, chapbookers from the SC Poetry Society, and twenty other writers from the region (beyond the Lowcountry!) Pat Willcox, of Lady's Island, is a textile artist, and creator of young LiuYe and the dragonfly who narrates the boy's story, The Dragon's Riddle. "It's the story of a Chinese orphan boy who finds a riddle in a dragon pot," Pat said. "It's his job to solve the riddle in three days to save the village." The book is meticulously illustrated with photographs of polymer-clay figures that Pat sculpted, dressed in elaborate bespoke costumes, and then posed in intricate vignettes to portray the story. The scenes she created for the book are artwork that can stand on their own; a mock up of this amazing book will be in the gallery show for perusers to enjoy.
"I think that combining book-making with book-writing at Book Makers will inspire both artists and writers to reach new levels of creative expression," Pam Johnson Brickell said. Pam is an artist who creates nature journals, based in Bluffton. "The process of bookmaking is meditative and develops methodical work habits. But then once the design is in place, freedom of expression takes over. It's quite a combo. Just enough structure and then endless creative freedom."
Visit eatgoodbread.com for more details about the Book Makers Festival, for links to ARTworks, home of the Arts Council of Beaufort County, and for links to all the artists & authors as well.