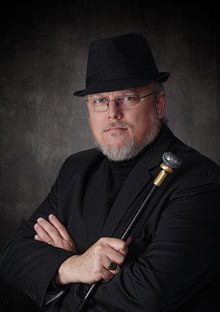 Beaufort Author Jack Gannon will debut his new book I Walked in Santa's Boots at 5 pm on Saturday, November 19, at Lowcountry Produce and Market, 302 Carteret St, Beaufort.  
Gannon served as Beaufort's premiere Santa Claus at "Night on the Town" and the Christmas Parade from 1993-2015.
Other annual appearances included Chick-Fil-A on Boundary Street, Fripp Island, Cat Island, Frampton Plantation / South Carolina Lowcountry Tourism, and more. Over 250 color photos showcase Santa's appearances with local and out-of-town visitors from 1993-2015, often accompanied by Mrs. Claus and Elves from the North Pole.
Lowcountry Weekly recently spoke with Jack about his new book and his longtime gig as Santa.
LCW: How did you get into the Santa biz in the first place?
JG: It started so very unspectacular. I answered a classified ad in the paper! I had to fill out an application to Main Street Beaufort, go through an extensive background check…I forgot all about the application until the day I got a call that I'd gotten the job.  
LCW: Will you be portraying Santa again this year?
JG: I am officially retired… I'm looking forward to spending the Christmas seasons now at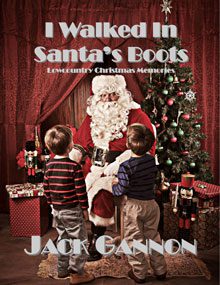 ho-ho-home looking at the pretty Christmas lights like everyone else during this special time of year! Yes, I will wear a Santa hat during the Christmas season!
LCW: Share a few of your most memorable gift requests from kids.
JG: Now, remember that we live at the bottom tip of South Carolina – where we get snow every, what, twenty years – and still I've been asked for snow skis and snowmobiles! Then there were the requests for mountain bikes when our highest elevation here is about twenty feet above sea level! Hunting rifles and bows and arrows (for hunting, not target shooting!) from other children. Of course, the fun wasn't just from the kids! Adults regularly asked for new cars, fur coats, diamonds, husbands or wives, lots of cash… Santa always had extra trailers to tack onto the main sleigh for those extra-special Christmas requests!
LCW: How do you respond when a child asks for something you seriously doubt Santa can provide? (Is there any counseling involved in this job?)
JG: Santa is always as positive, and as non-committal, as possible. In our military community, so many children asked every year to check on their moms or dads overseas to make sure they were okay in their camps, and at those times Santa was asked to bring them home the standard answer was, "There's no room in the sleigh on Christmas Eve, but I will definitely look in on him or her so you know all is good on Christmas Day." While I never had any formal Santa training, there are actual Santa training schools all across the country! I relied on my Catholic background to keep my Santa personality compassionate and personable and always at peace no matter what was going on around me.
 LCW: What does it take to be a great Santa? What are the secrets of your success?
JG: As I refined my persona over the decades, I determined that a great Santa must listen well and let the young visitors do the talking; he never interjects his personal non-Santa beliefs into the conversation; he must know the names of all nine reindeer in order; Santa always says "Merry Christmas"; take as much time as necessary to capture that perfect photo moment with each child and family member; always have a selection of rapid but festive come-backs and one-liners when moments aren't going well and some Santa-levity is required to keep the visit happy (especially when parents are frustrated with their little ones just screaming and crying). A successful visit is when a family leaves happy with the visit no matter how it went. And Santa's laugh has to come from the heart (and diaphragm) full of fun and spirit!
LCW: What's your biggest challenge as Santa?
JG: Always having a believable and – to a little questioner – logical answer to every query. It's important to have a high knowledge of the history of Santa Claus, both in reality and in modern legend. And Santa's favorite snack on Christmas Eve is chocolate chip cookies and whole milk! Of course, it was always important to be a naturally plump jolly old elf, not artificially-padded!
LCW: When you're not being Santa, you and your business partner Cyndi Williams-Barnier write books together as a team called J&J Wordsmiths, LLC. How does that work, exactly?
JG: Much easier than you'd expect. We have two series at present: one action/adventure and the other fantasy/paranormal. We talk about how we want the characters to end up at the conclusion of the book and work our way backwards to plot out the main outline, and then the secondary and tertiary storylines… then start writing forward to get to that ending. We edit overtop each other's writing so that in the end it all sounds like one person wrote the whole story! This book is our eighth published work together, and we have the next in our action/adventure series planned for early 2017, the third in our fantasy/paranormal series sometime in 2017, and a second Christmas book for November or December 2017. Spending our retirement years writing stories together is so much more fun than sitting on our couches and watching soap operas all day!
LCW: Did Cyndi have a hand in writing I Walked in Santa's Boots or is it all yours?
JG: I did all the writing since these are the memories of my Santa years. However, we looked through the thousands of pictures on my computer together, as I recalled some long-forgotten details or events, and to choose the best photos from across the decades to represent my Santa career. Cyndi did the editing for content and continuity. We designed the cover together. And we've been craving eggnog all year long because of this book!!! We'll be having some at our covert underground office somewhere in Beaufort as we put up our Charlie Brown Christmas Tree and lights…
In addition to the debut at Lowcountry Produce, Gannon will be presenting his book at other Beaufort locations during December; those events can be found on his website at www.jandcwordsmiths.com and the book's Facebook page www.facebook.com/santaclausbeaufortsc. Books can be pre-ordered on his website for pickup at Lowcountry Produce and Market on November 19, and is priced at $24.99 (plus tax) direct from the author. RSVP is requested for the debut event.