Here in the Lowcountry, one has only to look as far as Savannah and Charleston to see examples of places planned around safety and security. Remnants of the original city wall that protected Charleston still are visible beneath the old Exchange Building. And Savannah's beloved squares that pattern the city were based upon the design of military camps and used for regular military exercises and drills, all in preparation to defend the small, compact settlement on the water. Beyond these camps and walls lay the agricultural lands that fed the cities, ample area to produce everything the citizens needed, literally right outside their limits of development.
Looking further away from our area and back into history, there are countless examples of small European cities, hill towns, and villages, with homes, workplaces and daily needs contained inside distinct, impenetrable boundaries. The agricultural lands that nourished the communities always surrounded these boundaries, which ranged from constructed walls to naturally existing conditions such as waterways or mountains. Even in the Old Testament, in the book of Leviticus, the Israelites were instructed to lay out their camps with the most important tribe in the center, surrounded compactly by other tribes for defense, with certain acreages of farmland on the outskirts.  All of these historic examples define a sustainable settlement model based upon available natural resources, compactness and food production. The close-knit nature of these settlements fostered innovation, commerce and cooperation, which eventually allowed many of these cities to flourish and prosper.
What implication does this have for us today in this age of heightened awareness of threats, terror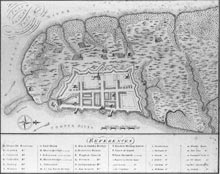 and upheaval around the world? Well, Lowcountry native and Marine Colonel Mark Mykleby, a senior advisor on strategy to the Chairman to the Joint Chiefs of Staff, and his colleague Navy Captain Wayne Porter  posed this question as part of their recent paper, "A National Strategic Narrative." The paper, published by the Woodrow Wilson International Center for Scholars, proposes that the United States should "invest less in defense and more in sustainable prosperity," and outlines a variety of strategies to do this, all focusing on sustaining America's security, resources and economy, which will in turn have positive implications for the rest of the world. Three specific priorities are defined:
1.   "As Americans we have access to a vast array of resources. Perhaps the most important first step we can take, as part of a National Strategy, is to identify which of these resources are renewable and sustainable, and which are finite and diminishing. Without doubt, our greatest resource is America's young people, who will shape and execute the vision needed to take this nation forward into an uncertain future."
2.   "Our second investment priority is ensuring the nation's sustainable security – on our own soil and wherever Americans and their interests take them."
3.   "Our third investment priority is to develop a plan for the sustainable access to, cultivation and use of, the natural resources we need for our continued wellbeing, prosperity and economic growth in the world marketplace."
The paper continues to define methods of achieving these specific goals, before going on to address the implications on the built environment and its place in the strategy.
"Rather than focusing all our attention on specific threats, risks, nations, or organizations, as we have in the past, let us evaluate the trends that will shape tomorrow's strategic ecology, and seek opportunities to credibly influence these to our advantage…This begins at home with quality health care and education, with a vital economy and low rates of unemployment, with thriving urban centers and carefully planned rural communities, with low crime, and a sense of common purpose underwritten by personal responsibility. We often hear the term "smart power" applied to the tools of development and diplomacy abroad empowering people all over the world to improve their own lives and to help establish the stability needed to sustain security and prosperity on a global scale. But we cannot export "smart power" until we practice "smart growth" at home. We must seize the opportunity to be a model of stability, a model of the values we cherish for the rest of the world to emulate. And we must ensure that our domestic policies are aligned with our foreign policies. Our own "smart growth" can serve as the exportable model of "smart power." Because, truthfully, it is in our interest to see the rest of the world prosper and the world market thrive, just as it is in our interest to see our neighbors prosper and our own urban centers and rural communities come back to life."
The way we live, eat and work, the way we plan our cities, towns and villages has vast implications that range far beyond the scope of our daily lives. This article, which can be seen in its entirety at http://www.wilsoncenter.org/events/docs/A%20National%20Strategic%20Narrative.pdf poses a unique point of view by addressing how these choices we make as a community and a country affect the safety and security of our nation.
This article was written for Lowcountry Weekly by the Congress for the New Urbanism – Carolinas Chapter. www.cnu.org