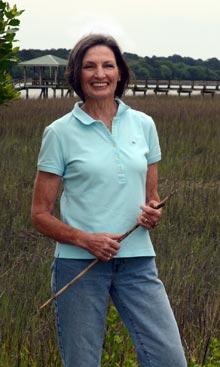 In the dead of night, a blacked out plane flies over a river in coastal Georgia where moments later, a man is shot and left for dead. On a secluded two-lane road nearby, a woman is killed in a one-car accident. Atlanta Realtor Abbey Taylor Bunn plunges into action to find out what's going on because the events seem to have one thing in common: the hunting and fishing club co-founded by her grandfather.
Abbey isn't the only one on the move and looking for answers. The car accident victim's husband, an Atlanta attorney, believes his wife was murdered. When Abbey finds herself up against drug trafficking land grabbers, she is prepared to do whatever it takes to protect the place and people she loves.
This is the set up for Tidewater Rip, the new suspense novel by Beaufort writer Martha Thwaite Weeks – pen name M.Z. Thwaite. Here's the author, talking about her book:
"Ever since I became interested in writing I have heard, 'write what you know.' That's nice, but these days anyone can become an expert on almost any subject simply by looking something up on a computer or a fancy phone. That's a fact. Information is there for the curious. Problem is, you can't learn everything by reading about it. Some things you only know from having lived them.
"I know a place. It isn't grand by any means, not by most people's standards. But it has always been the best place in the world to me and my family. It's a simple place where kids can be kids; women plan meals around what is caught in the river that day; dads don't have to shave or change clothes if they don't want to. It's a place on the coast of Georgia where my maternal grandfather and several other outdoorsy friends bought some land. Properties like this exist only because folks realize the need to protect and preserve them.
"I know a story. While travelling in Germany in 1972, a friend and I met a loquacious bartender. Hearing my southern accent, he said he had very fond memories of the south. Curious, I asked him to elaborate. While a POW in Louisiana during World War II, he loved to listen to tolling church bells from his prison home. Obsessed with the idea that we had POW camps in the U.S. about which I knew nothing, I returned home and started investigating. Only later did I discover that prisoners were brought here because England ran out of room to house them. Along with a wealth of information about that period of U.S. history, I discovered Hitler's Last Soldier In America by Georg Gaertner, an interesting story about a German soldier's life on-the-run in the U.S. I knew I had to base a character on this man's forty-year journey.
"I know real estate, having been licensed in Georgia, New Jersey, and South Carolina. Though the day-to-day goings on in real estate don't make for page turners, there are exceptions. Real estate agents often work alone and must remain vigilant at all times. My character Abbey Taylor Bunn becomes Realtor/Sleuth when she unwittingly finds herself involved in other people's problems.    
"Occasional scenes in my book are based on real life stories of family or friends though most are imagined. I borrowed several actual names because they smack of the location of my story. Any errors are due to author's use of poetic license and not faulty facts from those kind enough to offer information. I hope you enjoy the read."
M.Z. Thwaite (known to locals as Martha Weeks) will be signing books at Common Ground Coffeehouse and Market Café on Friday, October 2 from 5-7 pm.