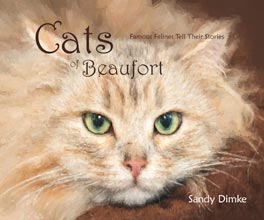 Local photographer Sandy Dimke has just published Cats of Beaufort, a book she wrote and illustrated as a fundraiser for Tabby House.
 
Sandy has been volunteering her time and talents to create portraits of the cats at Tabby House, a feline shelter/adoption agency, for several years. These photos are posted online or in the newspaper with the goal of encouraging people to visit Tabby House, see these adorable cats in person, and perhaps adopt one . . . or more.
 
This year, Sandy decided to go a step further and work on a project that would actually raise money for Tabby House. She chose to photograph a sampling of "the cats of Beaufort" and compile the photos in a book that could be published and sold. Five years ago she published Hands of Beaufort, a book containing her photographs of over 100 people's hands; each hand told a story. Similarly, she wanted each cat in her new book to tell its story as well. Included are stories and photos of thirty local cats, from downtown "independent" cats to family pets: city cats, suburban cats, rural cats – long-time Beaufortonian cats and transplants alike.
  
The project wasn't all the cat's meow either – there were challenges, too. Coal and Blanche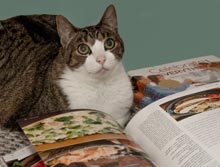 took forever to come out of hiding; caterer (and Lowcountry Weekly columnist) Debbi Covington's cat, Gizmo, refused to pose; Waterfront Park's cat, Julie, never appeared at all with her sidekick, Chester. But there were rewards as well. One of Sandy's favorites among the cat stories involves a "gift certificate" for a cat – given by three third-grade girls to their teacher, Lynda Jerrigan, to fill the void left by the death of her cat – and a reunion that took place years later. Another heartwarming story concerns two cats which, after losing their original owner in Pennsylvania to cancer, were brought to Beaufort and taken in by her sister – our own city planner, Libby Anderson. 
 
In addition to the cats' stories, a portion of the book is devoted to the Dataw Island Feline
Foundation, including photos of cats that have been spayed or neutered and returned to the island. Sandy hopes that other communities will initiate similar projects to reduce the feral population in their areas.
 
Of course, there are plenty of adorable Tabby House cat alumni too, including a page of staff favorites.
 
Readers will also be treated to a poem by local writer Vivian Bikulege who, after learning about the project, volunteered to write about "The Ghost Cat of Beaufort."
 
Cats of Beaufort can be purchased at Tabby House, at Beaufort Art Association at 913 Bay Street, Downtown Beaufort, or from Sandy Dimke (dimke@hargray.com). The books are $15 each and, after expenses, $10 from each book goes directly to Tabby House. The first printing will be 200 books, so Tabby House should receive approximately $2000 as a result of this endeavor.
 
Tabby House will host a book signing on Saturday, September 26, from 1pm – 3pm.