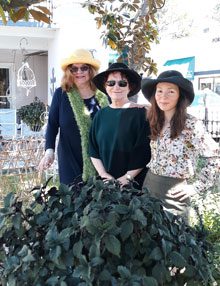 Hear these Beaufort poets and five other diverse South Carolina poets read at the launch of Archive: South Carolina Poetry Since 2005 on Saturday, April 27, from 5 pm at the Pat Conroy Literary Center. Published by Ninety-Six Press, Archive features 46 contributors, documenting the poetic life of the Palmetto State over the past 13 years.  This event is free and open to the public; copies of Archive will be available for sale and signing after the reading.
Menses
You smell like you've been shot 
down the barrel of a gun
an outlaw slipping off your horse
hauling a mix of rain and sunset 
in time to answer prayers
and save me—
the little lady, from myself
or what the law allows.
No life or godless cells cluster 
in your wake 
as you set fire to my velvet curtains 
and cut out with a cache of rubies 
like plucked hearts 
so I never suspect 
a homemaker
in a killer disguise
who cleans and warms the place.
– Emily Davis-Fletcher
Emily Davis-Fletcher earned a BFA in creative writing from Stephens College and an MA in women's studies from the National University of Ireland Galway. Her poetry has appeared inSouthword, Crannóg Magazine, the Irish Examiner, and The High Window, among other journals and anthologies.  She has taught creativity and poetry workshops as part of the Life-long Learning program at the University of South Carolina Beaufort.  In 2018, Emily was selected to read at the Cork International Poetry Festival Introductions Reading; and, most recently, she was a guest poet at the Deckle Edge Book Festival. Currently, Emily is writing her debut poetry collection, My Half of Night, and a screenplay with her best friend Heather. 
The Sound of Prayer
A hum rises in the forest
the buzz of bugs and birds 
quivering the boughs 
of the thousand pines 
anchored to the earth
like a thousand monks
in a cloister choir 
who chant their thanks 
for the sweetness 
of breath, of all that is.
– Olivia Stiffler
Olivia Stiffler's first book of poems, Otherwise, we are safe, was published by Dos Madres Press in 2013 and was included on Writer's Almanac's Best of 2014list.  Her second book, Hiding in Plain Sight, was published by Dos Madres in 2017.  More information is available at her website, www.oliviastiffler.com.
What Goes Unsaid
What goes unsaid
overflows this poem.
It bulges and leaks
threatens to explode.
What goes unsaid
piles up like cars
in a junkyard
started with an old Buick
in 1956.
What goes unsaid
festers like a "dream deferred"
makes one sick
makes one angry
makes one wonder
if all that goes unsaid
could ever be said.
When what goes unsaid is spoken
the Hoover dam bursts,
Pele erupts fire and ash,
words tumble all over themselves,
a Niagara Falls of words
to be carried away on the
River of Saying.
– Jacquelyn Markham
Jacquelyn Markham is the author of two chapbooks and a collection, Peering Into the Iris: An Ancestral Journey, has published in Anthology of Appalachian Writers;Adrienne Rich: A Tribute Anthology; North of Wakulla: An Anhinga Anthology; Archive: South Carolina Poetry Since 2005; Woman and Earth (An Almanac in English and Russian);  Fotoalbum: Around the World; & Bitterroot International Poetry Journal, among others. Markham holds a Ph.D. in Creative Writing and teaches women's and cultural studies and writing as Professor of Liberal Arts.
Shoulders
Born just before my sixtieth year,
little boy, I rub your shoulders
with the reach of my one hand
and imagine the man you will be.
It's a way, I know, to connect your being
and becoming with my vanishing.
They will take on mass in time
as you'll want to make things your way
and lift and carry what you must,
as you'll want to make a place or name
for yourself, as you'll want to make love
with someone and turn your head
to watch the beauty of that person
in the world, though you can't quite
look back, nor should you, at those,
like the father holding you now,
who'll go away, then come back to rest
in your head above or your heart beneath.
– Quitman Marshall
Quitman Marshall's book of poems, his fifth, You Were Born One Time, won the SC Poetry Archives Book Prize in 2013. A founding host of the Literary Series at Spoleto Festival USA and a winner of the Writers Exchange Award (Poets & Writers), he is presently sailing three manuscripts: Swampitude (nonfiction); The Bloody Point (novel); and American Folklore(poetry).  Since 2001 he has lived in Beaufort, SC, with his wife and now three children.

Alone
If a man knows
he does not need to see a woman 
to catch her scent in her clothes
when he is drawn to the window
to watch a cloud that floats
over the house
and a shadow that slips
through the grass
before he goes back 
to the closet 
and pulls a silk scarf
and a wool dress
from a tangle of hangers
on hooks,
and kneels 
to pick up a shoe,
why does he sit
on the edge of the bed
with her clothes
when he knows she is not there?
– Warren Slesinger
After he graduated from the Iowa Writers Workshop with an M.F.A., Warren Slesinger taught English part time while working full time in the publishing business as an editor, marketing manager or sales manager at the following university presses: Chicago, Oregon, Pennsylvania and South Carolina. His poetry has been published in The American Poetry Review,  The Antioch Review, The Beloit Poetry Journal,The Georgia Review. The Iowa Review.  New Letters, The North American Review. Northwest Review, Poetry Daily, The Sewanee Review,and The South Carolina Review.  At present, he teaches part time at the University of South Carolina-Beaufort.
Pictured above: Jacquelyn, Olivia and Emily (top pic); Quitman and Warren