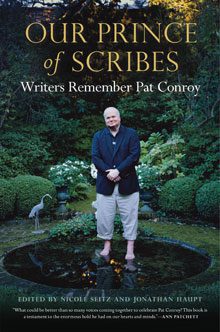 More than a dozen contributing writers will be on hand to honor Pat Conroy.
New York Times best-selling writer Pat Conroy (1945–2016) inspired a worldwide legion of devoted fans numbering in the millions, but none are more loyal to him and more committed to sustaining his literary legacy than the many writers he nurtured over the course of his fifty-year writing life. In sharing their stories in the forthcoming anthology Our Prince of Scribes: Writers Remember Pat Conroy, Pat's fellow writers honor his memory and advance our shared understanding of his lasting impact on twentieth- and twenty-first-century literary life in and well beyond the American South.
            Featuring essays of celebration and remembrance by a pantheon of 67 writers, Our Prince of Scribes will be published on September 18 by the University of Georgia Press. The volume was conceived of and edited by Charleston novelist Nicole Seitz (below) and Pat Conroy Literary Cente
r executive director Jonathan Haupt (right), with all royalties benefiting the Conroy Center and the Friends of Story River Books. The Conroy Center will host a publication day launch event at Bluffton's historic Rose Hill Mansion (199 Rose Hill Way) from 5:30 to 7:30 p.m. on September 18 as the first South Carolina book signing for this new anthology celebrating the writing and teaching life of Pat Conroy. 

            More than a dozen of the collection's Beaufort County-based contributing writers will be on hand for this reception and signing, including co-editors Nicole Seitz and Jonathan Haupt, Will Balk, Alexia Jones Helsley, Stephanie Austin Edwards, David Lauderdale, Bernie Schein, Maggie Schein, Margaret Evans, Debbi Covington, Lynn Seldon, Scott Graber, John Warley, and Ellen Malphrus. The reception will be catered by Debbi Covington and the ticket price includes a copy of Our Prince of Scribes (a $30 value). Additional copies will be available for sale and autographing during the reception along with other books by the participating contributing writers. 
            Tickets for the Tuesday, September 18 launch at Rose Hill are $55/person or $75/couple and can be reserved at https://rosehill-scribes.bpt.me by September 15.
ADVANCE PRAISE for Our Prince of Scribes
"His wound may have been geography, but his legacy was generosity. That's the takeaway from this new collection of essays honoring the late Pat Conroy. Novelist Nicole Seitz and Jonathan Haupt, the executive director of the Pat Conroy Literary Center, pull together a who's-who of writers from the Lowcountry and beyond for an ode to the real Prince of Tides…. A fitting tribute to a unique, significant writer and man."—Kirkus Reviews
"What could be better than so many voices coming together to celebrate Pat Conroy? This book is a testament to the enormous hold he had on our hearts and minds."—New York Times best-selling author Ann Patchett
ABOUT THE PARTICIPATING WRITERS
William A. Balk Jr., veteran bookseller of the Bay Street Trading Company, is a master gardener who writes for Lowcountry Weekly and WeeklyHubris.com. He serves on the board of directors of South Carolina Humanities and on the advisory council of the Pat Conroy Literary Center, where he is the volunteer coordinator.
Debbi Covington is an award-winning chef, caterer, and writer. A food columnist for Lowcountry Weekly, Covington is the author of the cookbooks Celebrate Everything! (Gold Medal Winner of the Benjamin Franklin Award), Dining under the Carolina Moon, and, most recently, Celebrate Beaufort. 
A Beaufort High School classmate of Pat Conroy's, Stephanie Austin Edwards, a former dancer and costumer, is a novelist, writing teacher, and author consultant, and volunteer at the Pat Conroy Literary Center. Her debut novel, What We Set in Motion, won a Best Submission Award at the Atlanta Writer's Club Conference. 
Margaret Evans is the editor and publisher of Lowcountry Weekly, where she pens her South Carolina Press Association Award–winning column Rants & Raves. She is the former editor of Beaufort magazine and former assistant to Pat Conroy. 
Author and attorney Scott Graber lives and writes in Beaufort, South Carolina, with his wife, the artist Susan Graber. A Citadel classmate and longtime friend of Pat Conroy's, Graber is the author of the novels Malachi and Ten Days in Brazzaville.
Jonathan Haupt is the executive director of the Pat Conroy Literary Center and the former director of the University of South Carolina Press. His book reviews and author interviews have appeared in the Charleston Post and Courier, Lowcountry Weekly, Fall Lines, and the Conroy Center's Porch Talk blog.
Pat Conroy's Beaufort High School classmate Alexia Jones Helsley is an American archivist and historian who currently serves as senior instructor of history and university archivist at the University of South Carolina Aiken. She is the author of several nonfiction books, including Beaufort, South Carolina: A History and Wicked Beaufort. 
David Lauderdale is a columnist and senior editor for the Hilton Head Island Packet and the Beaufort Gazette.
Ellen Malphrus, the author of the novel Untying the Moon, lives and writes in her native Carolina lowcountry and southwest Montana. A student of James Dickey, she is writer-in-residence and professor of English at the University of South Carolina Beaufort.
Lynn Seldon, a VMI graduate, is a longtime travel journalist. He has written more than a thousand magazine features and has published six books on travel. His first novel was Virginia's Ring; his second novel, Carolina's Ring, will be published in 2019. With his wife and fellow travel writer, Cele, he is co-author of the guidebook 100 Things to Do in Charleston Before You Die. 
Bernie Schein, retired educator and Beaufort native, is the author of the novel Famous All Over Town and the memoirs Santini's Hero (forthcoming) and If Holden Caulfield Were in My Classroom: Inspiring Love, Creativity, and Intelligence in Middle School Kids and, with his wife, Martha Schein, coauthor of Open Classrooms in the Middle School. 
Maggie Schein is research director of the Humanities and Liberal Arts Assessment Lab at Harvard University and a Research Fellow at The Citadel. She is the author of Lost Cantos of the Ouroboros Caves, an expanded edition of which includes illustrations by Jonathan Hannah and a foreword by Schein's godfather, Pat Conroy. 
Nicole Seitz is the author of seven novels, including The Spirit of Sweetgrass, Trouble the Water, A Hundred Years of Happiness, Saving Cicadas, The Inheritance of Beauty, Beyond Molasses Creek, and most recently The Cage-maker. Seitz's short fiction, essays, and articles have appeared in numerous publications and anthologies.
John Warley is a graduate of The Citadel and the University of Virginia School of Law. Now a full-time writer, he is the author of the novels Bethesda's Child, The Moralist, The Moralist II, A Southern Girl, and The Home Guard (forthcoming), and of the nonfiction book Stand Forever, Yielding Never: The Citadel in the 21st Century.