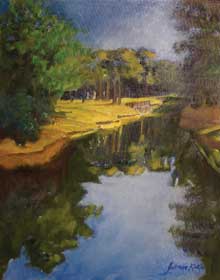 The Society of Bluffton Artists presents "Songs of Awe and Wonder," oil paintings by Juliana Boyd Kim. This show will be on display from February 4 through March 3.
"Why 'Songs', when we are discussing visual art? Painting outside 'en plein air' stimulates all of our physical senses," says Kim. "The birds sending love songs, the wind in one's hair, the smell of pluff mud, the taste of bugs, and the uplifting of the soul. The challenge is to share the experience with the viewer!"
For forty-five years, extensive travels have given Kim ample material to investigate the essence of space and place, with her sketchbook, watercolors and camera at the ready. The watercolors are often finished plein air works of art, or else studies/references for larger studio pieces. Since moving to the Lowcountry 10 years ago, she embraced her new environment by painting plein air landscapes, mainly in oil paints for their rich color and texture. As Kim says, her artworks are now songs of praise and wonder at the complexities and patterns in God's natural creations, whether spacious light-filled scenes, tree trunk patterns, or the human body. Her work dovetails with a lifetime interest in conservation; she hopes her art encourages all of us to be better stewards of our very special, but also heavily stressed, Lowcountry.
Kim's beautiful work is not to be missed; please join the members of SoBA at a reception to meet her from 3 – 5 pm, Sunday February 10 at the SOBA Gallery where refreshments will be served. The gallery is located at the corner of Church and Calhoun Streets in Old Town Bluffton. Call 757-6586 or visit sobagallery.com for more information.