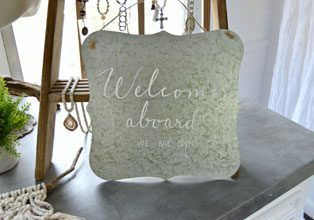 Talk about creative entrepreneurship!
     Lowcountry residents Kayla Derrick and her fiancé Matt Devito – co-owners of the jewelry company circa1910 – spent the past year and a half renovating and fully restoring a 1985 Chevrolet minibus – turning it into a full-blown store. They installed hardwood floors, built in cabinets and concrete style counter tops, along with reinventing countless cast-aside vintage furniture pieces into displays.
            "Seventy percent of our bus is created with materials that were once considered trash," says Kayla. "A driftwood tree turned up by Hurricane Matthew, bathroom cabinets taken from a house being renovated on Fripp Island, a table created from an antique door with added birch branch legs, a bench made from wood I found in a trash pile, a sales counter crafted from an old weathered door with a countertop again made out of wood from a trash pile, an antique yarn drying rack that we turned into a shelving unit, antique porch posts from an 1870s house found right here in Beaufort, and so much more all dwell inside our vintage bus. The bus itself was fairly run-down and filthy when we picked it up but is now a whimsical little store with a high-end feel."
            Kayla says it's the only boutique of its kind in the area, and unlike any mobile boutique in the country.
            "We'll be selling only locally-crafted jewelry, art and home goods, and because our boutique runs and drives instead of being pulled behind a vehicle, we will be traveling all around Beaufort, Bluffton and Hilton Head Island with our vintage bus. We will be taking it even as far as Charleston and Savannah at times. Our items for sale will start at just a few dollars and go up to a couple hundred (for artwork.)"
            Circa1910 will have been operating as a jewelry company for four years in April, and the couple decided that would be the perfect month to debut what so many locals have been looking forward to for the past year and a half.
           "We currently have a collective 6,107 followers on our social media accounts, with a large 71% of those living in Beaufort, Bluffton or Hilton Head Island," Kayla says.
            "Our vintage bus also features dark hardwood floors and a whitewashed wood ceiling, but beyond that, it is going to be the epicenter of kindness. My dream, when we first started this, was to create a symbol of hope that would be well known around our communities. At every event that will allow it, we'll be taking up different donations in exchange for a discount on your purchase. For example, one week
we will be taking good condition women's professional clothing to donate to a local women's shelter. Another week, we will be offering jewelry-making kits for purchase that we'll send to a children's hospital in Hershey, PA. The children going through chemo often look for an outlet during their procedures and we have found that staying creative allows the mind to focus on something more positive. (My 9 year-old cousin is a patient there, undergoing treatment for leukemia.)"
            Kayla and Matt (right) will debut the circa1910 Mobile Boutique at a Grand Opening in Beaufort on Sunday, April 2nd from Noon – 5pm. There will be food, drinks, giveaways and live acoustic music by a father-daughter duo from Summerville. The Mobile Boutique will be parked at 913 Boundary Street, near downtown Beaufort.