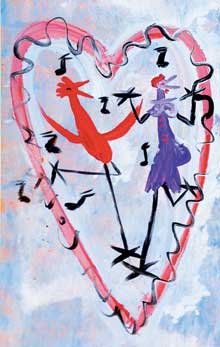 That very special day set aside to celebrate LOVE is rapidly approaching. The Red Piano Too Art Gallery has assembled a February art exhibit to celebrate "Love in Bloom."
Tony Cirico is the featured artist for this exhibit. She is a celebrated glass artist who says of herself:
"I love working with glass because it is so beautiful and there are no mistakes. I was born in Buffalo, New York, went to Paul Smith College in the Adirondacks and moved to Hilton Head after graduation. As a child my grandmother, inspired me to create art. I continued my studies at the College of Charleston with a focus on oil painting. After I married in 2000 I realized painting was no longer for me and I looked to glass as a new outlet for my creativity. Glass is a natural element. The colors in glass are amazing. As my family grew everyone became involved. My son Dante sold his first piece at 2 years of age. My son Rylee, now 8, has also joined us as an artist. Both boys have a page in our 2013 catalog. I owe my husband so much for his support and belief in me as an artist. With his encouragement I believed in my ability to pursue my art career. We currently wholesale our jewelry line to retailers, galleries and museums. In the last 6 months we have expanded into wall art, bowls and platters."
Tony attended the 2009 Academy Awards gifting suite with her jewelry and in 2011 she was a guest artist for the Teen Choice Awards. A gallery regular, Tony Cirico's work is a not to be missed collection.
Other artists including locals Sandra Smith AKA Renee, Diane Brittan-Dunham, Andrea Glover, Shirley Hunter, Alyne Harris, Demetric Denmark, Ernest Lee, Charles Desaussure, and gallery owner Mary Mack will be creating special pieces that art patrons will surely love and want to collect. Elayne Scott, gallery assistant and artist, believes and often tells visitors, "Every South Carolinian should own work by artists such as Ernest Lee, who is an absolute icon in our world of the self taught Southern artist." Ernest Lee, the Chicken Man, has contributed some very unique "Chickens In Love" to the show. In keeping with the theme, all the artists are concentrating on love in bloom. Charmaine Inabinett will be here again with her special treats.
The Red Piano Too holds the belief that art and love make the world a better place. So come to the gallery to share love and the beauty that is art.
This exhibit will be held on Saturday, February 9, 2013 at the gallery located at 870 Sea Island Parkway, St. Helena Island, from 12 to 5 PM. Light refreshments will be served. As always the exhibit is free and open to the public.