Over thirty Lowcountry artists and writers are participating in A Literary-Visual Art Show with Issues, which will be at ARTworks (new home of the Arts Council of Beaufort County in Beaufort Town Center) through November 5th. The purpose of the show is to explore issues during a pivotal presidential campaign season.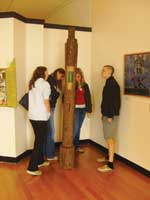 Michelle Maynard and Hannah Tvedten's interactive exhibit asserts that everyone is creative; Laura von Harten illustrates an explosion in 1947; Ava Franzolini documents that cruelty begins at home (her work will benefit a local animal organization); Hank Herring's found objects represent all that's not cared for properly; Jon Goebels gets satirical; Benton Lutz's subject wants you to Read Her Lipstick; Michele Roldan-Shaw shares her journey in the threatened ruins of Peru; Louise Coleman presents a "$billion variety pack"; Rebecca Davenport's Calmpost is free to a good gardener; Lisa Annelouise Rentz connects choice and privacy, maps the drainage of Beaufort, and opines on healthcare; Pat Keown introduces the Great Feminine Spirit; Kim Keat's Empty Nest honors the origin of the materials; Deanna Bowdish is Wrapped in the Flag; Penny Russell artfully protests nuclear waste and violence; Ginger Anderson's piece is personal, person-sized, and NFS; Rhonda Jordan notices Play, Play, Gone the Wrong Way; Greg Smith's trailer (the feature will be out soon!) is Keeping the May River Wild; Teresa Bruce and Gary Geboy collaborated on a spiritual stage; Scott Gordon's work represents his life spent in SC waters; Jada Gray ponders the cost of immortality; Chelsea Gray catches a smoke-aholic; Bonnie Smith's got choice against a brick wall; Steve Johnson and Josefina Blanc share their non-medicalized home birth experience; Melba Cooper paints the value of work, and of Lights Out!; MA Mueller frames the murderer; Martine & Quitman Marshall find some reasons to stay inside; Andrew Roeder represented possible consequences of overpopulation; Cabell Heyward's oils are ionic; Jenny & JW Rone find there are many ways to kiss a pig; Kelly Davidson portrays two different issues in her concern for Americans; and Lee Pirozzi's work is drenched in oil, embedded in ice, and covered by vines.

The show is presented by Iodine Literary Projects, visit eatgoodbread.com for details. This project is partially funded through a grant from the Arts Council of Beaufort County with funds from the City of Beaufort and the South Carolina Arts Commission through the National Endowment for the Arts. Additional funding is from the John & Susan Bennett Memorial Arts Fund of the Coastal Community Foundation of South Carolina.