Who or what is the face of Beaufort County?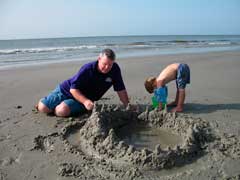 That question is intended to challenge local photographers to enter the annual Beaufort County Calendar photo contest. The theme, Faces of Beaufort County, will be reflected in the 2010 calendar.
County Administrator Gary Kubic said the theme goes beyond traditional portrait shots.
"We have a lot of great natural outdoor beauty, but it's the interesting personalities who populate our County that create the sense of community we enjoy here. I hope our local photographers will have fun with this theme and use their talent and imagination to show us who or what they think reflects the faces of Beaufort County."
The annual calendar serves as a public awareness tool for the Beaufort County Rural and Critical Land Preservation Program, operated by Beaufort County Council and funded through voter-approved referenda. So far, more than 17,000 acres of valuable undeveloped lands have been saved from future development.
Participants in the contest must submit a subject release form for each identifiable person in the photo along with an official entry form. The forms are available on the home page of the Beaufort County website, www.bcgov.net.. Photographers may also request the forms by calling 470-2810.
Both 8 x 10 prints and digital images are required. Images must be in jpeg format and may be emailed to pio@bcgov.net or submitted on disc. Either color or black and white photos are allowed and all photos must have been taken within the physical boundaries of Beaufort County. Photographers may enter up to 3 photos.
Beaufort County will reserve the non-exclusive right to use any entries for promotion or public education regarding the services, policies, projects or regulations of the County, or in support of economic development or the tourism industry.
Entries must be postmarked or delivered by 5 p.m. Monday, August 3, 2009. They may be dropped off at the information window on the first floor of the Beaufort County Government Center, 100 Ribaut Rd., Beaufort or mailed to:

Beaufort County Public Information Office
PO Drawer 1228
Beaufort, SC 29901-1228

For more information about the photo contest, call 470-2810.