A conversation with Savannah Book Festival honoree David Baldacci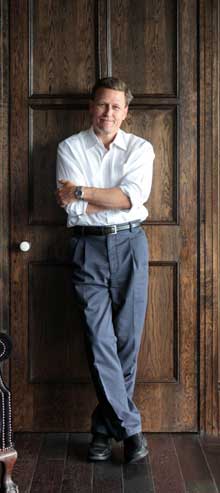 The world is full of breathtaking people, places and events to write about. David Baldacci proves it in his best- selling thrillers that take you down twisted paths of intrigue. He introduces CIA agents, military agents and agents of doom – but never agents of the status quo. Baldacci lures the reader with smudged maps of intent and does it with great delight.
He doesn't come lightly to the blank page. There are always 'what-ifs.'
What if a guy practices corporate law in Washington for nine years and tells no one but his family that he's writing a novel? Then what if he sells it to a publisher for so much money—$2 million plus $2.5 million in film and foreign rights—that he can burn his law books?
That last scenario, Baldacci says, breaks the cardinal rule of mystery writing: The story has to be plausible to the average reader. But it happened to him—even though he found it hard to believe.
After he sold his first novel, Absolute Power—about a jewel thief who's the unwilling witness to a crime involving the President of the United States—Baldacci went back to work as a lawyer at the Washington D.C. firm Holland & Knight. Eighteen years and two dozen books later, Baldacci, 52, is no longer a practicing lawyer or stealth novelist. Most of his books are thrillers—including The Collectors, Last Man Standing, and Zero Day—and every one has been a bestseller.
His non-genre books include The Christmas Train, a comic adventure about a journey across the United States. It's a homage to Mark Twain, Baldacci's favorite author. The hero claims kinship with Twain and is inspired to go cross-country by train because Twain once made a similar trip on lecture tours across the country. Baldacci has also written Wish You Well, a story he culled from his own family's history and experiences. It's a coming-of-age tale reminiscent of that timeless classic, To Kill a Mockingbird, where the setting –Virginia mountain coal country in the post-Depression '40s – is a major character. The book is being developed into a movie to be released next year. It is filmed entirely in David's beloved state of Virginia.
Baldacci will be in Savannah on Sunday, February 17 to deliver the honoree closing address at the 6th annual Savannah Book Festival. I caught up with him before he began touring for his new novel, The Forgotten, and asked him about his love of the South and the craft of writing.
"I've been to the Lowcountry and Savannah several times and am always influenced by the atmosphere," he says. "I have often used the physical qualities and quirks of those places and transplanted them into my novels. You can't help but come away with lasting images. The city of Savannah is ripe with stories on every corner.
"I've read Midnight in the Garden of Good and Evil and I am friends with the author, John Berendt," he continues. "I recently did a fundraising event with him. 'Midnight' was John's first book, which became a best seller and then a movie directed by Clint Eastwood – the same path that my first novel, Absolute Power, took. When it happens with your first book… it's special." Baldacci says that Eastwood had a powerful influence over the screenplay, particularly the ending. Eastwood's character, cat burglar Luther Whitney, dies in the novel but not in the film. Baldacci says he was told that "Eastwood doesn't die in any of his movies."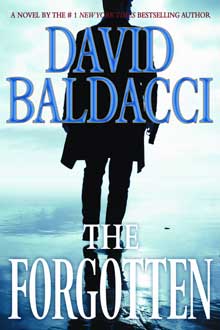 Mysteries are the guilty pleasures of the book world. It is perhaps the sole arena where the reader can match wits with the creator. With Baldacci's latest novel, The Forgotten, he remains at the top of his game.
The Forgotten is about trouble brewing in paradise. Paradise, Florida. Betsy Puller Simon senses it. So Puller travels to Florida to see what is troubling his beloved aunt – and to rekindle the relationship he had with her as a boy. Soon he's forced to use his sheer nerve to survive. This is a whole new ball game for Puller. He's peeling back layers of a beautiful place and finding depravity underneath. He discovers a group of forgotten people. Their touchstone is how much wealth they can create on the lives of others. What Puller reveals is unexpected.
So how does Baldacci come up with his plots? "I'm an observer, by nature. I think most Southerners are. Southerners observe humanity and how they interact with each other. When I travel or I'm at the store, I observe everyone. Stories come from observation. People always tell you to write what you know, but it's more fun to write about what OTHER people know! It really comes down to paying attention to how the real people around you behave and then telling the truth about what you see. The only perfect place to write is in your head," Baldacci says.
Baldacci keeps no set schedule—he writes in bursts, sometimes in longhand on legal pads—and does his own research. Creating a scenario and seeing how his characters react to it is always fascinating for him. "The characters are the only shot a writer has to connect with the reader on a human level. If you don't have intriguing characters – don't bother writing," says Baldacci. "Interesting characters are rarely either all good or all evil. Nothing is as simple or as straightforward as it seems. The in-betweens of life create drama."
The life that bestsellers built is a far cry from his childhood in Richmond, Virginia where he delivered newspapers. Young David was also such a teller of tall tales that his mother bought him a composition book so he could record them. "I was a writer before I was a lawyer," he says. He would later attribute his ability to write from 10 pm to 2 am—after a day of practicing law—to his experience as a newspaper delivery boy: Between ages 11 and 18, he got up every morning at 3. "I came up with a lot of stories while chucking the Richmond Times-Dispatch onto people's porches," he says.
Baldacci has a prodigious memory and during his childhood made his brother and sister quiz him about Civil War history. He still delights in obscure facts, and they're sprinkled throughout his books. In The Camel Club, he casually mentions that "Hail to the Chief" is played before the President enters a room because Mrs. James K. Polk was upset that her small husband was often ignored when he made an entrance. She ordered that the band strike up "Hail to the Chief" so it would be impossible to ignore President Polk.
Baldacci attended Virginia Commonwealth University in Richmond. "I took lots of jobs to pay for school," he says, "and graduated with no college debt." He worked nights as a Pinkerton guard at a General Electric plant, arriving on campus still wearing his uniform. "I had jobs in construction, building fences, washing and detailing 18-wheelers, and golf-course maintenance," he told me. "However, the job that may have done the most to shape my future was selling Filter Queen vacuum cleaners! The machines weren't cheap—$800 each and I became the best salesman in Richmond because I learned to "read" the customers."
By his junior year at VCU, he felt he had to get serious about a career. He decided to go to law school because "if I could sell a vacuum cleaner, I could sell a jury. While attending UVA law school, he lived in a ratty apartment in Charlottesville and rarely socialized. He didn't talk much; he eavesdropped. Instead of moot court and law review, he spent his spare time writing stories. He fell in love with a variety of writers from John Irving to Garrison Keillor to Anne Tyler and tried to emulate their styles. He sent out a lot of short stories and collected a lot of rejection slips.
"They call it the CRAFT of writing because you never perfect it; not even the greatest writers ever master it," says Baldacci. "I'm always hoping that I can do it again. It's sleight of hand." He adds, "The older you get the better writer you are because writing is about observation, experience and intuition – so the more years you tack on the better writer you become."
The one piece of advice he offers? "Once you think you know what you're doing as a writer, you've lost it! The Academy Award-winning screen-writer William Goldman told me that after he got the commission to write the adaptation of Absolute Power. He said he is terrified that one day people will realize he has no idea what he's doing. But his point was that fear and uncertainty allow a writer to always be right on the edge – fearful, lean and hungry. That terror can be translated into creative power."
David Baldacci will deliver the honoree closing address at the 6th annual Savannah Book Festival at 3 pm on February 17th. The Festival runs from February 14-17. For information: 912.598.4040 or www.savannahbookfestival.org
On Meeting David Baldacci

I was a flight attendant with a layover in San Francisco. Having always adored mystery novels (they are my kryptonite!) I quickly made my way to City Lights Bookstore when I found out that this new author, David Baldacci, would be there that very evening. I wasn't the only one… the line went out the door and around the corner. He signed my book, his first one, Absolute Power, and I read it from cover to cover that same night. The next morning as I greeted passengers boarding my flight from SFO to CLT, there was David! I told him how much I enjoyed his book and he was gracious and humble. When we landed in Charlotte he said "Thanks for the great trip!" I said, "Keep writing!" I guess he took my advice.
Lynda Bouchard is founder of Booking Authors Ink, a boutique Public Relations firm dedicated to authors. www.bookingauthorsink.com. She lives on Hilton Head.